notes to boost the education of the era of change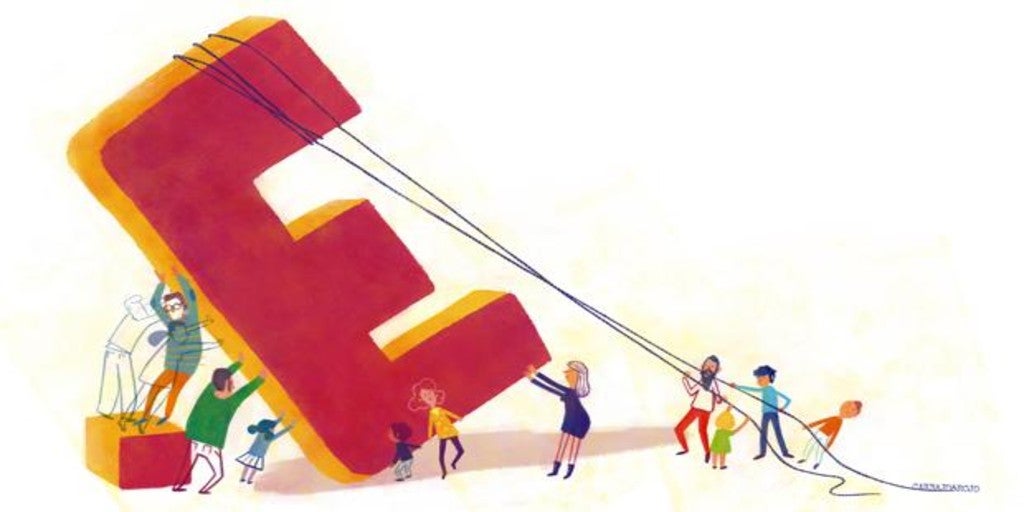 Madrid
Updated:
save

As one of the fundamental axes of society deserves, the education It is always at the center of the political and institutional debate in our country. However the Carousel of reforms and counter-reforms who has known our educational model over the last decades confirms that dissension has always been imposed by a consensus win. A repeated sequence of demolition and reconstruction that has not helped establish solid foundations that allow facing the major challenge of teaching in a context of permanent change. We ask some of the main associations that represent the different protagonists of the educational ecosystem for their proposals to equip the classrooms against the storm of disruption and to get our training system closer to the reference models at the international level.
one. How can our educational system respond to the demands of a constantly changing reality, marked by technological disruption?
two. What should be improved for Spain to advance in the main international scales of evaluation of educational quality, such as the PISA report?
Elena Cid, Director General of the Association of Independent Private Schools (CICAE)
one. Education in Spain and throughout the world is going through a profound change, a revolution. Schools cannot continue teaching as in the last century, as in the industrial era, characterized by a teacher who transmits knowledge and whose students passively listen and memorize content. The interruption of the internet, artificial intelligence or robotics has changed everyone's life and, therefore, the future of our students, which is uncertain and unknown. Therefore, our challenge must be to train them to be competent people, who have a knowledge base, but also of skills such as critical thinking, problem solving, creativity or ability to work in teams.
two. Competence education is essential, in which the student knows how to put into practice the knowledge acquired, solve problems and face challenges. Our schools have been working for years with more participatory methodologies, with more flexible educational projects that adapt to the needs of the students so that they develop their skills and abilities. The formula works, more than twenty CICAE schools have voluntarily undergone PISA tests for Educational Centers and the qualifications obtained exceeded the average of the OECD countries, being leaders worldwide in terms of academic results.
José Antonio Poveda, Regional Secretary of Catholic Schools of Madrid (ECM)
one. Our education system is typical of an obsolete industrial society. It is necessary to bet on an open education, flexible in its contents and ways of evaluating, that grants autonomy and confidence to the educational centers. Centers that must offer defined educational projects, different from each other, betting on human and moral values, which is fundamental in a markedly technological society. In short, technology must be at the service of the educational project. Our Education must be plural; You must bet on the freedom of families, quality and equity.
two. Advancing in that opening, in that greater freedom of families and autonomy of schools, will bring that international recognition. Spain has an excellent educational system. It has excellent professionals. The Catholic concerted school is characterized by its educational and social commitment, its comprehensive project, and its highly vocational teaching staff. We have the main thing, so we must improve on the "accessory." Education is the main investment of a country, so the resources invested must be improved, socially prestige of the teaching function; and one must grow in autonomy and believe in a competency education, which includes knowledge. Autonomy and competencies are indispensable.
Alfonso Aguiló, President of the Spanish Confederation of Teaching Centers (CECE)
one. There is a certain resistance towards technology, as well as towards bilingualism, and it is true that they present difficulties, but these are questions that have come to stay and that must be resolved. Innovation must be encouraged, the effectiveness of each innovation is valued and the problems that arise are resolved, since not all innovation is good nor does any innovation work well at first. And it is not usually a question of both resources and attitude: in education you have to be willing to adapt to a continuous change, because each student is different and each classroom and each school too.
two. Perhaps more attention should be paid to these international assessments and to any other way of assessing the outcome of our efforts. In medicine it is essential to measure the effect of each treatment, and in education it should not be too different. I understand the reluctance to abuse the rankings and the publication of results, but we have an obligation to know if what we do adds value. It is necessary to promote a greater culture of evaluation, which is always a way of accountability and, above all, of knowing how we should improve.
Juan Santiago, President of the Association of Autonomous Centers of Private Education (ACADE)
one. Through a process of profound transformation. Society has changed and the education system must change too. Technology has caused very important transformations in our personal and professional field and the development of digital and technological skills is fundamental in this environment. Students have to face very different challenges from those of the past and for this they need to handle appropriate tools. This also forces us to develop in them the capacity for adaptation and learning throughout their lives and also to train them in universal values, empathy and collaboration, critical thinking, curiosity, creativity and leadership.
two. The 21st century demands an educational model that is not based exclusively on the acquisition of knowledge, but that is firmly committed to the development of the skills and abilities that allow students to successfully face the challenges proposed by a society in continuous transformation. International reports such as PISA highlight the excellent results of students from private schools not supported by public funds, which earn up to 30 points more than other Spanish students, which is an advantage of a school year. This is because private centers have greater capacity to respond to social needs and demands and an innovative nature that allows them to adapt to changes more immediately. Therefore, in order to continue developing these projects and since they are not financed with public funds, it is necessary to provide them with greater differentiated autonomy.
Leticia Cardinal, President of the Spanish Confederation of Associations of Parents of Students (CEAPA)
one. We have been insisting for some time that a change of model, methodology, curriculum is needed. You cannot continue teaching our students with archaic methodologies and anchored in the past. In the full digital era, education must adapt to its time: the digital book or internet are just some of the possible options that, in addition, would reduce the burden on students' backpacks.
two. From CEAPA we do not believe in standardized tests such as the PISA Report. The OECD educational innovation advisor Valerie Hannon acknowledged that this type of assessment is "limited" because it does not measure the skills students need for this century. We agree with the Latin American Council of Social Sciences that this type of evidence moves us away from the recognition of education as a right. That said, we believe that it would be necessary to evaluate the education system, not just the student body. It is necessary, on the other hand, to improve investment in education to try to improve our education system.
Pedro Caballero, President of the National Catholic Confederation of Parents and Parents of Students (CONCAPA)
one. From CONCAPA we bet, as it cannot be otherwise, for new technologies because education cannot remain anchored in an era, but must evolve with the means and circumstances of each moment. Parents live it at home and teachers have to see the most appropriate way to integrate it into the school, because it will motivate their students more and will lead to continuous training and updating of knowledge, also knowing that limits and protections must be established. adequate in terms of the use of new technologies. It is too much information and you have to teach and learn to handle it conveniently and analyze which are the most reliable sources, so that they can see that in the information "not everything is valid" and that can also help a lot in aspects such as data protection or harassment school, not to mention your own mental and physical health.
two. It would be necessary to start by adapting and improving the curricula of teachers and continuing to value their work more and return their authority, update knowledge, motivate and excite students and, from the point of view of parents, that families involve more in the education of your children, because the school can never be a daycare center. The family and the school have to work together for the well-being and education of the child, because the parents when they have their children often survive with the good will that the child "be happy" and that others take care of setting the limits. . The important thing is not the reports but the education.
Ramón Izquierdo, State Secretary of Trade Union Action of the National Association of Teaching Professionals (ANPE)
one. Of course in several ways. One of the fundamentals is that of permanent teacher training, of all educational stages, in the use of new technologies as educational tools. But, if we focus on the effects that such disruption causes in our productive fabric and how our education system prepares and should prepare the workers of the present and immediate future, we must focus on regulated Vocational Training and the need to strengthen it, fundamentally in regard to their direct contact with companies and the ability to adapt to these changes and technological advances. A reform of the Comprehensive Vocational Training that combines the regulated VT, the continuous training of the workers and the occupational training of the unemployed, all this in continuous collaboration between the companies and the educational centers, could be a good response of the educational system.
two. The fundamental thing is to give stability to the system and to address the deep reform that our educational system needs, something that should be done from a minimum consensus and with a view to the main political formations. For this reform it is essential to have the teachers, who are the education professionals. Therefore, it is necessary to bet on teachers, establish a Law of the Teaching Profession and a Statute of the Teaching Public Function, which regulates, among other things, a true professional career with incentives for teachers, which motivates and values ​​their Daily work and its special involvement. This will ensure a substantial improvement in international indicators. An example is Portugal, which implemented it years ago and has been improving its results in PISA significantly.