Not all the pines that sprouted next to the volcano will survive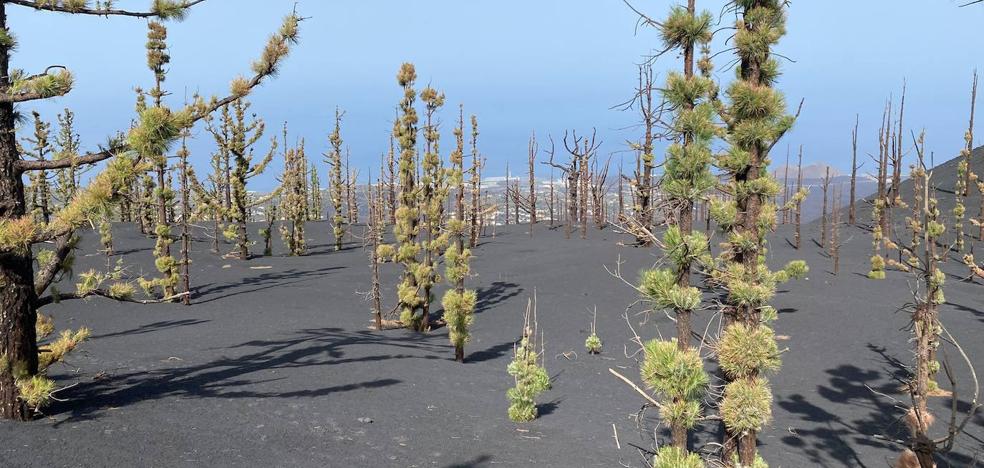 The team that studies the evolution of biodiversity in the Tajogaite monitors each of the specimens
The Canarian pine has been living with volcanoes for about 13.5 million years, which has allowed it to adapt to these phenomena and survive eruptions. "It is a species that we already knew is adapted to living between volcanoes, but
the display of strength and strength that he is doing has us stunned. We have fallen short in what we thought was going to happen in the Tajogaite. The Canarian pine is an incredible being", explains the biologist at the Institute of Natural Products and Agrobiology (IPNA) and coordinator of the Higher Center for Scientific Research (CSIC) in the Canary Islands, Manuel Nogales.
Despite its great capacity to survive the rain of pyroclasts and ashes, not all the specimens of Canarian pine that have sprouted on the edge of the building of the
Cumbre Vieja volcano They will come out of the trance. «
IGN released a photo very interesting where you can see the pine trees in the southern area of ​​the crater, where the gases and ash had the most impact. A week after the end of the eruption, the tender shoots began to appear", explains the biologist who calculates that
about a third of the specimens that appear in the image will not survive because their roots are affected. "If the pine is not doing well and is not injecting nutrients, these sprouts are going to have a very short life," explains the scientist.
Image in which regrowth pines can be seen taking a brown color. /

IGN/Ruben Lopez

These outbreaks, Nogales relates, occur in a set of
axial parenchyma -reserve cells that are grouped parallel to the axis of the trunk- capable of storing a
arsenal of reserve substances that allows them to regrow quickly after withstanding high temperatures.
However, there are Crater Rim pines whose new shoots are already starting to turn brown because the rest of the pine is badly affected.
In any case, each of the specimens is being closely watched. «
We have marked the pines and we are following them conscientiously. At the end of the year we will do a quantitative study," says Nogales, who assures that the effects of a volcano on biodiversity have never been monitored in such an exhaustive way.
«
We were present from the first day», says the biologist who works in the observation of the wild flora and fauna of the area together with the biologist appointed by Gesplan, María Guerrero, and the entomologist of the Environment Service of the Cabildo de La Palma, Félix Manuel Medina.
unscathed endemics

Luckily, the
three endemic species threatened by the volcano have survived the eruption: the
aridane mustardof which there are about 230 specimens about 3 kilometers from the lava flow and which has just been described for science, and the
giant grasshopper of El Remo (Acrostira euphorbiae) and the
canarian chickpeavery affected by the ash, but that has resisted.
"The eruption caught them quite far away, more than 2 kilometers away," says Nogales.