No one affected by the La Palma volcano will be left without Reyes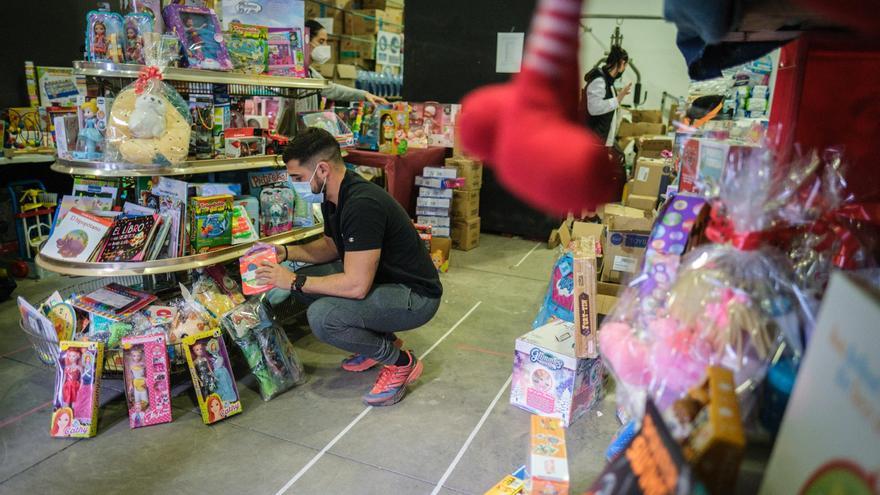 María visits the Tazacorte sports center that serves the City Council for the distribution of food and toys. Closer to the 80 than to the 70 years, it enters what until last September 19, the day of the beginning of the Tajogaite eruption, was part of the municipal gymnasium. There he seeks the complicity of Nieves Yoli Acosta, the councilor for Social Services. They know each other. The person in charge of the installation knows what she is coming for. You don't have to tell him anything. He calls her by her real name and without giving her time to say hello, asks her about the ages of her two grandchildren. «What do we put on you? Do you want this FC Barcelona case? ». The answer is the only negative he will give: "My grandson is from Madrid." In just two minutes, he comes out with a large bag full of illusion and magic. It doesn't matter what it contains; He knows that he will bring joy to the smallest of this family affected by the volcano.
The councilor is accompanied by Vanesa and Anjara, two of the municipal workers who these days have transformed their ordinary tasks into attending this improvised toy store provided by the avalanche of donations. They are clear that, within the suffering caused by the emergency, "this is a small joy, a relief after so much suffering and uncertainty." And it is that in addition to solidarity in food and money donations, they also remembered the little ones to send toys and allow those who lost everything to have their Three Wise Men.
"We are overwhelmed by the offers received," says a councilor from Los Llanos de Aridane
Maria leaves. She does it accompanied by another worker from the City Council who carries the bag full of hope to her vehicle. "In that house, on January 6 there will be a lot of illusion," Anjara highlights as she watches her leave. Stories like this are repeated in the El Paso Fairgrounds and in the Severo Rodríguez pavilion in Los Llanos de Aridane. In these three points of solidarity the collaboration that many groups and companies have with needy families in these special Christmas days is reflected.
Help for children ... and older
Nieves Acosta emphasizes that during the emergency, solidarity took the elderly and children into account. "At this time, people take it into account", with toys that arrive from all the islands, "sent by schools or even costumes", as well as from the peninsula. In the case of Tazacorte, there were 90 families foreseen in a previous list, but many more arrive from the municipalities of Los Llanos de Aridane and El Paso. Nobody is told no once it is verified that they belong to the group of those affected.
In El Paso they turned the Fairgrounds into the epicenter of solidarity. There you can find practically everything to be able to meet the needs of the victims: from hygiene products to toys that these days become the protagonists of the shelves, and which you have to constantly make space to be able to reposition the boxes that They keep coming. They are fortunate to have a space larger than that of Tazacorte. They even have carts like in supermarkets to move through the aisles. In all cases, a bulletin sent by the municipal social worker gives entry to the facility. Its person in charge is the Councilor for Education, Teresa Hernández, who agrees with her counterpart from Tazacorte on "the need to leave the shelves empty" today, so that no family that needs it, whether or not it is directly affected by the volcano, is left without toys. Some will stay for other dates, such as birthdays. "Unfortunately, this is a situation that is going to last a long time," he laments. Therefore, you also want to take advantage of if there is something left over. "We are overwhelmed by donations."
Both in El Paso and Tazacorte have all kinds of toys, "and quality", both councilors highlight. It is impossible to know how many. As an example, they cite the donation from the Murcia Civil Guard, which sent many pallets of products for the little ones that were distributed among the affected municipalities. In general, they are toys for all ages, from babies to 12 years old. Above all, the youngest are the ones with the most possibilities and the families themselves choose many of the toys. "The affected person does not arrive with pretensions", clarifies Nieves Yoli Acosta. "They go in and what they see is enough for their children," he says. "And that gesture also allows them to comfort their situation, by being able to give an answer to the little ones in these days before that tradition of the Magi", defends Teresa Hernández.
Donations come from individuals, associations of all kinds and even the Civil Guard of Murcia
Second-hand toys are also available in El Paso, available in any quantity, while for new ones, each family is allowed to pick up three at retail. They were afraid, admits the councilor, that the current supplies would not cover the needs of all children. The truth, however, is that the continued arrival of boxes has made social workers get back in touch with families so that they come back for more. The councilor of El Paso emphasizes that they are not only taking toys for these days. With adult clothing and footwear, as well as household items, the goal that neighbors of all ages have some detail on the morning of January 6 is being met.
The formula chosen in Los Llanos de Aridane is different. They have taken advantage of a solidarity campaign started three years ago, in which children write their letters and are sponsored by other families or companies. This is how Elena Concepción, councilor for Social Services, explains it. This year it was not necessary to carry out that call for solidarity participation. "We have been overwhelmed by the offers we have received," he says. Families who suffered losses during the emergency also participated, assigning their benefactors, ranging from individuals to large companies, and who allow them to already receive those gifts to make the wishes of the little ones come true tonight. Elena emphasizes that "it was a flood."
The Fuencaliente hotel
In Los Llanos de Aridane they also continue to receive large donations. They have reached all families, including those staying at the Fuencaliente hotel. Concepción emphasizes that "almost everything is new", which allows families in Severo Rodríguez to pass by to "choose and take what they need." The councilor emphasizes that "the people are conscientious and not pretentious." To fulfill all these wishes, Social Services personnel and volunteers, as well as municipal workers, strive to maintain a work dynamic from the first day of the emergency, when toys began to arrive. This situation was also reflected in the letter campaign to the Three Wise Men, in which many children tell their magical benefactors how they did not have time to collect their toys the day they had to leave their homes, which in many cases no longer exist.