No houses on fire, no stolen childhood. Greta Thunberg gives his most impersonal speech in Madrid | Society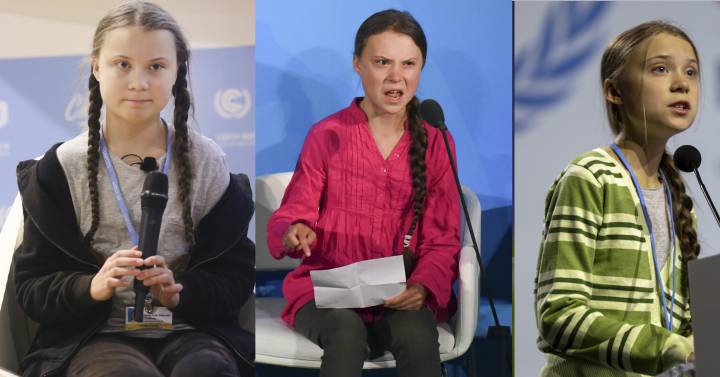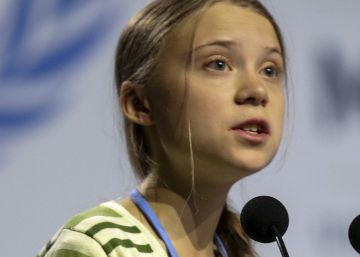 Greta Thunberg delivered a less personal speech on Wednesday in Madrid than on other occasions. The Swedish activist spent a good part of her 11 minutes at the COP25 plenary stage to cite data from scientific reports to support her alert message on the climate situation.
In his most outstanding intervention at the summit, Thunberg started precisely explaining why this time I was going to use only data, instead of emotions. "A year and a half ago I didn't talk to anyone if I didn't have to, but then I found a reason to talk. And since then I have given many speeches and I have learned that when you speak in public, it is convenient to start with something personal or emotional to get attention Things like 'your house is on fire', 'I want you to panic or how dare you,' said the activist, referring to the speeches she has given at Davos or at the UN headquarters in New York.
Then, Thunberg added that his speech on Wednesday would be different "because people keep the phrases and nobody remembers the data," and went on to quote United Nations reports and other statistics on inequality in pollution between poor and rich countries. In fact, during his six-day visit to Madrid, Thunberg has moved away from the spotlight, giving voice in his interventions to activists and scientists.
"How do you communicate this without sounding an alarmist?" He asked the audience, and after giving the figures, he called for the mobilization ("Every great change in history has come from the people"). Shortly after his intervention, he began his journey back to Sweden by train, electric bus and electric car.
Thunberg's exciting speeches, which always contained scientific data in addition to the personal turn, explain part of the success of his mobilization. They have been collected in a book, Our House is On Fire (Our house is burning) and accumulate millions of views on YouTube. These are some of the best known fragments.
"You are never too small to make a difference"
A year ago, at the UN Climate Summit in Katowice, Poland, Thunberg delivered his first great speech. It was on December 12, 2018, in the plenary session where the delegates of the Governments met (Here, the full speech). With two braids and serene security he started introducing himself.
"My name is Greta Thunberg, I'm 15 years old and I'm from Sweden. A lot of people say that Sweden is just a small country and it doesn't matter what we do. But I have learned that you are never too small to make a difference and if some children can appear in the headlines around the world simply for not going to school, imagine what we could all do together if we really wanted to. "
"Our house is on fire"
Thunberg spoke on January 25 of this year to the world elite gathered in Davos, Switzerland, in one of his most challenging speeches. (Here, the full speech).

"Our house is on fire. I am here to say that our house is on fire. According to the IPCC (panel of experts of the UN) we are less than 12 years of not being able to undo our mistakes (...) Adults continue to say that we must give hope to young people. But I do not want your hope. I want them to panic, I want them to feel the fear that I feel every day. And then I want them to act, I want them to act as if they did in a crisis. I want them to act like the house is on fire, because that's the way it is. "
"How dare they?"
Thunberg intervened on September 23 at a Climate Action summit at the UN Assembly in New York. (Here, the full video). It was his hardest speech, in content and in form, five minutes of tension in which visibly affected he put in the face the inaction to those present.

"My message is that we will be watching you. All this is wrong. I shouldn't be up here. I should have gone back to school across the ocean. However, all of you come to us, young people, in search of hope. How dare they?
They have stolen my dreams and my childhood with their empty words. And yet, I am one of the lucky ones. The people are suffering. The people are dying. Entire ecosystems are collapsing. We are at the beginning of a mass extinction, and everything what they can talk about is money and fairy tales about eternal economic growth. How dare they? "
. (tagsToTranslate) house (t) flame (t) childhood (t) steal (t) greta thunberg (t) give (t) speech (t) impersonal (t) madrid (t) intervention (t) activist (t) cop25 (t) have (t) personal tone (t) (t) emotion (t) famous (t) famous (t) president



Source link