Nino Morales, from Brisas del Teide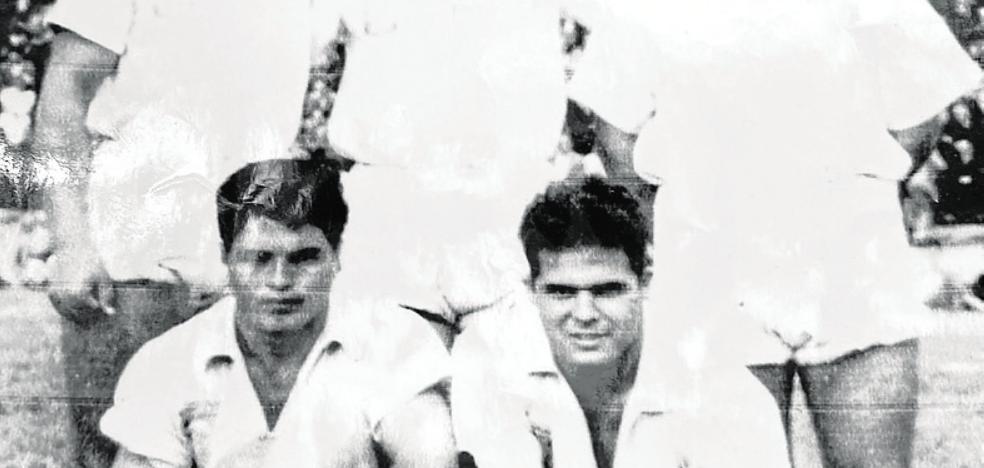 In the report published last Sunday in these pages, Salvador Sánchez, Borito, mentioned that Nino Morales, from Tenerife, was one of the best fighters of his time and that he had seen him fight on his island.
In Santa Cruz, and in what they call his office, since almost all his life he has been in that area of ​​Weyler Square, having a coffee, a great one, who at 87 years old still has special memories of the vernacular sport and some advice , in case you want to take it into account.
First, before anything else, was his greeting. «I think I am one of the fighters who have seen the most fights in the Canary Islands since I started going to them when I was 9 years old. My stage as a fighter began at the age of 15 in Brisas del Teide, where I was until I was 20 and then in the barracks I went to Santa Cruz ».
He began to fight first in the Second Category, in which he would achieve great deeds with the teams where he played. «In 1957 there were promotions and descents in Tenerife and we had some committed struggles that had to be won to climb. We were missing two fights and the first was in Guamasa, where I was lucky and was able to knock down the six remaining opponents. We went eleven to eleven, fight by fight and separated. My ear was like an artichoke and the second was here, in El Frontón, and the decisive one to go up to first. Being in the barracks I go to the hospital on Monday and when they see how I had it, with a scalpel, the colonel cuts off my ear. With the wound open all week and had to compete on Sunday. I wasn't going to fight because I couldn't, but I had my clothes on, all my companions fell and they made me leave since there were no more, although I didn't plan to do so. The two props of the opposing team remained. When grabbing, the blood gush was tremendous. They went to the first-aid house, they brought a doctor to the Frontón, he cured me, stopped the bleeding, bandaged my head and I grabbed them with the two props and I was able to knock them down. It was the first time that Santa Cruz fought in the first division."
The following year, he repeated the title. «In 1958 I was also champion with Brisas del Teide and in 1959 I broke my hand and spent two months without fighting, although I participated in Arafo, in the championship final and we lost, winning Victoria and Brisas second in the tiebreaker fight ».
An injury cut short his last years. "I retired in 1965 due to a spinal injury. I went to Madrid, but they did not operate on me because it was dangerous and I left the fight that was my thing. I cried for the fight.
In his time as boss, he had everything at his command. «I was the boss of children from five years old to the great ones, with the national team, in Santa Cruz for about ten years, with Brisas del Teide, another ten years and always involved with the fight all my life. I was even manager of a blind team and the women's Brisas. I saw my first fight in 1944 and from there I have followed it and I have seen the fight on the eight islands, because I was in the one that was at the Fiestas de La Graciosa as well as in La Gomera ».
His most intense moment was «that fight where there were some very big bets in the Plaza de Toros, in a Santa Cruza and Hespérides, the two real great rivals. El Pollo de Máguez had surgery on a knee and was the mainstay, but we had to fight for the tiebreaker and they didn't expect it to improve, so we were lost. The stakes were tremendous. A fan from Santa Cruz and another from Hespérides bet 50,000 pesetas each, which they deposited in the bank. It was not for profit but so that 200 people would go to eat at Esperanza with that money, 100 fans of Santa Cruz and 100 of Hesperides. We went to fight and the bets were 20% in favor and 80% against. That day I threw Felipe del Castillo and Pollo de Las Canteras, nobody expected me to be able to beat them, and we went out like bullfighters, on our shoulders. The one who won the bet and I, they took us to the Ramblas, it was very exciting since I also gave Felipe the first one and he gave me the second one and it was not known who would win. The one with the bet always carried tobacco, but you looked at him and we no longer knew if he smoked or ate it».
There is another day on your mind. «In Arafo, fighting with Brisas, I shot eleven opposing fighters. When I went out to the field we were losing 8-0 and I spent an hour and a half throwing people, although they gave me several fights. It was one of those days that the fans were excited to see it.
The saddest moment was in 1959. This is how he remembers it: «I broke my hand, the team didn't win, but in the end we started to do it and we were tied with Victoria. People returned to the arena with hope and in the tiebreaker in Arafo, on a neutral field, there was a fighter who had no reason to shoot me, without disrespecting anyone, he shot me well and we lost the title. I was not well recovered, but it was very hard for everyone.
Nino Morales sees himself as "a winner. I never liked losing. He was seriously fighting to knock down, on the contrary. The fight before was very different. Today they do not give it importance, they are eliminated and nothing happens. The Canarian fight must have a winner and a loser. I only broke up twice in my life. You can fall, but you have to fight, which is what the viewer wants. Today you fall, another day you will win. Today's fight is too different. Before you fought for pride, if it wasn't like that, how can you fight with a recently operated ear, bleeding?
About her favorite skill she was well known. «When I shot at eleven in Arafo, they told me that how was it possible if they knew that I was going to go for a thigh catch. A thigh well caught there is no contrary to it.
He has his fighter type preferences. «For me the best of all, without forgetting Barbuzano, who should not be detracted from, was Orlando Sánchez el Estudiante, from Las Palmas, because wherever he played, he danced, he was perfect. I trained with him in the militia camp, but he left for Las Palmas and I stayed here. Three months later he came with the Vencedor to the Fiestas de Güímar, with Palmero, Pollo los Reyes and Orlando had won here three years in a row. That day I managed to throw him, but for me he was the best who made a defense of the thigh, like nobody else. You have to make a detour a bit and then enter the thigh that is not caught with the hand but with the forearm and then they can no longer defend well ».
There are more fighters who have impressed him. «There were many good fighters then, but Pollo de Tacoronte, Camurria, who was the most mischievous guy in Canarian wrestling, was very intelligent. Santana had thrown me five times in a row and he told me how to fight him and he didn't throw me anymore. Camurria was able to shoot Faro because of his mischief, he was very smart. Another fighter was Babache, who sometimes didn't even know what he was doing. He left people with their feet up and their heads down. El Palmero, Alfredo Martín, was an athlete and a great fighter, but Orlando Sánchez was an artist of Canarian wrestling. Barbuzano was a great fighter, but because of the way he fought, I wouldn't have minded facing him."
Of the current ones it is very clear. «Although there are good fighters, for me the best is Fabián Rocha, he is a great fighter. One of the problems is that there are many overweight people who are going to lose weight, not to put on a show, which is what people want. The fan pays a ticket for a show. Here he passed with Melquiades and Parri, who filled the Plaza de Toros, but they themselves first raised the fight and then sank it, because they had great respect for each other and no longer fought. They were eliminated on a Sunday, people went out sparking. The fan went again, but they were eliminated again and since then, in Santa Cruz and in Taco the fight has gone down. They weren't risking anything. You have to take risks, someone has to win, there has to be a winner.
He remembers his time with the base fondly. "I came to have several schools with the Santa Cruz city council. There were 14 teams in the capital, giving wrestling classes to fry, children and youth. 300 children at the May festivities and that was lost. Children must be motivated to fight. She would buy a sandwich or a sweet... »
He is a strong advocate of a pass for veteran fighters. «I am half angry with the president because for three years I have been saying that there are veterans who are not going to fight, with more than 75 years. I spoke with him to give him an initiative, to give him a pass so that they could go since he is interested in filling the fields.