Nine hours of railway odyssey to flee the war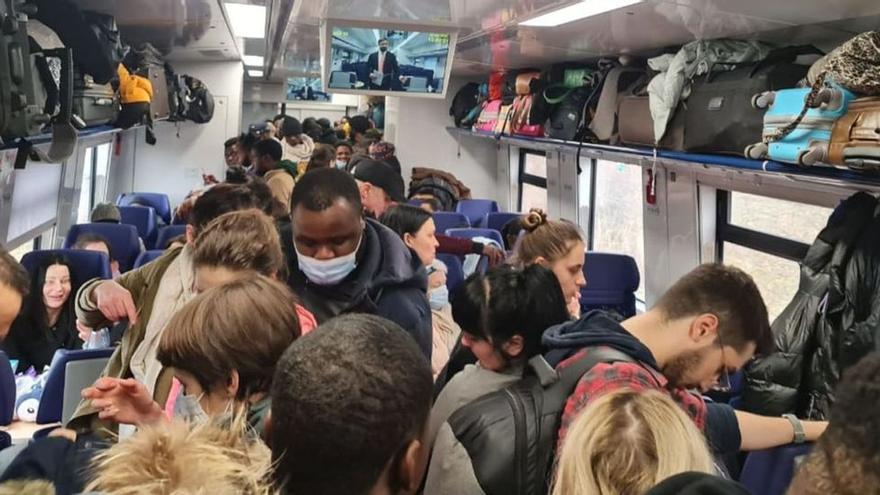 Nine hours on a crowded train from Lviv (Ukraine) to Warsaw (Poland) in full Russian invasion. This is the adventure experienced the day before yesterday, Sunday, by the Asturian businessman Antonio Martino:
-The panorama was impressive. People from many countries fleeing Ukraine: Congo, Senegal, Zambia, Iran, Turkey... Some were students; others, workers. In the faces, more than panic, he saw weariness. Before taking the train, they had suffered very long waits.
Among the passengers there are no easy situations. But some are more difficult than others:
-Seeing the children impresses. And also to see the mothers doing everything possible to put on a good face. Her husbands are in the front. Some burst into tears on the train, after the chaos of access to the cars. Fights, screams of mothers, children crying...
Antonio Martino has been living in the Ukraine for more than ten years. Currently, he resides in Lviv, about seventy kilometers from the Polish border. On Sunday he traveled to Warsaw with her mother to take her to the airport in the Polish capital, from where today, Tuesday, he flies to Madrid. "My mother spent three years with me in the Ukraine and she adapted very well; now she will be with my sisters for a while, "explains Martino, the son of an Asturian and a Cantabrian.
For years, Martino lived in Ribadesella, his father's hometown. He now he lives near the Lviv station. Even so, no one took away three or four hours of waiting for the train. Upon entering Polish territory, they were surprised by the presence of "many volunteers, very dedicated, because the Poles feel what is happening to the Ukrainians as their own."
Once the woman takes flight, the businessman plans to immediately return to Ukraine. He wants to help the people of a country he loves in their fight to repel the Russian occupation.
–We are organizing the reception of Ukrainians in Spain. We want to make sure that they are serious people and not problematic –points.
Martino's intention is to establish synergies in Ukraine "to help combatants both at the front and in the rear, get food, medicine and everything necessary to care for the wounded, connecting associations in Spain and Ukraine." All with a clear objective: to stop Vladimir Putin. And it is that he is clear that the Soviet president "is going to continue advancing as long as he does not stop him." And in this line, he indicates that "defending Ukraine is defending all of Europe".
In his opinion, economic sanctions "harm" Russian businessmen. The closure of airspace also has repercussions: "Businesses that used to be done in two days can now take two weeks; the trips that were made in a few hours, now suppose journeys of days. Business flights on Russian territory will suffer cancellations and that will have consequences." In addition, Martino emphasizes the casualties suffered by the Russians, some 4,000. For all these reasons, he trusts that Russia will suffer an internal split that will stop the invasion:
–The hope is that Russian advisers and businessmen will convince Putin by hook or by crook –says Antonio Martino.