Nikola Mirotic: "I want to mark a time at Barça" | sports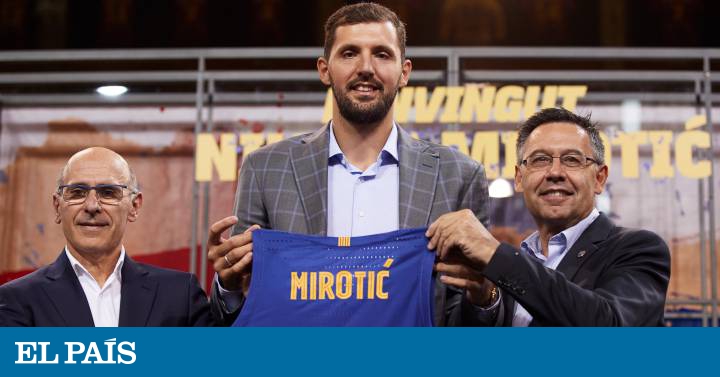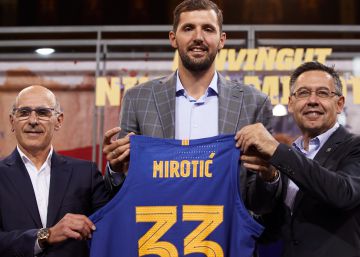 Nikola Mirotic had no doubts. After five seasons in the NBA and with the prospect of being released, he spoke with his wife and decided to return to Europe. He then received several offers. He met with Josep Maria Bartomeu, president of Barcelona, ​​in Miami, and from there the contract was established for three seasons, plus an optional one, as a Barça player. "I want to mark a time. I wanted to return here in my best years, not when I was 33 or 34 years old, and have the option to mark a time. I want to lead and win titles being an important player, "explained the 28-year-old Montenegrin power forward.n its presentation at the Palau Blaugrana.
Mirotic returns even though he could have continued in the NBA. Last season he collected $ 12.5 million between New Orleans and Milwaukee. And he had a firm offer to sign for Utah for three seasons and 45 million dollars. But he preferred to sign for Barça, who will pay him a chip of between 4 and 5 million euros a year.
"I understand the doubts that may exist, but for me it's a big step forward. The first five years in the NBA have been very good, I have gone from less to more. The last two have been the best. I became important, played with the best teams and competed four times in the playoffs. But there came a time when I wanted something more. I have also been traded twice and I would surely have been traded again if I had stayed there. I was looking for stability for myself and my family. And he was looking for a team where he could win and lead. And that, being in the United States, is difficult. That's why I think the decision I made is right. "
Mirotic influenced the weight of his family life when making the decision and the changes he has experienced since he decided to leave Real Madrid to sign for the Chicago Bulls. "I've matured a lot as a person after being a father for the second time, of having fought and having won being important in the NBA. My mentality remains the same, if it fits more with desire. I'm still a player with the same hunger and the same commitment to the team. "
Asked about his Madrid past and about the influence he could have on his move to Barcelona, ​​he explained. "This is my life, my decision. Without a doubt, I do the best for myself and my family. I am proud of my past, but very happy with my present and my future. "
Josep Maria Bartomeu emphasized the dimension of the signing of Mirotic: "It is an exciting and special presentation. It is a star that has triumphed in the NBA, which has played at a good level and has been decisive in the teams he has been. The fact that he has decided to come to Barcelona is exciting for the Barça players, for a team that is growing in the last two seasons and with him this growth will be much higher. We expect a lot from him. "
The president of Barcelona added: "It is not normal for an NBA player to return to Europe. It is usually the other way around. That gives a lot of value to his decision and that of his family, it is more difficult than to continue in the NBA, it is a challenge and an ambition that we will help to make it successful and to be the success we all hope for ".
You can follow EL PAÍS Sports in Facebook, Twitter or subscribe here to the Newsletter.