Nikola Jokic, NBA MVP for the second year in a row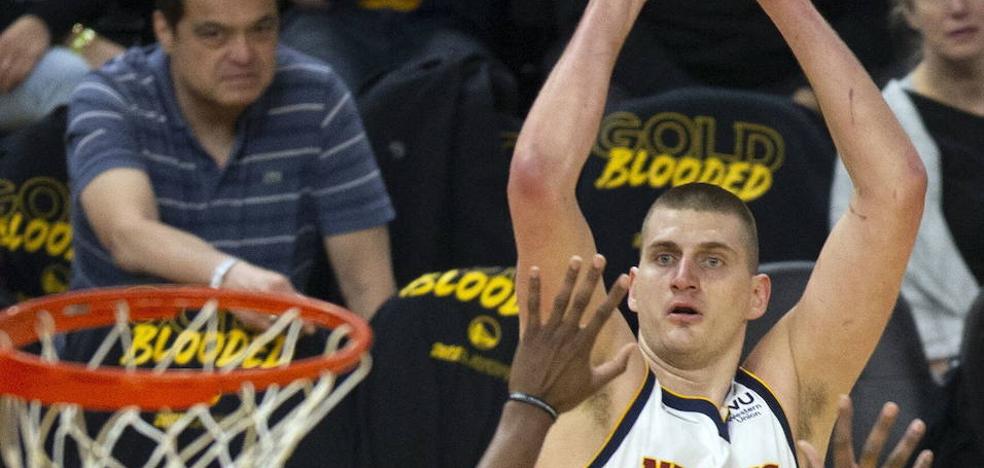 The Serbian center of the Denver Nuggets prevails in the votes to the Greek Giannis Antetokounmpo and the Cameroonian Joel Embiid
Nikola Jokic will be named NBA MVP for the second year in a row, according to ESPN journalist Adrian Wojnarowski on Monday, citing league sources. The Serbian center of the Denver Nuggets has prevailed in the votes to the Greek Giannis Antetokounmpo and the Cameroonian Joel Embiid, the other two great candidates to win the coveted award that distinguishes the most valuable player of the season.
At 27 years old, Jokic has once again signed some astral records. The Balkan ended the campaign with averages of 27.1 points, 13.8 rebounds and 7.9 assists per game, raising his already stratospheric numbers from the previous year. However, injuries to Jamal Murray and Michael Porter Jr., the Nuggets' other two big stars, prevented the Colorado franchise from reaching its team goals. Weighed down by these absences, Mike Malone's team finished sixth in the Western Conference, with a balance of 48 wins and 34 losses, being knocked out in the first round of the playoffs by the Golden State Warriors, who won the 4-1 series.
A failure that has not been enough to prevent Jokic, who sealed 66 double-doubles and 19 triple-doubles, from becoming the fourteenth player to link two consecutive MVPs as a result of a campaign in which he scored more than 2,000 points, captured more than 1,000 rebounds and distributed more than 500 assists, something never seen before in the best basketball competition on the planet.
The Joker, who dominates all the records of the game, thus takes over from Giannis Antetokounmpo, winner of the MVP in 2019 and 2020, to extend the hegemony of European players in the main individual recognition of the NBA. He is also the first pure 'center' to fasten two MVPs in a row since Kareem Abdul-Jabbar did it in 1976 and 1977.
Quite a feat for a child who grew up overweight and who developed a privileged vision of the game as a way to counteract his physical deficiencies. Away from the radar of the main European clubs, it was Lithuanian Arturas Karnisovas, a former Barça player and then an employee of the Denver Nuggets, who urged the Colorado franchise to recruit him in the 2014 draft. in the second round, with 41st place, which has ended up proving to be a master move.