Nico: "I enjoy the pressure, it's an adrenaline rush that I like"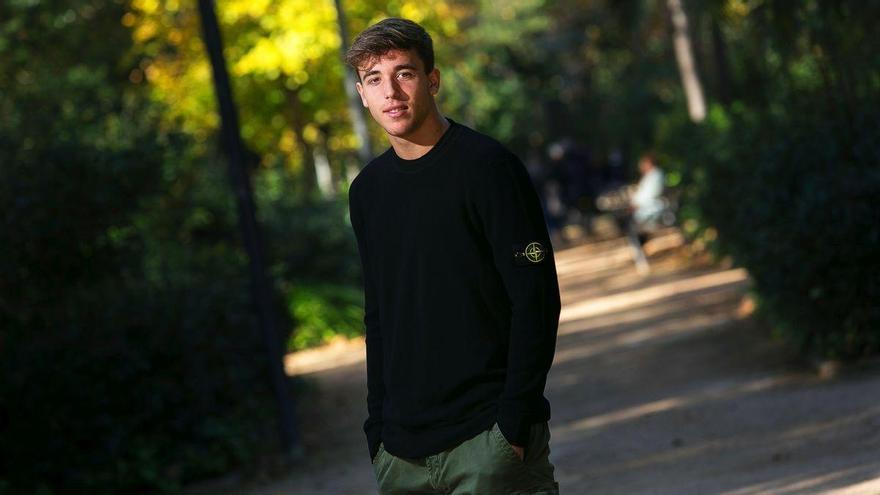 It started in the Infantil B of the Montañeros de A Coruña and Barça came to look for him in Benjamin. How do you remember it?
In my second year, I played a tournament in Andorra with Barça, Mic, and there they tried to sign me, but I decided to stay in A Coruña because I was very young and neither did my parents want to move to Barcelona. But hey, after two years, I saw it clearly and I came here.
How old were you when that happened?
Eleven. It was a second-year fry.
"Hopefully we can take over a bit from the batch from before, from Messi, Xavi, Iniesta, Piqué, Busi, Alba …"
Is it true that Depor and Madrid were they also bidding?
Yes it's correct. Depor had been behind for a few years, but I was very comfortable there, with my friends, and the truth is that we had a great team. We always competed against Depor very well. And some year we even beat them.
And why did you choose Barça and not Madrid or Depor?
Although my father always wanted me to be a fan of Depor, I was always a Barça fan. I grew up following its prime and when it came to deciding I had no doubts.
There was a family debate about it, you can imagine.
It has always been said that my father wanted me to go to Madrid, and it is true, but my mother and I always wanted to come here.
What arguments were there in favor of one and the other in the family sphere?
The main argument that weighed on is that I was from Barça. Besides, the year I was in the first year juvenile they asked me to play four friendly tournaments with the Barcelona juvenile A, a couple of them in Galicia. In them I met and became friends with all the players of a team in which they were Ansu, Eric, Take …
And why did his father want him to go to Madrid?
The truth is that we have never discussed it and I have no idea what the reason was. Maybe because he was about to go to Madrid in his day and he would have been excited, but I don't know.
Somehow, as a child, he did what his father never dared to do, which is to leave A Coruña.
He has been in Depor all his life and delighted, but that feeling of having gone to another team, trying other things, you always have, but he does not regret it at all. At Depor he was always happy.
How did you deal with everyone having to move in with you?
I have two sisters and we adapt pretty quickly to Barcelona. My mother and father, the same. The truth is that people live very well here. We moved to Sant Cugat and family life there, when you are 11 or 12 years old, is spectacular. In fact, my father always says that, of course, he is working at the Depor now, but that when he leaves he would love to live here.
"I really like to talk about tactics, with Busi I do it a lot because he knows a lot. He will be a safe coach"
And you never considered living in the Masia?
It's that right away my parents wanted to come with me, and I was grateful for it. It's hard for an 11-year-old to go alone and not see your family for months.
Let's talk a little about soccer. He was a '10', then he was delayed to the position of '6' and now he plays more as an interior. How do you handle these changes?
I think that's good, to be able to play in different positions, but yes, when I played in A Coruña, I played indoors and then in the lower categories, until youth A, I held the pivot demarcation almost always. And now indoors, a time of '6', but I feel comfortable in both positions. I also like to play upstairs.
But neither of them pleases you more?
Last year I did feel more comfortable as a pivot, because I played the best games there, but this year, I'm playing much more indoors and reaching more of the area, and I hope that soon the first goal will arrive, which is resisting, I'm very comfortable there too. I could not tell. They depend on the sensations and how you play. In the end I feel more comfortable where I play better.
There came a time in his growth that underwent a great physical change. It suddenly grew 20 centimeters. Did it affect the way you play?
There was a summer when they asked me: 'hey, what did you drink in Galicia? ' (laughs). When you are young and grow so much, if your body is not adapted to the new height, you become much slower, less agile. It is complicated at those ages because you still see kids who do not stand out so much because they are not adapted to their body. It cost me too. These last two years I have grown a lot physically.
Speaking of these last few years, it seems that he had offers to leave, such as the Manchester City. Instead, he decided to stay. Why?
At that time my father worked at City. There was a lot of talk about whether or not I was going to go there, but in the end I never had any doubt that I was going to stay here, because I have never wanted to leave.
Tell us about the feelings you had when Koeman gave him a chance to play.
At that moment, in that first league game, against Real Sociedad, the sensation was… Ugh! This week, when there was no match and I was unable to play, I explained that I have missed that feeling of a match. Now when I play, I have an adrenaline rush that is spectacular. Even the pressure, I enjoy it. I love that feeling. The first day I was not nervous but my body was going a thousand per hour. And when I went out to the field I was already relaxing, although in the first balls I was somewhat tense. I enjoyed it a lot.
Were you alerted that you could play?
I thought that being the first game I would not play. I didn't even go out to warm up at halftime. But it turns out that I heated very little and I went out very fast, everything was very fast. I did not imagine it. In minute 70 or so he ordered me to warm up and ten minutes later I went out to play. He hadn't alerted me during the week or anything.
"Going up to the first team and finding 7 or 8 friends from before makes everything easier. Ansu didn't have it and it was more difficult for him to relate"
Now your coach is Xavi, a midfielder like you. Has he already taught you things?
I've only had two training sessions with him, but ostia, it's Xavi. When he has talked to me, because he is talking to everyone, he is very close. At the end of training he comes and tells you what he wants from you. It helps us a lot and is spectacular.
Is it a very individualized treatment?
Yes. Especially in the center of the field he insists on many aspects that he thinks we have to improve. One of the things they always said about him is that he would turn his head and look constantly, and that is what he insists us on in training exercises.
What else have you asked for other than looking?
Above all, he asks for a lot of commitment, a lot of intensity in pressure after loss … All these things that in the end are the basis of Barça football and that in the years in which it has been most successful have been fundamental. That is what he is trying to convey to us.
Concepts that you already have coming from the grassroots, right?
You get to the first team and you play the same thing as nine years ago, which are what I have been at the club. That is appreciated.
You have already played derbies.
In cadets and children this match was the match of the year. You could feel a lot more pressure than the others. The people of the house we give more importance. It is very nice to play a derby.
If Koeman were there, we would all take it for granted that he would be the starter. Now with Xavi it ​​is unknown.
It just arrived and we all started from scratch. And nothing is known. I think he is a coach with a lot of criteria and will do what is best for the team.
"" Xavi is very close and helps us a lot, he is spectacular "
How would you describe the experience of playing at the Camp Nou?
The first time I entered the stadium before changing in the first game, I realized that it is super tall, a pass, and that it imposes a lot, but when you start to play you hardly find out. I thought that the noise would impose much more, but the truth is that you isolate yourself.
One can imagine that going up to the first team together with Gavi and Eric, with other young people like Pedri and Ansu Fati, will make him feel more accompanied.
Totally. And it allows you to integrate much better and sooner. I have discussed this with Ansu, who came up and there was not so much young and it was more difficult for him to relate. Going up and finding seven or eight old friends makes everything easier.
What future do you see for your batch, which the club has called Dream Teen, a label that I don't know if you like?
Sometimes we say it as a joke in the dressing room and the truth is that I do like it. Hopefully we can take over a bit of the batch from before: from Messi, Xavi, Iniesta, Pique, Busi, Sunrise… This whole generation that won so many titles. At least get a little closer to what they achieved, which is already very complicated. Hopefully…
And does having started at a downcast Barça see it as bad luck or as an opportunity?
Yes, the situation is more complicated than in other years, but you don't have to dramatize either. There is still a lot of league left and now with Xavi we will pull up, the team is convinced that we will pull up and we will end up competing for the League for sure. And now in Champions we have a very good chance.
What was your idol as a child as a midfielder?
Iniesta. I always had him as an idol.
And now that he's not such a child, who does he notice?
De Jong is my favorite interior. Definitely. And Busi is the best pivot I've ever seen in my long life. I've played a lot as a pivot, making it easy like him is very complicated.
By the way, they say he had a very high IQ and they skipped his grade.
They passed me from first to third year of ESO directly at Europa de Sant Cugat. I was good at studying.
AND?
I did high school, selectivity and then the first year of my degree in ADE but now I don't have time and I have left it. At this level, honestly, it is very difficult to combine football and studies. Because there are weeks when you don't have time for anything. The last week we competed on Monday we went to Kiev and on Friday you are going to Vigo. There is little time, really.
"I came here when I was 11 years old and I adapted quickly. My parents and my two sisters too. Barcelona lives very well"
What interests you apart from football?
I have always said that I studied because I liked to study and I had time. But when I stop playing I would like to continue linked to football, as a coach or whatever. My life is football and everything revolves around this.
In other words, he sees himself playing Xavi in ​​20 years.
Hopefully I can have a chance in the first team as a coach in 20 years. I like to talk about tactics, I do it a lot with Busi, to understand more, because he knows a lot. He is a future coach. Sure. I have always been one of those who has asked my coaches. But hey, I still have 20 years playing if I get to the age of Dani Alves (laughs).