New Van Gogh drawing from 1882 discovered in Amsterdam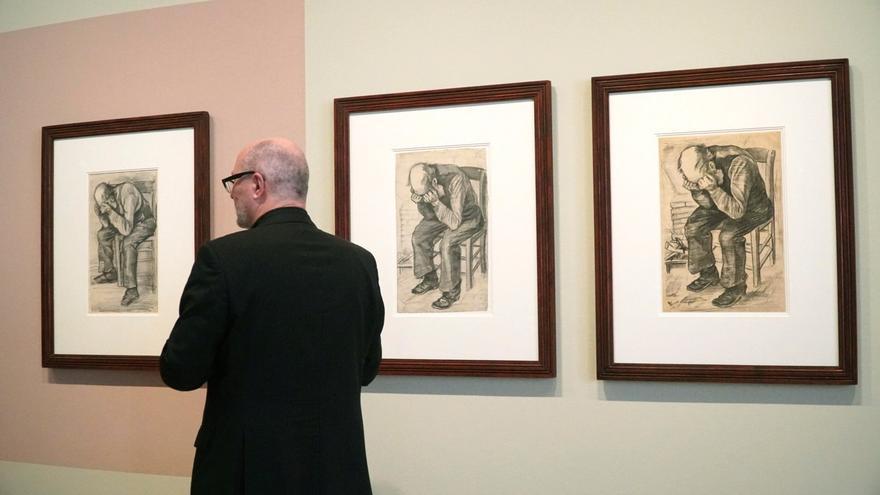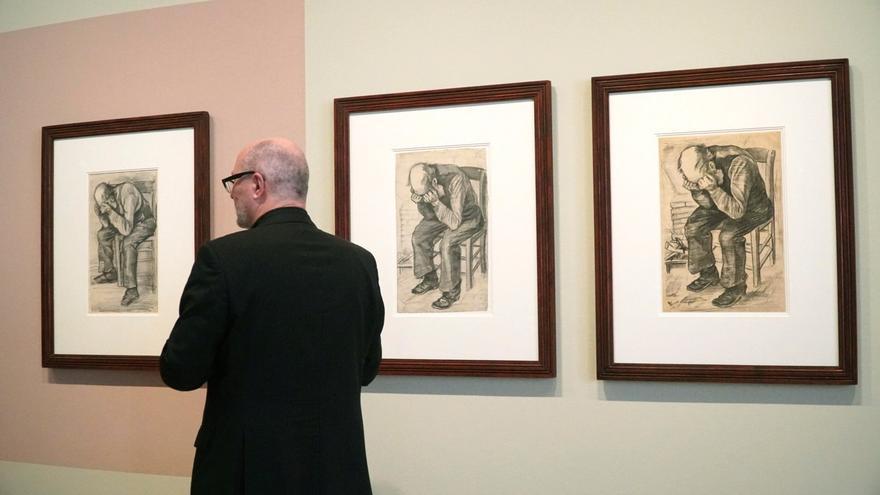 The Van Gogh Museum in Amsterdam has discovered a New draw by the eponymous Dutch artist, a preliminary work on the painting 'Desgastad' ('Worn out'), from 1882, one of the best known works of the period that the painter spent in the city of The Hague.
The piece, a sketch that will be exhibited from this Friday in the gallery, shows an elderly worker, apparently tired, dressed in a bombshell suit, with his back hunched and seated on a probably wooden chair, his head lowered between his hands, and with both elbows resting on his legs.
As Teio Meedendorp, the museum's principal investigator, explains to Efe, it is an "addition" to the collection of the Dutch artist because "we know that, during that period, he made many models of these paintings", but this discovery "gives a particular idea of ​​his working methods because it is closely related to another drawing."
This model appears regularly in Van Gogh's works and the artist portrayed it at least forty times. In these drawings, the artist not only showed his sympathy for the socially disadvantaged, but also drew attention to their situation, because for him they were not inferior to the wealthy bourgeoisie, the museum analyzes.
In a letter to his brother Theo and his friend Anthon van Rappard, the artist described all the details of how the final drawing came about, which makes this discovery, "which is no less impressive than the final drawing", offers an exceptional insight into Van Gogh's work process at that time in his life.
Residents of a charity house in The Hague posed in old and worn clothes, in exchange for a small fee, so that Van Gogh could photograph them.
Passionate about working class figures, he painted them on dozens of occasions in different drawings that survive as his inheritance to this day.
The family that owns this drawing, who prefers to remain anonymous, never wanted to make this work public, until last year the art gallery appealed to private collectors to cooperate with a digital Van Gogh database.
Materials and strokes
They then asked the museum to study it to determine if, as they already imagined, it was attributed to Van Gogh. Meedendorp concluded that, in artistic terms, the work "fits in perfectly with the many figure studies we know of from Van Gogh's time in The Hague and the connection with 'Eroded' is obvious ".
The artist began by drawing a grid on the paper, "which we are told that he worked with a perspective frame to help him quickly capture a figure with the correct proportions" of his model. Then, following its explosive character when drawing, Van Gogh made outlines and strokes, paying special attention to the effects of light and shadow.
The painter's footprint is also reflected in the materials used by him in that period: a thick carpenter's pencil as a medium, and thick watercolor paper as a support, which you fix with a solution of water and milk.
In this work are also appreciated traces of damage in the corners of the back of the drawing, which relates to the way Van Gogh used to place sheets of paper on his drawing board.
Museum Director Emilie Gordenker noted that it is "quite rare that a new work is attributed to Van Gogh" and stressed that the gallery is "proud to be able to share this preliminary drawing and its history" with visitors, who will be able to admire this new discovery until January 2 as part of other works from the same period.
"As a center of expertise dedicated to the work of Vincent van Gogh and his contemporaries, we are delighted with this discovery and very happy to have made a contribution to our field of expertise," he added.
For Meedendorp, exhibiting this work, which is baptized as 'Study for' Worn out '(' Sketch for 'Worn out'), along with other works from the same period, "offers a special vision of the artistic process" of Van Gogh. "What's more, the study is a very fine and powerful drawing, which stands on its own," he concludes.