New scuffle between Gamarra and Calviño due to the lack of support for the Government's forecasts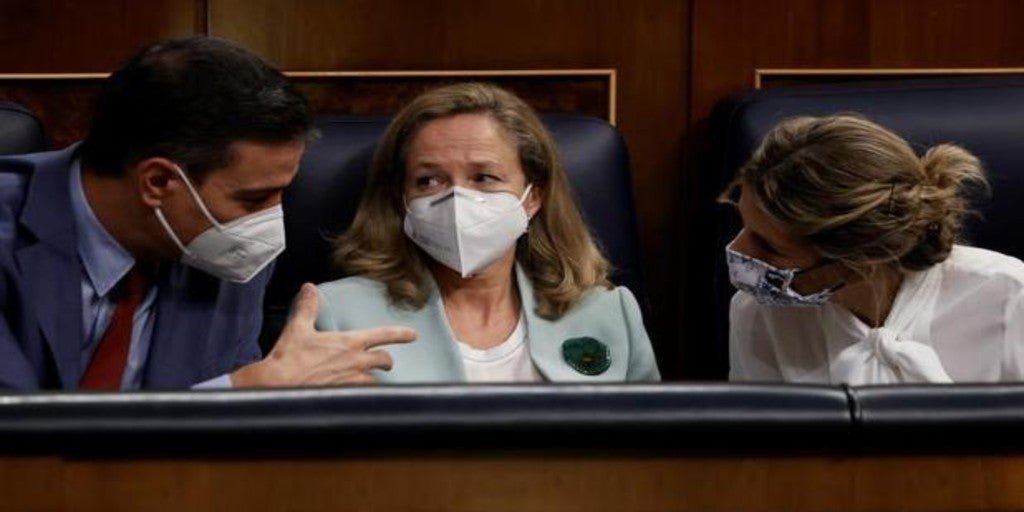 Updated:
Keep

The economic forecasts of the Executive have caused this Wednesday A new parliamentary row enters the PP spokesperson, Cuca Gamarra, and the first vice president, Nadia Calviño, during the control session in Congress. The
Government continues to ignore lower estimates that most of the institutions and organizations, both international and national, have been carrying out in a cascade since the INE carried out a historic reduction in growth in the second quarter, for which the popular leader has accused the minister of building Budgets based on the « lie".
What are they based on to say that next year's growth will be 7%? In what to affirm that the collection will be above 230,000 million? In more taxes? In more tolls? "Gamarra has rebuked Calviño, recalling that neither CaixaBank, BBVA, the IMF or the General Council of Economists support the macro picture on which next year's accounts are based. Some Budgets to which there is still to be added the millionaire assignments that the Government is obliged to make to its pro-independence and regionalist partners to be able to carry them out in Congress. This same Wednesday, the spokesman for Teruel Existe, Tomás Guitarte, reminded the head of the Government, Pedro Sánchez, after yesterday ERC spokesman Gabriel Rufián insisted that his group will remain in the "no" at new accounts until La Moncloa accepts the assignments they claim and Compromís spokesman, Joan Baldoví, warned that the new accounts have to change "a lot" as far as the Valencian Community is concerned so that his party can support them.
"If you returned to the budget office in Brussels, would you endorse this economic policy marked by the radicalism of Podemos?" Gamarra ended up questioning. Calviño, for his part, has not flinched and has once again defended the "credibility" of the Government because, in his opinion, "he says what he does and does what he says", despite the fact that she herself has not managed to keep up some of his promises such as that there would be no repeal of the labor reform, a new increase in the minimum wage or a regulation of the price of real estate rentals. «Long live certainty and legal security! How we have changed Mrs. Calviño! », Reproached Gamarra.
The minister continued to assure that she practices an economic policy «Aligned with European priorities and agendas», «endorsed by international organizations» and with "a responsible approach from a fiscal point of view, from an economic point of view, from a social point of view." From here he criticized that the PP did not take advantage of economic growth "to reduce public debt over GDP" and once again took out the fact that the current way out of the crisis is being "very different" from the previous one.