New gamer dictionary: the universe of video games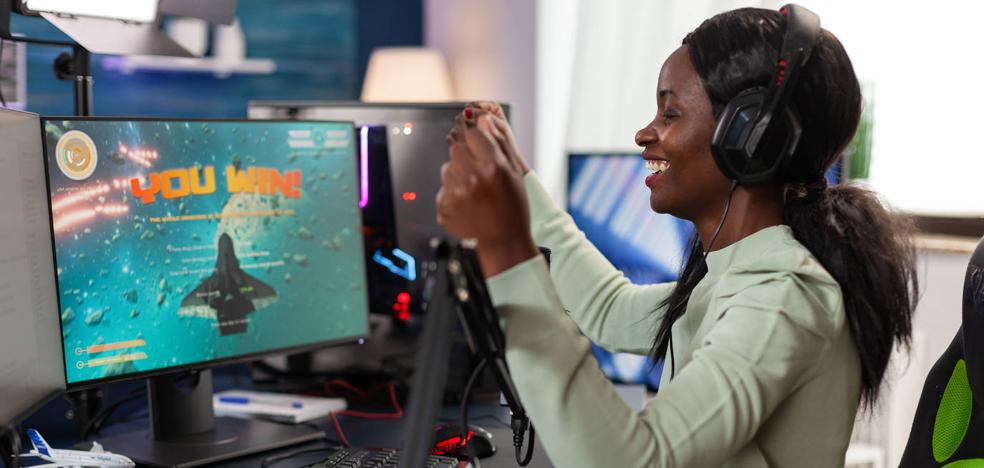 The bilingual dictionary has arrived that with 926 terms defines the gamer universe, which is in the process of continuing to grow
"Flaming", "bug", "otaku", "streaming" or "raid" are some of the 962 terms and expressions that
Hispanic philologist Iván Ramírez has collected in his "Dictionary of Video Game Terms" (Verbum, 2021), designed to serve as a reference for the media, fans, computer scientists or the players themselves.
This is how he expressed it in an interview with Efe Ramírez, a graduate of the University of Las Palmas de Gran Canaria, who has described the process of collecting the terms as "long", since he began compiling the dictionary in 2019, although he hopes to wake up interest in people who are passionate about the «gamer» universe.
«One always has the hope that it will be welcomed with love and enthusiasm. I try to be ambitious, but I do not overlook the fact that it will rarely be the case that a person who is going to play video games will have the need to go buy a dictionary, but as a curiosity for people who are passionate , yes, "says Ramírez.
In his opinion, journalism and the media specialized in video games are experiencing a stage of "important" expansion and throughout these years he has appreciated "hesitation" when using certain terms, for which he has seen many alternative variants without references of the actual use made by the speakers.
Illustration taken from the gamer dictionary of the blog 'Life is a Videogame' /

lavidaesunvideojuego.com

"The use of certain words spreads"reflects the philologist, who is currently studying for a master's degree in lexicography at the Royal Academy of Language (RAE).
Regarding the proliferation of some dictionaries on the Internet, he points out that although there are some, most of them "are not exhaustive" and are usually prepared by journalists or amateurs who do not have lexicographical training, which is what, from his point of view, differentiate your post.
«There are on the web as initiatives by fans or journalists that are not exhaustive, they usually have between 100 and 200 terms. Some are about particular games such as League of Legends, "says the researcher.
As far as he knows, Ramírez relates, there is no scientific work, "methodologically rigorous" and on paper that is focused on the field of video games and his dictionary comes to "fill this gap."
"Meanings should never be made by the lexicographer, but
collects the use of speakers», points out Ramírez, who adds that his work, in addition to terms related to video games, also includes words from the computer language referring to hardware, software or social networks.
Illustration taken from the gamer dictionary of the blog 'Life is a Videogame' /

lavidaesunvideojuego.com

Regarding the predominance of English and the traditional rejection that the use of Anglo-Saxon words tends to arouse among some philologists or even the RAE, Iván Ramírez points out that his dictionary is practically bilingual because English is "the language of power" and the one in charge of name the new realities.
«An area of ​​communication such as computers and the Internet drinks a lot from English. In the field of video games it is no different.
Many terms are generated in English and in some cases are adapted to Spanish», describes the philologist, who cites as an example the word «flame» -made a verb by adding '-ar'- or «flame», read as it sounds.
Both terms are used very frequently in the context of online and multiplayer video games and refer to when a person from outside a game enters and begins to insult or scold the other players without prior provocation. "Make a flame" or "flame".
«
Spanish verb conjugation terminology is added to many English-based verbs., like ear", explains the philologist. The same thing happens with other terms such as "streaming" (broadcasting live, especially through applications such as Twitch).
Illustration taken from the gamer dictionary of the blog 'Life is a Videogame' /

lavidaesunvideojuego.com

With regard to the perspective of the use of English, Ramírez appears far from the traditional position because, in his opinion, what is fashionable now among philologists "is not saying what is correct or not, but
express the language as it is».
"The philologist has only to take note of the use made by the speakers. I have no choice but to collect the main uses of words, and they are in English. What a lexicographer or researcher cannot do is propose words that are not used", points out Ramírez, who shows a "frontal rejection" of prescriptions.
In this sense, he states that although the RAE "has always been blamed for being late and bad at picking up words", it is not always "fair" with the institutions that regulate the language.
Illustration taken from the gamer dictionary of the blog 'Life is a Videogame' /

lavidaesunvideojuego.com

«If you bet on collecting the words as they are used, many are used only at a certain moment. The word 'dabuten' is rarely used, for example. If the RAE had included it in its day, today they would have to add the label of disuse, because they are words that follow fashions, like a good part of the youth lexicon, which responds to circumstantial issues, "says the philologist.
However, he does believe that the Academy in recent years "is being more agile" when it comes to collecting these words thanks to the fact that they no longer have to be anchored in physical dictionaries, which makes it possible to speed up both the inclusion of new terms and its modification, concludes.