Neurofit: Weapons against stroke | Economy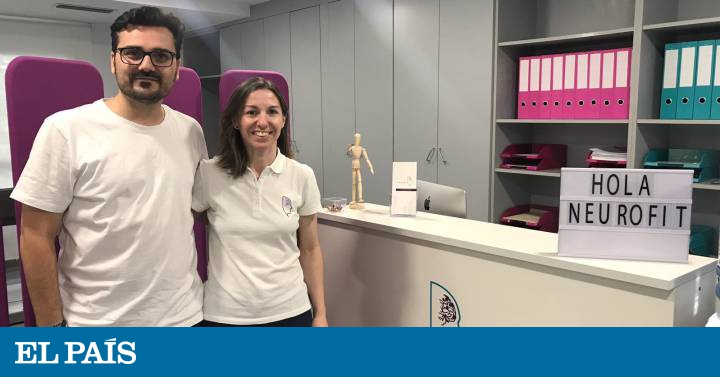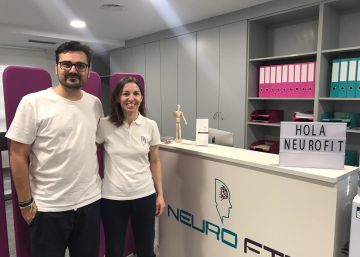 Every year 120,000 people suffer a stroke in Spain, according to data from the SEN (Spanish Society of Neurology). A stroke that is the first cause of disability acquired in adults. A disease that, in many cases with will and effort, can become history. Help people suffering from this type of ailment it was the challenge that led María Paz Bureo, along with her husband Javier Saavedra, to start Neurofit; a gym based on its own method and technologically active, beyond the traditional rehabilitation centers, prepared to work with people suffering from the problems arising from a stroke, but also open to other neurological diseases such as Parkinson's or multiple sclerosis and even older people who can't (or don't want to) go to a traditional gym.
Bureo, now 38, was four when he fell down the stairwell. A circumstance that changed his life and that has meant living with a 53% disability. An accident that far from being an obstacle became a reason for overcoming. "I always wanted to consider myself the same as the rest, although everything cost me more effort," says the founder of Neurofit. He began studying occupational therapy but did not see professional opportunities, so he decided to study physiotherapy. In 2008, Physioasistencia was launched, a rehabilitation service for neurological patients with clinical and home treatment, which it still maintains.
But his idea was to go further. In his day to day, he saw the need to offer other services that would improve the lives of these patients. After a trip to Canada, where he checked first-hand the active, personalized and less clinical treatments that were dispensed there, he returned to Spain with clear ideas. At the end of 2018 and after five years of work, Bureo opened the doors of Neurofit in Badajoz. A space that today has five physiotherapists and that involved an investment of 450,000 euros of own funds.
"These were complex and expensive years, because we strive to custom design some machines and adjust and modify others, for which we collaborate with companies in the sector. A work that has shown that patients overcome their fear and move faster and faster safer, "says Bureo. In fact, part of the technology used in these facilities is similar to that used by the POT in any of your projects.
During the first year of Neurofit's life, more than 250 patients have passed through its facilities, a figure they expect to triple next year. Its turnover in 2019 is around 225,000 euros, with benefits close to 85,000 and expected to grow to 575,000 in 2020.
Figures that have made them trust their future. Among its closest projects is to open a new center in Madrid in mid-2020, which will include the same technology as the Badajoz pilot and will involve a new investment of 450,000 euros. An amount that will arrive through the Social Exchange, platform of crowdfunding aimed at companies that promote a positive impact on society.