Netflix shows new images of the fourth season of 'Elite' and reveals its premiere date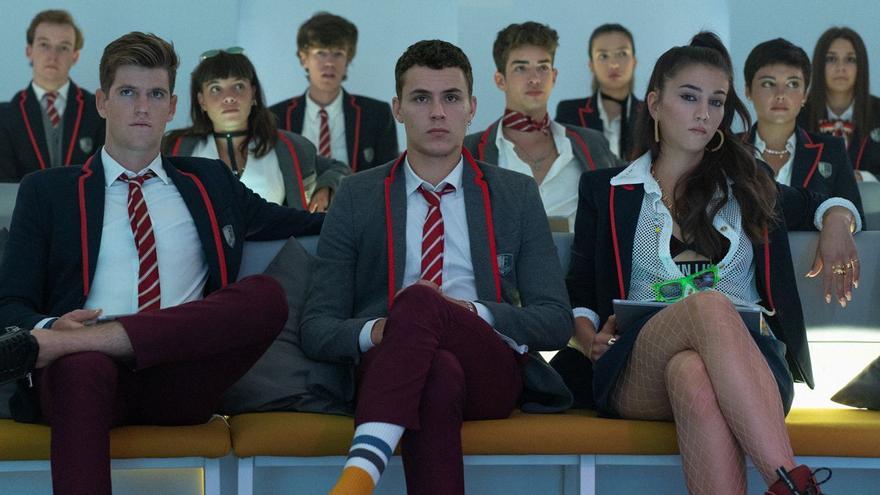 Las Encinas students are about to start the new course. Netflix has announced that on June 18 it will premiere the fourth season of 'Elite', which has already assured its continuity on the platform with a fifth batch of episodes.
Diego Martin joins the new episodes of adolescent fiction to put himself in the shoes of the new director, one of the most powerful businessmen in Europe. He arrives with the aim of redirecting the school, since according to him, it has been out of control in recent years.
His three children arrive with him (Carla Díaz, Martina Cariddi and Manu Ríos). Teenagers who are too used to always having their way, to having what they want when they want, whoever falls, and who will endanger the union and friendship of the most veteran students, as Netflix advances in a press release.
A new tragedy shakes Las Encinas
In the fourth season of 'Elite' there will be a clash of sides, now between the old world (the students and the usual rules) and the new (the new direction and the new companions, among which is also Pol Granch). A crash that will end up exploding and causing a tragedy, with a victim and a perpetrator whose identity they must discover.
Andres Velencoso He also joins the cast of the series, in which the most veteran students of Las Encinas such as Samuel continue (Itzan Escamilla), Guzman (Miguel Bernardeau), Ander (Aron Piper), Omar (Omar Ayuso), Rebeca (Claudia Salas) and Cayetana (Georgina Amorós).
Eduardo Chapero Jackson Y Ginesta Guindal are the directors of this new installment, which has Jaime Vaca, David Lorenzo, Almudena Ocaña Y Esther morales as scriptwriters. Carlos Montero, Diego Betancor Y Jaime Vaca are the executive producers of the fourth season of 'Elite'.