Néstor Sanmiguel, from the industrial tailoring to the Reina Sofía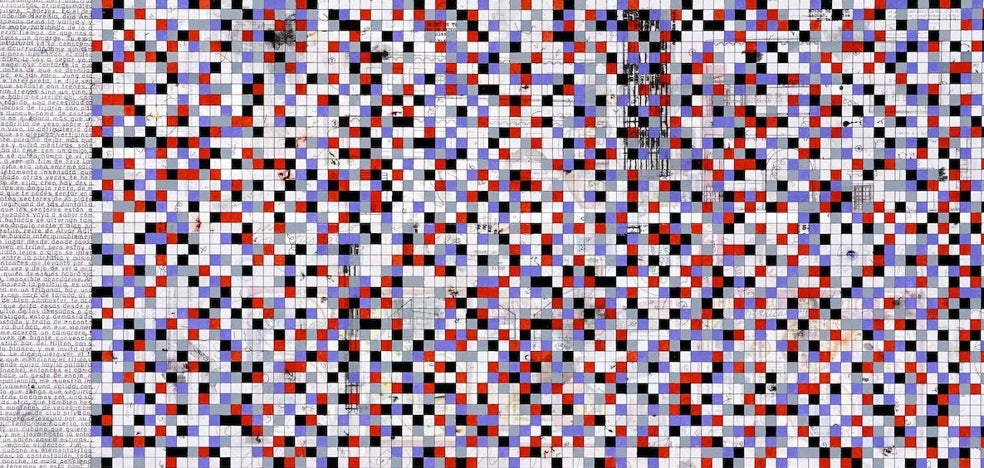 The museum reviews the trajectory of the "peripheral" Aragonese artist, a very unique creator who has earned his living as a pattern maker
Néstor Sanmiguel Diest (Zaragoza, 73 years old) has been exploring the relationship between words and painting for almost four decades. A long and lonely journey that is now being reviewed by the Reina Sofía Museum, which dedicates 'La peripecia del automata' to the "peripheral" artist. It is a retrospective that includes nearly 130 works that, according to its curator, Beatriz Herráez, "draw a cartography" of this rare creator who earned his living as a textile pattern maker in Aranda de Duero until the year 2000.
On display at the Palacio de Velázquez in Madrid's Parque del Retiro until September, it is part of a double project, together with the exhibition that the Artium Museum in Vitoria opens on June 24. Both explore a production "in which pictorial registers, rule systems and graphic signs intersect", and in which "creative work, understood as an abstract machine that structures our lives, is a constant concern", according to the curator, Director of Artium.
Deliberately settling on the "geographical, technical and material" periphery, Sanmiguel combined painting with his mechanical factory work in industrial tailoring until he was able to live from his art, when he was fifty years old. He claims to be a "systematic and methodical" producer who has practiced "the job of dodging" since he began plastic activity linked to groups such as 'A Ua Crag' (1985-1996), 'Segundo Partido de la Montaña' (1987-1988) and 'Red District' (1990-1992).
Oba of Nestor Saniguel /

CR

He was a lone wolf in painting until an exhibition at the Musac de León in 2005 gave him international exposure and strengthened the support of galleries such as Trayecto or Maisterravalbuena. His enormous and today appreciated work, hundreds of drawings and paintings invisible almost until a few years ago, "makes up a catalog in which the limits between image, text and representation become visible and problematic", according to the curator, who defines Sanmiguel "as an artist's artist"
Also far from conventions, especially those that speak of the exhaustion of some plastic languages, his is very recognizable with references to the history of art, literature and popular culture. "His thinking about him questions contemporary modes of production and his conception of time," says Herráez. In some of his paintings, full of literary, musical and pictorial references, he reproduces passages from works by Julio Cortázar, such as 'Rayuela', or 'El libro de Manuel', and in others he is inspired by books such as 'Las Horas', by Virginia Woolf.
For the director of the Reina Sofía, Manuel Borja Villel, Sanmiguel is "a singular artist", owner of a work "in which the image is confused with the texts that is the result of a well thought-out construction, perfectly structured and measured even in its last details".
Detail of another oba by Nestor Sanmiguel /

CR

«He mixes the resources learned in his job as a pattern maker with Dadaism. Remember Francis Picabia and Tristan Tzara; but also Tàpies or Miró. He is a great artist », summed up the director of the museum. It is not in vain that poropio Sanmiguiel recognizes that his work as a maker and cutter of patterns was decisive for his work as a painter. «In the factory I learned to prop up the stories I had in my head to represent them with the support of paint, pins, paper and glue». He got fed up with "painting at night taking away hours of sleep", until he could "devote all effort to my paintings".