Nestor returns to Mata Castle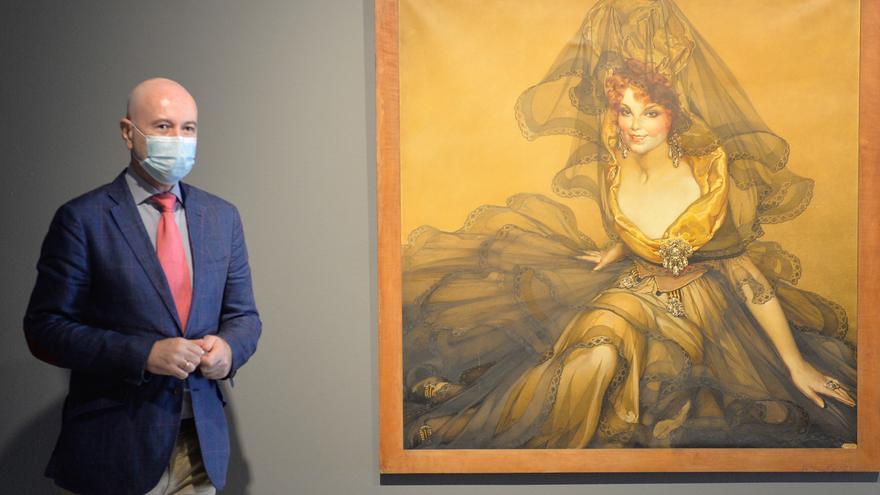 The life that beats in the arteries of the polychromatic disorder of the cliffs and that the painter Néstor Martín-Fernández de la Torre (Las Palmas de Gran Canaria, 1887-1938) idealized in the pictorial imaginary that "typism" advocated has inhabited the Castillo de Mata Museum, where he dialogues with a series of contemporary representations of this iconic and discriminated capital image.
The exhibition Visions of Gran Canaria: between utopia and reality, curated by Daniel Montesdeoca, director of the Néstor Museum and the greatest expert in his work, it confronts "Néstor's utopian vision of the capital's landscape and architecture in the 1930s" with "the reality of Las Palmas de Gran Canaria" under the prisms of the photographers and visual artists Ángel Luis Aldai, María Rodríguez Cadenas, Tato Gonçalves and Alejandro Reino.
Along these lines, Montesdeoca recalled during the presentation of the exhibition, accompanied by the Councilor for Culture of the Capital City Council, Encarna Galván, the paradox of this architectural emblem that crowns the city and that remains, at the same time, sheltered and marginalized by it. "Nestor wanted to dignify our cliffs and incorporate into the city all the people who inhabit them so that they could participate in that identity of the city and of the Canaries, which he wanted to recover, exalt and revalue," he said.
The exhibitions confront the imaginary of the cliffs and discover the mezzo Conchita Supervía
For this reason, "the canvases incorporate the people who live on the cliffs to contextualize the architecture, but also to show that these cliffs not only make up a scenery, but are a reality that is inhabited," added Montesdeoca, who stressed that the exhibition of this series by Nestor has been the result of extensive restoration work.
This utopia of "sparkling colors" faces a contemporary reality crystallized in the images of Ángel Luis Aldai, who recreates the volume of the Risco de San Nicolás in the same photograph taken from different angles the artist Alejandro Reino's peephole from the top of San Martín or the earthy textures of María Rodríguez Cadenas through the haze that filters the landscape.
In addition, the adjoining room hosts the exhibition Legacy James Supervía, also curated by Montesdeoca and the result of a donation to the Néstor Museum Board of Trustees, which discovers the legacy of the mezzo-soprano Conchita Supervía (Barcelona 1895-London 1936), a close friend of Néstor, who designed the costumes that he wore at his concerts and also painted , a beautiful portrait of the artist.