Neither the Goya of honor broke the retirement of Pepa Flores | Culture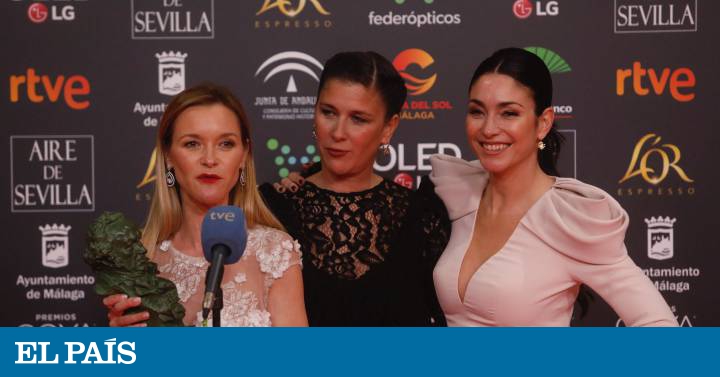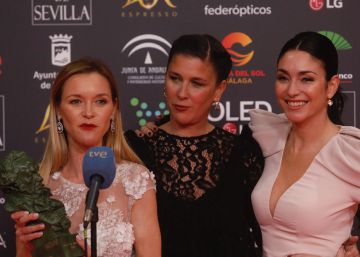 He saw his gala from afar. His face was projected behind the scenes, his daughters were crying on him, but she was not. Marisol has long decided that far from fame, the myth lives better, even when they grant you the Goya of Honor. His daughter, also actress María Esteve, said last night that Pepa Flores was "in front of a large television set, in a quiet place." And, from there he must have verified that the love that Spanish cinema professes is still intact, and it is colossal.
In Malaga it was heard Marisol's song, played by Amaia, and Celia Flores sang Being with you as a tribute to his mother. And without music or lyrics, the echo of his memory echoed throughout the gala. His three daughters (Tamara also joined) collected the prize. "Our mother made the firm decision to move away from the spotlights forever. Dear mom, from that calm place that you have achieved and has cost you so much, this profession gives you this award. Dear Pepita, enjoy it, it's for you, "said Maria. Everyone clapped standing.
The Academy yesterday honored the brilliant career from which Marisol fled. So much that it already adds more time away from the lights than under them. Marisol triumphed for 25 years, but has been retired 35. Although there lies precisely the strength of his myth: despite decades of silence, no one has forgotten. The prophetic premiere of Case closed, Juan Caño, in 1985 at the San Sebastian festival, was his last concession. Since then, the public has lost sight of it, but it has not stopped loving it. Namely how many still review their songs on YouTube or Spotify from time to time. At the beginning of the gala, director Benito Zambrano, with Goya for the best script adapted by Outdoor, threw into the microphone: "Long live Pepa Flores!" Many crossed their fingers thinking that it would be possible last night to see their smile shine again live, on stage. Perhaps Marisol, the woman who made a whole country happy would appear.
But Pepa Flores's retirement is a tremendously serious matter. "There is no one, nothing, no check in the world that changes it," his partner, the Italian Massimo Stecchini, told El País Semanal. Millionaire offers have rained for too long: albums, autobiographies, movies. They would cover her with gold, as long as she returned. But for Pepa Flores his anonymity is worth much more: it is not necessary to live among the stars, when you live happily being nobody. He reappeared in 2016, at the Cervantes Theater in Malaga, but basically it was a family reunion (although with hundreds of invited spectators): he danced Tombola on the tables, in a concert that his daughter Celia dedicated to him. For the rest, you only cross with your neighbors, when you walk along the beach or have a coffee in the neighborhood. That is, when he enjoys that normal existence for which he fought so hard. "He wants to preserve the right to forget," Stecchini added.
However, Marisol belongs to everyone's memory. She was born on February 4, 1948 in a corrala of Malaga's Calle Refino, in Malaga, just six kilometers from the Sports Palace where the Goya were celebrated last night. 50 families shared the corrala, and there was enough fuss to go unnoticed. But that girl was not like the others. The first to realize was the producer Manuel Goyanes, at a choir and dance festival in Madrid. That prodigy was 10 years old, blond hair and a special voice. Goyanes knew that he had found a diamond: he only needed to polish it. So she took the girl to Madrid, with her mother, and put her acting, singing and even riding teachers. In 1960, Marisol finally debuted at the cinema, with A ray of light. The first chapter of his legend was written.
Many more would come. An angel has arrived, Tombola Y Marisol heading to Rio: one movie a year, one triumph after another. Pepa Flores spread joy to the Spanish post-war public, her character belonged to everyone. It was in stickers and comics, a doll was sold with its face. Even Francisco Franco required his presence in several public events. Marisol basically helped to dream.
That hymn to optimism lasted while he could. Because, at the end of the sixties, the girl was 20 years old, she had married Carlos Goyanes, the son of her producer, and could no longer embody the same. So he embraced a riskier cinema, with Chris Miller's corruption, where he shared prominence with Jean Seberg, or The power of desire, both by Juan Antonio Bardem. Where there were smiles and sun before, now blood and sexual tensions poked out. And, off the set, she also showed her political ideas in a country that was nearing the end of 40 years of dictatorship. No was another. Marisol and Spain came out of Franco's hand, and advanced together towards modernity.
In 1975, Pepa Flores participated in the first strike of actors from Spain. A year later, she appeared naked on the cover of Interview. A major scandal, but also a proof of the radical change that Spanish culture was going through.
In the cinema added some more appearance, of The days of the pastby Mario Camus Blood Wedding, from Carlos Saura. In the second, Antonio Gades acted, who at the time was already her husband, after the divorce with Goyanes. They celebrated their union in Cuba, in the presence of Fidel Castro himself, and by then, Marisol had already clarified his communist sympathies. They had three daughters: Tamara, Celia and Maria. The last two finally picked up the prize for their mother today. She preferred not to go. Before a new award, he chose his house. It does not change it for anything in the world. Not for a Goya of Honor.