"Nefecto!", A book by Forges with 300 unpublished cartoons | Culture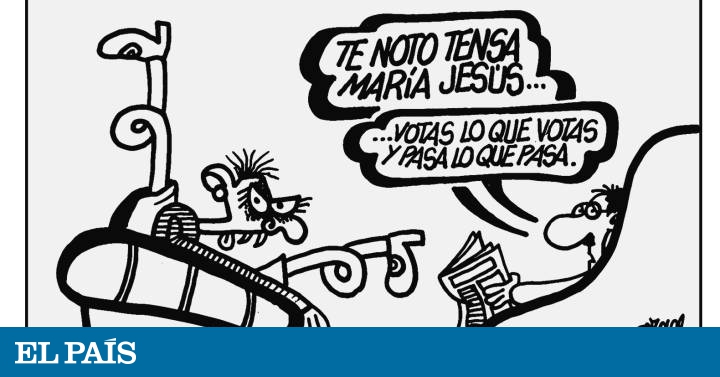 Returns Forges, if he can ever leave his sense of humor without cruelty, his ease in making him smile with the vignettes of the Concha-Mariano marriage; to reflect tenderness in strokes or to disarm bad guys with a sandwich, which he called fumetti. A little less than two years after his disappearance, on February 22, 2018, a book with 300 unpublished cartoons is published ("Nefecto!", Which would be said by his unforgettable villagers Concha y Blasa), created by Antonio Fraguas de Pablo since 1990 until almost the day of his death from pancreatic cancer. For the last 23 years of his life Forges published a daily vignette in EL PAÍS.
(See photo gallery with unpublished cartoons)
Berta Fraguas, the humorist's daughter and in charge of coordinating this edition, explains that "in principle, they are unpublished cartoons, at most they will have been released, but with another character or some of the text changed." The only opportunity to see any of these cartoons, until now, was through the social network Pinterest.
This "formideibol" Forges unpublished (Spain) goes on sale with a prologue, signed "La Familia de Forges", which details the creative process of the humorist who, as Luis Eduardo Aute sang in a pasodoble, was "the master of the vignette" and "your crutch, your pinsel and the label maker are filigree." The first thing that their relatives tell is that Forges, born in Madrid on January 17, 1942, the second of a family of nine brothers, was funny but not of those who tell jokes at every moment, but of those who with a gesture or One comment could cause laughter among those around him. He was the first to laugh at his jokes, not only when he thought of them, but also when he drew them, they tell.
Berta Fraguas indicates why there are so many forges unpublished: "I was cautious when I could not publish. I drew more than I needed." His family knew there was a folder of unpublished, but when he died "more appeared, up to about 600 on paper," from which this book has come out. The reasons for that fridge, as they say in the journalistic slang, there were several: that at the last minute he did not consider the vignette to be adequate and to withdraw it, that the present time made it obsolete, or that the direction of the medium for which he worked decided to withdraw it. That abundant material generated in the family the dilemma of publishing it or not: "Maybe he didn't do it because he didn't want to, you don't really know why." The decision was to "rotate the 600 jokes between six family members to choose their favorites," he adds.
Nineteen years of official in Spanish Television, creator of words like "muslamen" or "bocata" and of proper names with which he renamed soccer players: Luis Miguel Arconada was "Arcomanta" or Andoni Zubizarreta "Subimaleta", Forges defined humor as "a common mental cloud" from which comedians had the ability to "go down to earth" some aspects. So it looked like a "channeler" of those sensations that are on everyone's mind. How did the light bulb of the idea that he would later draw lit? Any situation was propitious: while driving or watching TV or listening to the radio or watching a movie.
Disciplined, at the time of giving the magin he preferred the afternoons, because he got up early, and did not skip his 20-minute nap. "He had his routines, like Nadal when he pulls out, an inductive process for creation. Always with the radio, he turned it off when he was going to start drawing," recalls his daughter. "And if he whistled it was that he was drawing, it was the signal not to enter to give him the tabarra." She reminds him very familiar, "but sometimes, when you talked to him, his eyes went away and you knew he was up to something, a joke had occurred to him." He could do a vignette a day or, on holiday eve, he stuck a binge. Out of that effort came genius like that of the individual who proclaims in the bar: "It is necessary to change everything so that nothing changes", to which the waiter asks: "Then, from now on, how will you drink coffee?". And the questioned responds: "Alone, very very lonely."
Among the ins and outs of the forgiano process, his daughter stands out, drawing the actual size of the publication, so he made custom templates. The basic equipment was composed of fountain pens, Chinese ink, blotting paper and a marker. A material compatible with his passion for new technologies. He immediately pointed to the fax, the mobile, to scan his drawings …
Each follower of Forges has his favorite cartoons that he can release in any conversation ("If he divorces, he divorces, but I put the fan," said a choked husband lying next to his wife, well covered and comfortable) because the issues that tried were varied: life as a couple, politics, history, education … Well looked, there are drawings in this volume that have no hint of grace because that was not their function. They are thoughts, criticisms, observations … "Vignettes of awareness, about job insecurity, equality of women …", according to Berta Fraguas. As one of his blasillos says: "To live, it was enough to just breathe, now, in addition, we need coverage … great achievements, I proclaim."
. (tagsToTranslate) nefecto (t) book (t) forges (t) 300 (t) vignette (t) unpublished (t) unpublished (t) new (t) volume (t) collect (t) drawing (t) publish ( t) humorist (t) graphic (t) 1990 (t) death (t) 2018



Source link