Navratilova: "Alcaraz could be the new Djokovic, but with more power"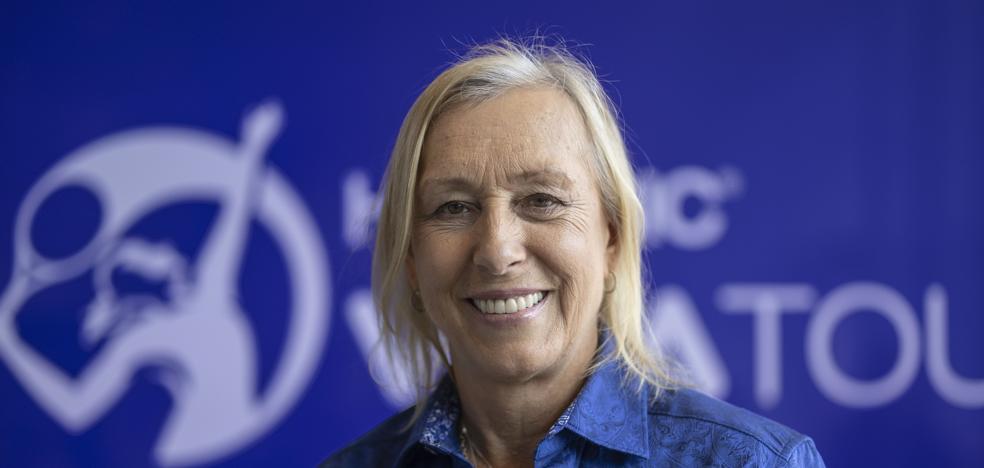 interview
The 18-time Grand Slam champion applauds the joining of the WTA and Hologic as a global sponsor, a medical innovation and technology company dedicated to women's diseases
The WTA joins with Hologic in a global sponsorship agreement by which the circuit will take the name of the health company. The message goes far beyond the tennis planet, as they have come together with the mission that all women have access and become aware of their own health. Hologic is a company that dedicates all its energy to the research and development of state-of-the-art technology for the detection and prevention of diseases such as breast cancer or cervical cancer. The Mutua Madrid Open became the setting for the presentation of the agreement, and was attended by the president of the WTA, Micky Lawler, and the head of Hologic for southern Europe, José Yebra. And as guest stars, Carla Suárez, who overcame Hodgkin's lymphoma, and Martina Navratilova.
There are 18 Grand Slams (three Australian Open, two Roland Garros, four US Open and nine Wimbledon) and one more: overcoming breast cancer. The American Martina Navratilova (65 years old) thanked the WTA and her Hologic for her technological commitment to the prevention of women's diseases and wants to be an example of the importance of early detection. As fit as she is about to hit the court, she talks about her own cancer and current tennis affairs.
-
From your own experience, how important is prevention and access to diagnostic tests?
-Access is better in Europe than in the United States because health insurance is very high in America. If you have access, many more women can face these situations. Prevention is massive, but it does not always translate into many women having access. Chris Evert didn't go to chemotherapy for his cancer because he found out in time. He saved her life that early access. Jana Novotna wasn't that lucky, we lost her in 2017 because she didn't go to the doctor as much as she should have. Many women's cancers depend on the time you agree to do the tests; some are late. And women always put the rest ahead of us. 'I'll get tested next week, next week…'. Many cancers are treatable now because companies are paying more attention to them and it is having an effect on many women, but it is also a matter of luck and that there are men behind who are involved, because medical technology and research have normally focused more in prostate cancers in men.
-
What does this agreement mean then, not only for tennis players?
-I applaud it. It's great that there's a company like Hologic dedicated just to women, that's making access global. Even with DNA studies to find out if you are prone to some type of cancer or not and to be able to act before it starts. Tennis is a global sport that can reach many people around the world. It's the right address, but you have to get there as soon as possible.
-
We always think that it is not going to touch one, that it is the others.
Yes, we believe so, of course. He happened to me. I did the mammogram and it was there, in doubt. We have to look at it and study it more, they told me, it's probably nothing, but we're going to do a biopsy. And when we do it the next day, positive. Really? I? A healthy athlete? How is it possible? My cancer was very small, but you do think that it always happens to others, but no, it can happen to anyone. The older you are, the more you have to observe yourself and search. I keep getting tested. And we have to emphasize to people that 'yes, it can be you'. In a room like this, with 15 women, two can develop it. Nobody knows, but we do have to think that you are likely to have it, so you have to do tests.
-
Did being an athlete help you overcome it?
-We always take great care of ourselves, but we also have more developed muscles, for example. You cannot change the internal organism, but you can be aware of how your body works. Because with many cancers there is nothing wrong with your body until it is too late. Being an athlete helped me become aware that, as soon as I knew what was happening, you start looking for a solution, with a positive attitude and thinking 'what can I do to fix it?' instead of 'I can't believe I went through this'. Because that's how tennis works, you always have to think about the next point. It's a bit of 'wow, this is horrible, what can I do now'. It helps to have a strong mindset, yes.
-
You're still in shape, would you have liked to play at this time?
-Of course. I love sport. Now it is played differently from my time. Yes, playing against Badosa or Muguruza, who are taller and stronger than in my day, but I am too. If you know how to play this sport, you can be successful in any season. I like when I played, but I would like to play now, of course. Badosa has an athlete's body, he likes to compete, he is very strong mentally. Technically very strong, good in transitions.
-
What do you think of the rise of Spanish tennis?
-I think Nadal is doing something very big for young people. He does not give up anything for lost and that is important for the stars of the future to be established. He is a great example.
-
Can Nadal make it to the 24 Grand Slams at Margaret Court?
-Can be. He's still playing. We don't know how long it will last because tennis is very demanding, and he has injuries, but he always comes back. With a broken rib, and he's back. He is a Superman, he should go with a cape. He seems indestructible.
-
And how do you see the evolution of Carlos Alcaraz?
-He is still growing, and he has a great coach. Not only does he have a good forehand, it's his whole game. His backhand is very good. With his forehand and speed as he hits the ball, even when he's not in a good position, he can make you a winner. It has way more power than anyone I've ever seen. I think he can be the next Djokovic but with more power. That's a pretty scary thought, hahaha.