"Naturalness and sportsmanship": this is how UD looks at Tenerife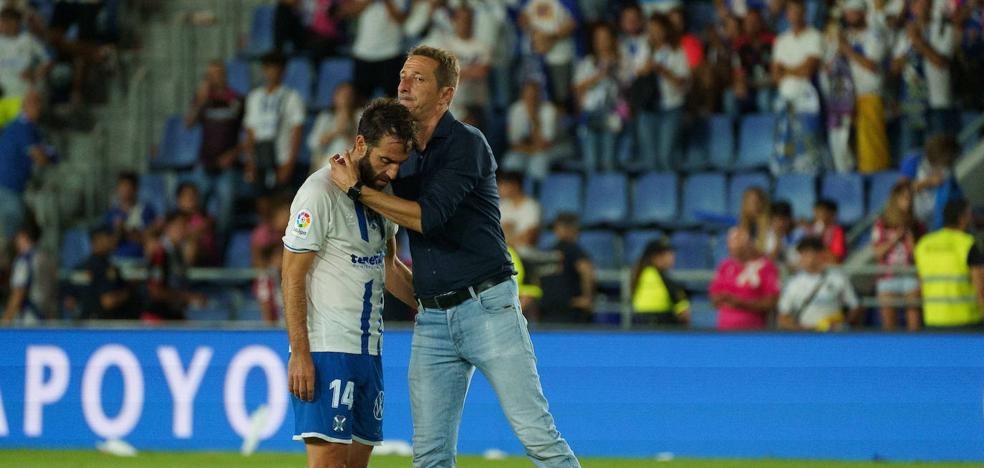 football
The frustrated promotion of the blue and white team does not break the protocol
As happened on June 4, when Tenerife eliminated UD from the promotion promotion, but now in the opposite direction.
Social networks, the proliferation of memes, with Jonathan Viera and his famous "I see a lot of partying here" as the star, and ironic comments flooded the island scene on Sunday after the Blue and Whites' defeat against Girona (1-3) and that frustrated the dreams of promotion of the Ramis team. The winks of football, of sports, and that just as they go in one direction, they can go in the opposite direction shortly after.
just have to remember
the way in which Tenerife celebrated its last triumph in Gran Canaria, with a photomontage of a flag nailed to the center of the Siete Palmas Coliseum, what was understood as a provocation by a majority sector of the yellow fans ("there was no need to illustrate their own joy in that way"), to get used to the idea of ​​the reactions generated by this fatal stumble and that condemns another year in the silver category to the chicharrero group.
From the UD, with elegance, they limit themselves to slipping that this episode was lived in the Heliodoro "naturally, because everything could happen, as has happened before for better and for worse" in their own bosom and
«The sportsmanship of recognizing and congratulating Girona on its promotion», as it was confirmed on the official Twitter minutes after the end of the crash.
There are no further comments in this regard as it is understood that the institutional tone must be above all else and, furthermore, it is considered that all
the focus is on planning for the coming season and ensuring that the season ticket campaign that is underway reaches the desired parameters. "That is what privileges every effort of ours", they insist from Pius XII. Managers, coaches and players followed the game on television and the result was assumed differently. But the protocol prevails and no one has skipped it, understanding that the image of the entity advises avoiding excesses or heated impressions.
sports consequences

Meanwhile, in Tenerife they begin to assimilate the blow knowing that not reaching the highest category will have effects, beyond the economic ones, in the configuration of their squad.
Thus, there are numerous players who will leave due to the end of their contract, unless there is a change of plans. Distinguished as the captain
Aitor Sanz, with nine seasons and more than three hundred official matches behind him, Carlos Ruiz or goalkeeper Dani Hernández end their relationship and it is assumed that they will not continue. Those on loan Mollejo, Andrés Martín and Mario González will not extend their stay either and it is expected that Pomares, Leiva, Bermejo or Álex Muñoz will follow the same path.
With Ramis, who has one year left, there are no certainties either. Even he feeds the doubts.