Natalia Verbeke ('Ana Tramel. The game'): "It is a pleasure to work with Maribel Verdú because she has absolute generosity"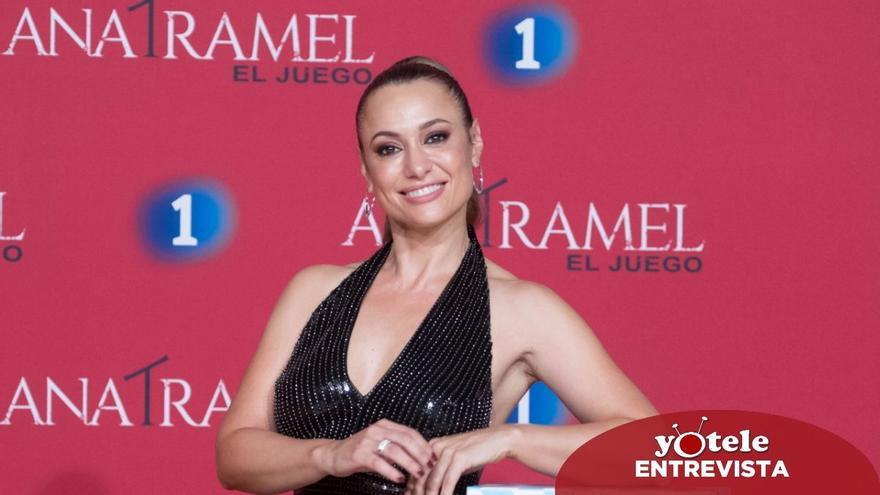 'Ana Tramel. The game' arrives tonight at La 1 de TVE to make society reflect on the problems and dangers of gambling. Within the cast of the new series of the public chain, there is also Natalia Verbeke, who will play Concha, a lawyer who will help the protagonist played by Maribel verdu in his legal battle to defend his brother, accused of murdering the director of the Gran Castilla casino. YOTELE talks to Natalia Verbeke about her character in 'Ana Tramel. The game ', among many other issues.
-What are viewers going to see in 'Ana Tramel. The game'?
-They are going to find a very addictive judicial thriller with very powerful female characters. It is a series that deals with the issue of gambling from, as Roberto Santiago (scriptwriter of the fiction and writer of the novel on which it is based) said, a place that had not been discussed before. Not since glamorbut from all the tragedy and all the sordid that the game has when it becomes a disease.
-You play Concha, a lawyer specializing in fines and traffic offenses, something very different from that judicial battle that she undertakes in the series. How do you react when Ana Tramel arrives with this big issue?
-Concha has always wanted it. She has been insisting Ana (Maribel Verdú) all her life that they please set up a law firm together for cases like the one they are now going to deal with, but Ana has always considered that she was a better lawyer than she and she has never wanted to. And in the end, Concha lacked that push that Ana could give, who is a brilliant lawyer, to be able to set up that kind of firm alone, and has chosen to open one of traffic fines, a place where he secures a certain amount of money that allows him to have a comfortable life, his family and comfort in the comfort zone.
-When shooting disparate scenes in which not everyone agrees, how do you react when you see the complete series?
-You are very surprised because, even if you read the entire script, it is not the same to read as to be able to see it with those actors giving it life. Maybe you have imagined it in one way but then you find it in another. In addition, there is also one thing that we actors end up a bit focusing on our plot and, suddenly, it rediscovers the plots of others and you get hooked as just another spectator. The series really grabs you.
-Regarding the scripts, how did you prepare your character? Do you use the novel as a support resource to better understand the character?
-You use the novel because the information it gives you is much broader than the chapters can give you. After all, Roberto Santigo has no other choice. It is super well adapted. Luckily, he did it, but, obviously, there is information that is in the novel that gives me much more information than the script can provide, and enriches me and helps me understand things about the character that, Even if they are not by script, it is very good for me to have them there to have that support resource.
-In this process of building your character, have you turned to Roberto Santiago, screenwriter and writer of the novel on which 'Ana Tramel. The game ', at some point in doubt about Concha?
-No, because it is so clear in the novel. It gives you amazing information. When they offered me the series, I read the first three chapters and they hooked me so much that I wanted to know what else was going on, but they weren't written. So I bought the novel, which he gave me a lot of information. Everything that I had asked him I no longer needed because all the details of my character came.
-When you read the novel, did you see Concha with your face? Did you imagine those actions of your character?
-I think it was quite similar to what I could imagine, within what I felt at the time of reading the novel and the moment to interpret. When you see it, since you haven't seen the montage, everything changes a lot, but yes. The intuition I had when reading it for the first time had a lot to do with what I later did.
-How has it been having Maribel Verdú as a co-star? What has it given you?
-I have always dreamed of working with Maribel. I think she is one of the best actresses in this country and one of the bravest, but long before working with her we became friends. I love her. Not only do I love her, but she's a hyper-generous actress. She and Carmen Maura They are one of the most generous people I have encountered when it comes to working. It is a pleasure working with Maribel because she makes you better actress and it's there for you, even when you're not on camera. He has absolute generosity. Then you laugh a lot. Above we have that complicity for friendship from outside. It was like going on a hike.
-In addition to treating gambling problems, 'Ana Tramel. The game 'is carried out by two female characters with a lot of strength. What's more, the weakest character is the male, who, in this case, is played by Unax Ugalde. Were these characteristics an incentive to accept the role of Concha? What does it mean for an actress to have such a project in hand?
-The female characters in this series are very powerful, and that for an actress is a luck and a gift. That does not mean that they are very strong, since they have their fragility. In fact, probably the most fragile of all is Ana Tramel (Maribel Verdú), that she is a woman who has all possible addictions. On many occasions, Concha acts with Ana as if she were a mother, and I am talking about a character, mine, who is going through a terrible situation in her life, about which I cannot speak, but who forgets all that to overturn in helping her friend. There is a great sisterhood among the women in this series.
When you are presented with a character so rich that she is not simply the prototype, but there is much to draw, and that is so real, because I think those women are more real than those who are the simple archetype of what a woman should be . It is a luxury.
-Regarding gambling, did that dark world surprise you when reading the novel or the script of the series?
-I was very surprised because I was absolutely unaware of how sordid it is. One knows that gambling exists, but I had not inquired or paid much attention to it, and the data presented in both the series and the novel they blew me away.
-There is a lot of comment on the balance that actors have between fragility and ego. In your case, on which side would you place yourself?
-It's something that is half and half. It is inevitable not to be fragile when you play with your feelings and with your vulnerability, but I think that fragility is as good a value as strength. It is very brave to accept your fragility and play with it, not treating it as a bad thing. From that quality you can create many very interesting things.
-It has not been the case of the game then, but what have you learned throughout your career that has served you in your day to day?
-This profession has helped me to have much more empathy, to understand and put myself in the place of the other and to try to understand that the bad guy has his reasons for doing it. I think it makes you much more tolerant, and in my day-to-day life I think it is the most I have learned.
-Have you made any personal forays into that world to document yourself?
-I don't even know how to play poker (laughs). It doesn't appeal to me.
-What are you addicted to?
-A dark chocolate (laughs). Every day I have chocolate, from 70% up. Love it. For me black is the best and the richest. I don't like milk with milk.
-In addition to 'Ana Tramel. The game ', what next projects do you have?
-The following will be theater with Claudio Tolcachir. The work is called 'The third body'. I can't tell you exactly when, but it's for next 2022 because we started rehearsing in December or January.