Narváez saves Zaragoza with two goals in discount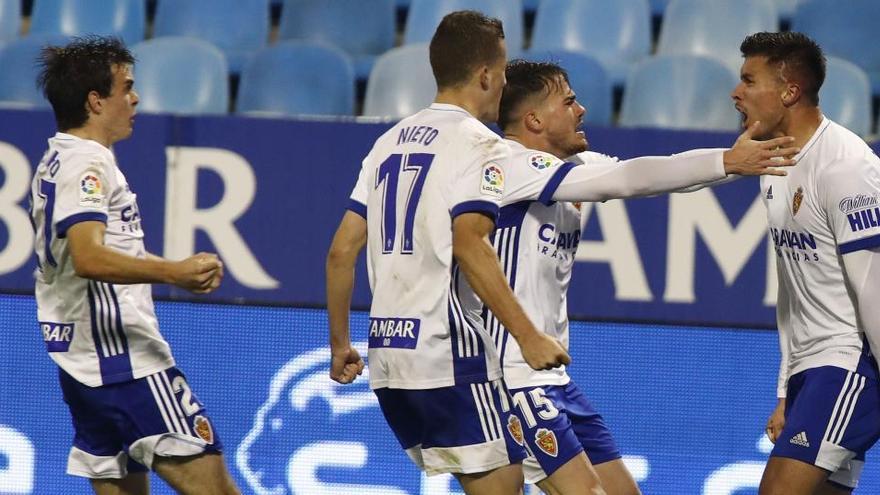 Colombian striker Juanjo Narváez He saved Real Zaragoza from defeat against Girona (2-2) thanks to the two goals he scored when the match seemed decided in favor of the visitors, in minutes 91 and 94.
Despite going to La Romareda greatly reduced by losses due to sanctions and injuries, the Catalan team managed to get ahead on the scoreboard to 0-2 and not give the feeling that absences were hurting him, but he did not know how to stand firm until the end.
The 'blanquillo' team enjoyed more chances in the first half almost than in the rest of the matches played so far thanks to having more dynamism and speed.
The game started with two great chances, one for each team. The first for the locals when just 45 seconds had passed with a shot by Luca Zanimacchia that prevented Bernardo Espinosa from sneaking in and the second for the visitors, after eight minutes, with a low cross at the far post by Mamadou Sylla for the captain, Aday Benítez, who, only to an empty goal, sent the ball sky high.
A shot by Ramón Terrats, rejected by Cristian Álvarez, was followed by two great local options. In minute 19 Sergio Bermejo crashed the ball into a post from outside the area and just 60 seconds later Pep Chavarría forced goalkeeper Juan Carlos Martín to reject the ball.
At minute 28, Sylla took advantage of a center from Aday Benítez to the area to head between the centrals and overtake the Catalan team.
In Girona's first arrival after the break, a play by Sylla's wing ended in a low cross into the area that recently entered Valery Fernández took advantage of the goal to score the 0-2.
The 'blanquillo' team, after a header from the Uruguayan "Toro" Fernández that crashed into the strain of a visiting goal post, was diluted, but did not give up.
Narváez, with two goals in three minutes (91 and 94), and the last one with practically no time to play anymore, rewarded the faith of Real Zaragoza.
– Data sheet:
2 – R. Zaragoza: Cristian Álvarez; Tejero, Atienza (French, min.5), Guitián, Nieto; Francho, James (Javi Ros, m.58); Zanimacchia ("Toro" Fernández, m.58), Bermejo (Larrazábal, m.85), Chavarría; and Narváez.
2 – Girona: Juan Carlos; Calavera, Bueno, Bernardo, Luna; Bárcenas, Terrats (Pau Víctor, m.87), Gumbau (Monjonell, m.82), Aday Benítez (Valery, m.46); Nahuel Bustos (Pablo Moreno, m.69) and Sylla (Alejandro Sánchez, m.82).
Goals: 0-1. M.28. Sylla; 0-2. M.54. Valery; 1-2. M.91. Narváez; 2-2. M.94. Narvaez.
Referee: Hernández Maeso (Extremadura Committee). He admonished Gumbau, from Girona.
Incidents: match corresponding to the first day of Second division league, which was postponed in its day, played at the La Romareda stadium behind closed doors.