Nadia Sheikh: Nadia Sheikh, from Stereophonics fan to share her tour | Babelia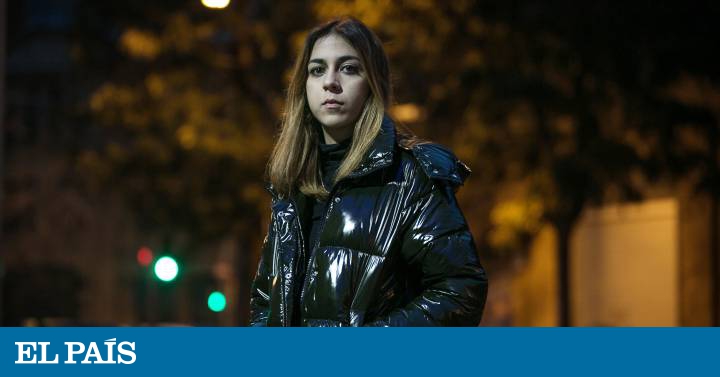 Composer, musician and singer of 23 years, the Castellón de L'Alcora (Castellón) based in London Nadia Sheikh She is surrounded by her band and her family in dressing rooms of the Palacio de Vistalegre in Madrid. Last Friday, in the middle of the afternoon, the sound test of the Stereophonics, in a scenario in which she will act hours later as a telonera. Sharing the evening with them, the Spanish artist of English father fulfills a dream. "This is too surreal for my brain, I have not yet assimilated it," says the young woman, who last January 8 received an email from Jamie Morrison, the drummer of the Welsh band of Cwmaman, which offered to participate in the presentation tour of the group's last album, Kind. The first thing he did, still sitting on the floor – "I did not fall but almost, I threw joy, the fact is that I ended up on the floor" – was to call his parents to tell them the news. Next, contact your band members to gather them and recruit them in the adventure. There was barely time.
"We had so much work to do, that we didn't go nervous, it was going to the pit directly." Just a dozen days later, with hardly any time to assimilate and prepare the professional support, the 23-year-old girl opening with a set of pop-rock songs and guitars indie to the famous Welsh group – which was already on the stage when she was not born – in Liverpool (January 18) and Leeds (19), two concerts prior to a tour with 14 other stops in cities in Spain, France, Germany, Holland, Switzerland, Italy and Luxembourg.
With this tour, Nadia realizes illusions that started in her childhood in L'Alcora, a municipality of about 10,000 inhabitants nestled in the land of almond trees, olive groves and tiles. "I am Spanish, I grew up in Spain but I have always grown up with the benchmark of British culture: English TV, English music, my father is British and we lived with one foot here and there. I am very Spanish but also very British, "explains Nadia, who does not avoid a question about Brexit:" It makes me very sad. In politics I do not get in, "Nadia explains, to add bluntly and with laughter," but I don't like Brexit ".
The bug was instilled in his uncle Hernán, "lifelong musician." As a child, at age eight, she already asked the Kings for a guitar. But the revelation came at age 12 at a concert by Avril Lavigne in Manchester. "I saw her on stage and she told me' I want to do that. ' I dusted off the guitar and started playing it, "he explains. In a land of musical bands in each small town, when they took the girl to the House of Music of L'Alcora and saw that what they taught her was classical she told them: "This is very good, but I like it the rock".
When he was 13 years old, he was second in a music contest and was recommended to learn to play the piano and then he did go through the discipline of the House of Music, although he agreed to also teach him to play the songs that she liked: Beatles , Oasis, Arctic Monkeys, Stereophonics, David Bowie. At the time, he began to teach singing. And with 16 years he was awarded a scholarship to go to Stanford, in San Francisco, to do a jazz course. "That was a world for me, it opened my mind completely, it was where I said to myself' I want to dedicate myself to music, "I cried because I didn't want to leave, that was brutal. And from that moment there is nothing else I want to dedicate myself to, "he explains with passion and a mature and thoughtful speech.
Years of small bowling passed through the Valencian Community. And their parents, professionals in the world of ceramics, spent them carrying speakers and amplifiers one weekend after another. "This is the reward to the effort that my daughter has made these years, which has spent many weekends without just going out with her friends to continue practicing and playing in places," explains Faiyaz, originally from Leeds and Indian roots. "My dream is yours," adds the mother, Olivia, a Valencian from Bicorp, "if I wanted to be a truck driver we would be in the truck shop."

When he turned 18 he went to study Musical Performance and Recording at the London College of Music, a career that ended three years later. "Studying was the excuse, I went to London to devote myself to music." Her studies, she explains, have many professional opportunities, but she hopes not to have to go to them: "I want plan A, plan A, I want to create music, not work on a record company."
The road was not easy in England. "Since I set foot in London I went with the guitar on my back where they called me, I played practically every week. There are many places to play ". At that time, with bandmates from the university came the band with which he plays live, which has undergone some variations. Now accompanied by Rowan Davies (bass), George Gardiner (drums) and Lorenzo Passarella (guitar). In the last two years they have made some concerts in Spain and in England and have attended several festivals, such as the IBF of Benicàssim, the Isle of Wight, the Y Not Festival of Derby and the Tramlines Fringe Festival of Sheffield, always with Good criticism.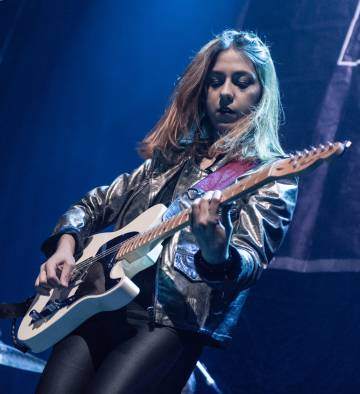 As a good representative of the centennial generation, Nadia is very active in networks, perhaps also due to the lack of professional structure around her (neither manager, nor record label, nor agent). Apart from having a complete website (www.nadiasheikh.com) is present on Twitter, FaceBook, Instagram, YouTube … In fact, at stereophonic Jamie Morrison met him by chance on Twitter: "We started sending messages, he listened to my music and told me he liked what he was doing. Then, he sent me some batteries, I gave him some guitars … We kept in touch and went to his house to compose a song together. Later I asked him about a producer and he told me 'I do it". So, his last song Get away, published in early January, is produced by Morrison and music engineer Nigel Walker – who has worked with musicians such as Paul McCartney, Elton John or Bob Dylan -, whom Nadia met in a music contest organized by the EMI label when she had 14 years.
The next step will be to publish, on February 28, a self-published EP of four songs and a bonus track to be titled Everybody Hears But No One's Listening and that it will be available physically in their concerts and in digital version on several platforms.
Despite the progress in his career, he ensures that the impostor syndrome is not removed. Therefore, he prefers not to think much. "It's all very strange, because I'm a Stereophonics fan, it's one of my influences," he explains while slicing an apple, "when I was 16 I was in the front row of the O2 Academy of Leeds watching them play, and last Sunday [en referencia al día 19] we played with them in the same place ". And he says that a magical moment was when the singer of the Welsh band, Kelly Jones, addressed the audience at the end of that concert to thank Nadia Sheikh for sharing the stage with her group. "This just happened?" He said pinching himself. But you don't have to wake up from any dream. The dream is coming true on the stages of Europe.