Nadal suffers, but gets into the semis after winning Carreño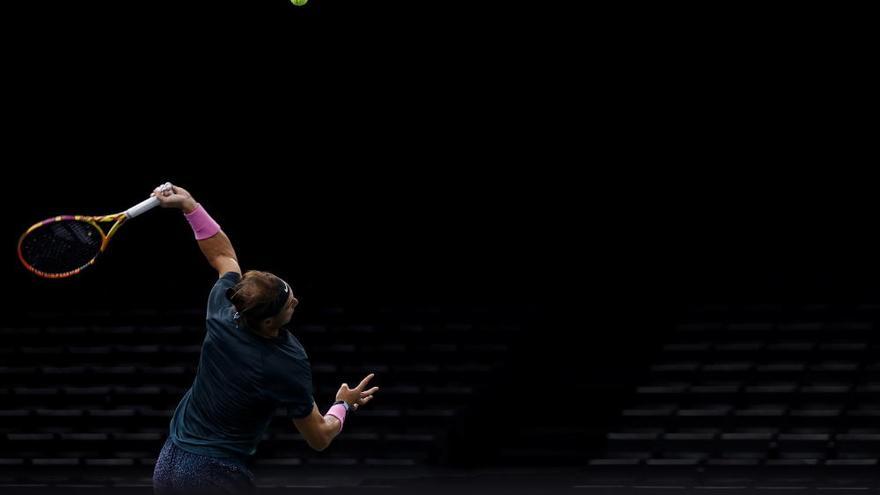 The Spanish Rafael Nadal will play por fourth time in his career the semifinals of the Masters 1,000 in Paris, after defeating his compatriot Pablo Carreño 4-6, 7-5 and 6-1 in two hours and 14 minutes.
The defeat ends Carreño's few options to qualify for the ATP Finals in London and serves on a tray the last remaining ticket for that tournament to Argentine Diego Schwartzman, who had lost hours before against Russian Daniil Medvedev.
Carreño had the duel in his hand, but Nadal, who did not complete a good game, He returned to give a sample of his capacity for suffering and clung to turn the contest around.
It was difficult for the Balearic Islands to catch the rhythm of the game, more similar to the hesitant start that he had in his debut against Feliciano López than to the most expeditious of the Round of 16 against Australian Jordan Thompson.
That gave the initiative to Carreño, who had been displaying great tennis and that after snatch Nadal's serve in the eighth game, headed for the sleeve, the second he beat in seven games.
The dynamics seemed to extend to the second set, which began with the Majorcan on the ropes, forced to come back from 0-40 to avoid giving up his kick-off.
Touched, without displaying a good game, Nadal was surviving, waiting for his opportunity that was being announced as the minutes passed and Carreño's game was losing precision.
The Balearic Islands threatened to break in the eighth, but had to wait for the twelfth to sign up his sleeve and force the third.
Nadal's impressive mental strength was again decisive and undermined that of his rival, that he was losing the thread of the match and his resistance declined, until yielding the decisive set.
Nadal will seek his second final at the 1,000 Masters in Paris against the winner of the duel between the German Alexander Zverev and the Swiss Stan Wawrinka.
The Spanish, who in the absence of Serbian Novak Djokovic party with favorite number 1 sign, chase one of the three Masters 1,000 that does not appear in their showcases, along with Miami and Shanghai.
Paris, scene of his greatest feats in Roland Garros, resists him in the Bercy neighborhood, which hosts the tournament indoors.
His best performance was completed in 2007, when he fell in the final against Argentine David Nalbandian.
Last year, when I was in good shape, an abdominal injury forced him to withdraw before facing the semifinals.
Nadal pursues his 36th Masters 1,000 tournament to match with Djokovic, which this season surpassed him, joining the other two who played, Cincinnati and Roma, the only ones with Paris that were not suspended due to the COVID-19 pandemic.