Nadal is still launched at Wimbledon, despite his mistakes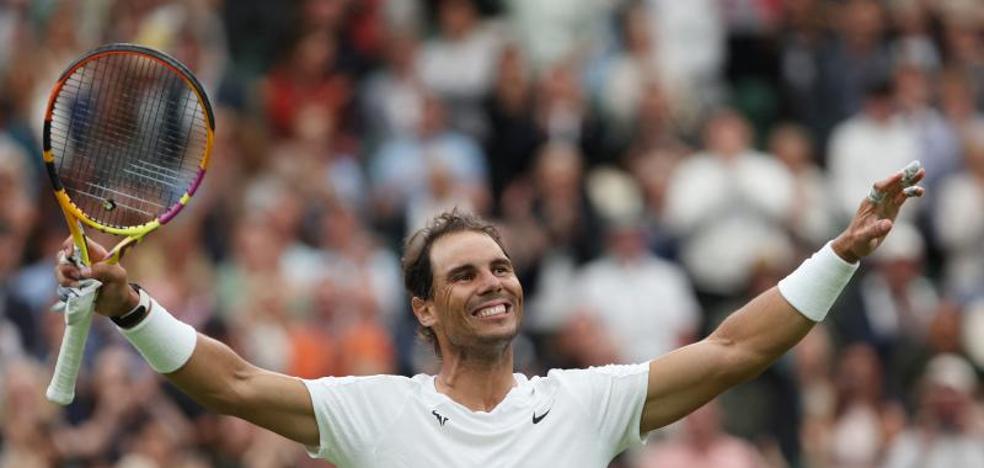 Second round
The Spaniard beats the combative Berankis in four sets, after an interruption due to rain
Rafa Nadal is already in the third round at Wimbledon. After beating the combative Ricardas Berankis (6-4, 6-4, 4-6 and 6-3) this Thursday in four sets in three hours of a match interrupted by rain in the last round, the Spaniard will face the Italian Lorenzo Sonego, who beat Frenchman Hugo Gastón 7-6 (4), 6-4, 6-4. Nadal overcame the fight that Berankis gave and, despite his many unforced errors, he showed his solvency to go one step further in the third Grand Slam of the season and recover sensations after three years without playing on grass.
Nadal reached the third round for the eleventh time in 15 appearances at Wimbledon and has already won 32 times this season, to accumulate 1,060 wins throughout his career, 307 in Grand Slam tournaments, with which he is already in fourth place in the history, only surpassed by Roger Federer, Serena Williams and Novak Djokovic, the great favorite to win the title in London.
The man from Manacor suffered again at times against Berankis, number 106 in the world, because on his right he made up to 37 errors. So much time away from the grass and recently recovered from his left foot thanks to radiofrequency treatment to alleviate the pain, he took another toll on the Spanish in the third set, but he overcame the adversities exhibiting his class.
As happened in the first round against the Argentine Cerúndolo, Nadal did not go over his second rival, mixing irregular sections with very good moments. However, the interruption in the fourth round due to the rain gave him strength to close a match as soon as possible in which the Spaniard returned to shoot ex officio.