Nadal: "If Djokovic were here, it would be the best for everyone"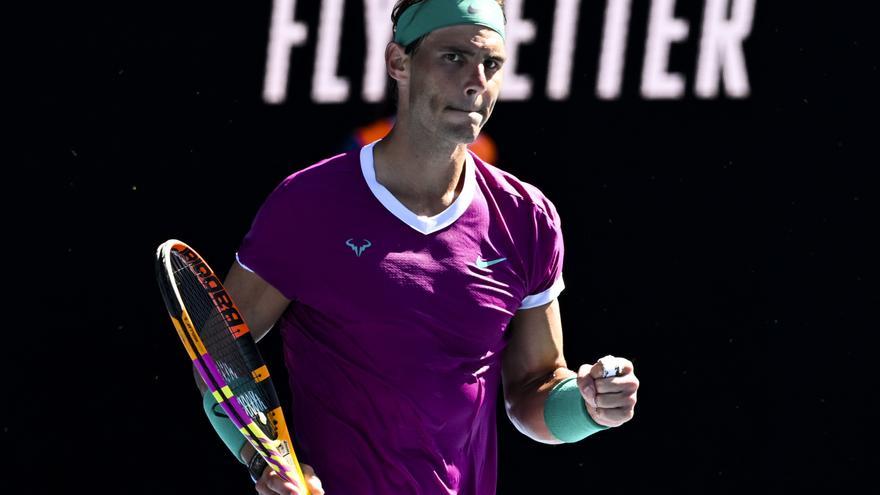 The Australian Open started for Rafael Nadal with unbeatable news on the court for his clear and resounding victory against the American tennis player Mark Giron (6-1, 6-4, 6-2) but with the shadow of Novak Djokovic out of it after the deportation of the world number 1 and tournament champion.
The Balearic tennis player, the current world number 6, could not escape giving his opinion before the expulsion of the Serbian tennis player. "The truth is that I am quite tired of all this", he lamented but, once again, he gave his opinion in the face of the situation.
"Yes Djokovic were here would be better for everyone, no doubt. I'd like to see him play, but whether it's fair or not is another issue I don't want to talk about anymore." Nadal that he said he had a good relationship with Djokovic and that he thinks that "he is probably not the only one who has done things wrong. It has been a mess."
wrecked in bed
Nadal He was very satisfied with his debut in the tournament in which a month ago he was not sure if he could play due to his chronic injury to his left foot that forced him to stop playing for the last six months to try to recover. "I would have signed with my eyes closed three weeks ago just being here, when I was devastated lying on the bed. But I would also have signed it a month and a half ago, when I didn't know if I would play tennis again at a medium-high level," he explained. .
The pain in the foot has not stopped training normally Nadal for a long time but, as a result of the confinement due to covid-19, in the last two years the inconvenience has been greater. "Being unemployed for 7 or 8 weeks was good for my knees, but fatal for my foot," commented the Balearic tennis player.
On the possibility of winning the 21st Grand Slam and beating Djkovic Y Roger Federer, absent in Melbourne, Nadal assures that this is not his priority. "All this is a question of the press and the fans, for me I have already said that I will not be happier to achieve it. What matters to me is to play and be able to compete at the highest level".