Nadal: "I was knackered but it was the day to leave nothing inside"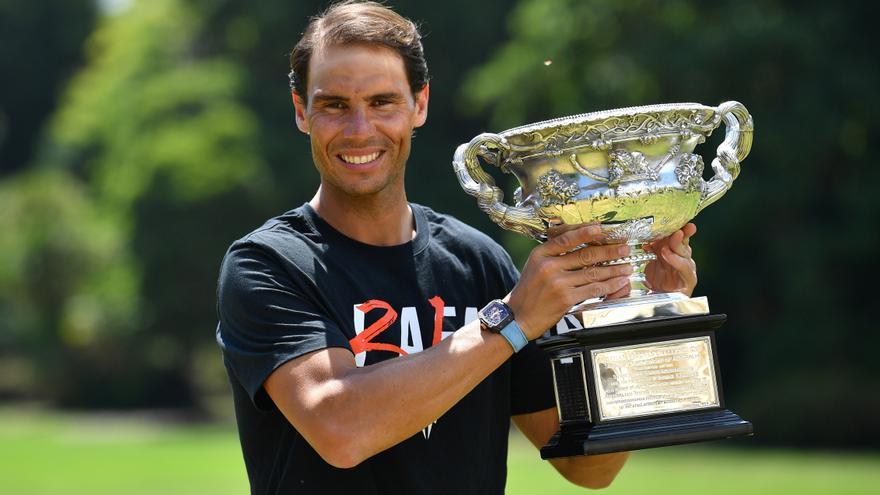 "I was exhausted and not only in the fifth, since before too, but it was the day to not leave anything inside. As they say, it was the day to be down to the last drop and the head responded well. The physical endured and allowed me to fight until the end", he commented in reference to his epic comeback that allowed him to achieve glory in melbourne park, after beating Russian Daniil Medvedev in the final in five sets that lasted up to five hours and 24 minutes.
"In the third the game was almost impossible. Two sets down, with the addition that in the second I had opportunities to close it, and even more so knowing that I am not physically prepared. He was saved, I don't remember the points, but the dynamics of the match changed from there", he added about the moment in which he stopped the dominance of the Muscovite on the scoreboard of the first sets and the beginning of the third.
"Serving with 5-3 in favor there were nerves. There have been similar situations in the past here. The 2017 final, with a break in my favor in the fifth, I wasted it. In addition, you play against a rival who is going to make you beat him. He missed that game and it was a huge blow but he was still two games away from victory. I didn't want to fail mentally", he reviewed for EFE about the turning point he suffered by letting a favorable 'break' escape in the last round.
One day after the epic victory and to receive unanimous praise, Nadal has already assimilated everything that this victory means.
"On a personal level it is something incredible, it is the most unexpected victory of my career and one of the most excitingyes It is difficult to explain, it is incredible what I experienced yesterday and to see that I am competitive as a player is something incredible", described after overcoming a period of inactivity of six months due to injury and recovering his maximum level.
And when talking about the future, the only player in history with 21 Grand SlamsIt is clear that it will depend on your physical condition.
"If I dose myself more, I am no longer a tennis player. You cannot play less than what I have done in the last two years. The calendar depends on the results and the physical condition, and from there we will make decisions. Something very special has been achieved here and I wish I was in Indian Wells, luego we will decide if we go to Acapulco based on how the body evolves ", concluded the Balearic who became the first tennis player to overcome the barrier of the 20 greats shared until this Sunday with the Swiss Roger Federer and the Serbian Novak Djokovic.