Nadal, four to six weeks off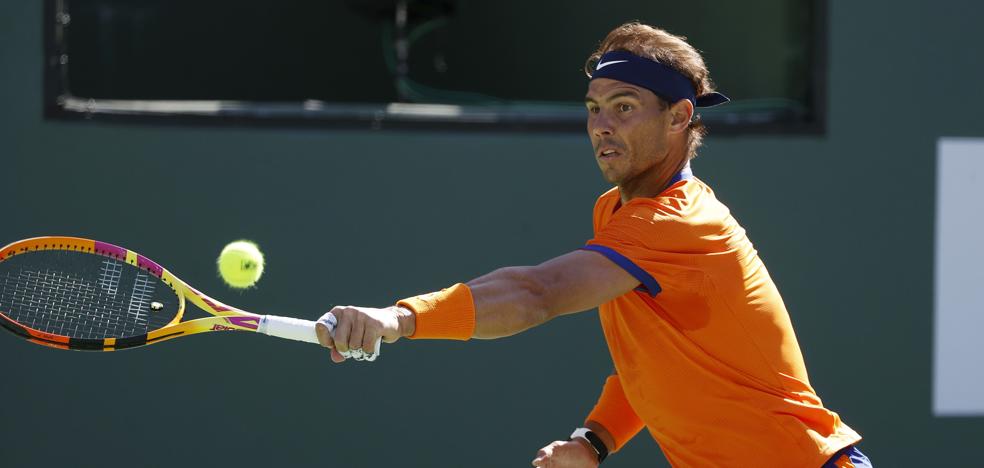 The Balearic will miss Monte Carlo and Barcelona due to the injury suffered in Indian Wells
«Rafael Nadal Parera presents, after performing the relevant NMR and CT tests, a stress crack of the third left costal arch that occurred in the semifinal match on Saturday in Indian Wells. The estimated time for his return to sports activity is 4 to 6 weeks. This is how Dr. Ángel Ruiz-Cotorro confirmed the injury that will keep Nadal off the courts in the coming weeks.
The trusted doctor of the Balearic confirmed the worst forecasts, which place the Spaniard out of the tournaments in Monte Carlo (April 10) and Barcelona (April 18). It will be very difficult for him to arrive in optimal conditions for the Masters 1,000 in Madrid, which begins on May 1.
"This is not good news," Nadal said in a statement. "I was not expecting this. I am depressed and sad because after the start of the season that I have had so good, I reached a very important part of the year with very good feelings and good results. I have always had that spirit of struggle and improvement and what I will do is be patient and work hard after my recovery. Once again thank everyone for the support », he added.
The physical problem arose in the semifinal match against Carlos Alcaraz in Indian Wells, and then worsened in the final against Taylor Fritz. The wear and tear of the duel against Alcaraz, which lasted more than three hours, intensified in the final against Fritz and showed a touched Nadal who had to receive the attention of the physiotherapist on two occasions. "When I try to breathe and move, it's very uncomfortable," Nadal confirmed after falling to Fritz.
Target Madrid or Rome

Thus, Nadal's career is slowed down at the beginning of 2022. The man from Manacor has 20 wins and one loss and along the way has won the titles of Melbourne, the Australian Open and Acapulco. It is the best start of his sports career.
Now the objective for Nadal is, if he cannot make his debut on clay in Madrid, to pick up the pace at the Masters 1,000 in Rome (May 8), just before the assault on the fourteenth Roland Garros in Paris (May 22). It will be the first time that Nadal does not attend Monte Carlo, a tournament he has won eleven times since 2004, while the last time the Count of Godó missed was in 2010. The Spaniard has won the Barcelona tournament twelve times, including in four of the last five editions.