Nadal destabilizes newcomer Rublev in London debut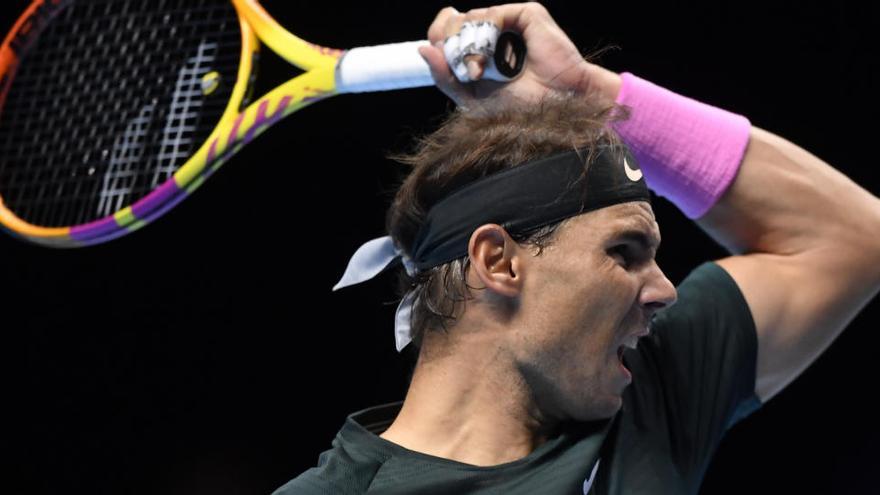 Rafael Nadal began this Sunday his road to what would be his first ATP Finals title with a blunt win over Andrey Rublev, the fittest player this season, who fell apart when he faced the Spaniard (6-3 and 6-4).
The Muscovite, a pupil of the Spaniard Fernando Vicente, arrived in London credited for his five titles this season and his forty triumphss (more than any other player), but when he was alone before the gigantic O2 and the most gigantic even Nadal collapsed. The house of cards involved in the Russian game, serve, forehand and aggressiveness fell apart when Nadal decided to scare the ghosts who had tormented him in Paris-Bercy.
His right, harmless in the French capital, won revolutions and his game woke up in tranquility, in addition to connecting a refined service and more in tune with the 'indoor' game. In his first three games on serve he barely gave up three points, a sign of his confidence, and when he smelled blood in the Russian, in the few opportunities that a track like this concedes, he took advantage of it.
In the sixth game of the first manga, Nadal forced the first match of the match with a spectacular 'passing' crossed, he threw a parallel line to carve out his first break point and, although he did not convert it, put in enough pressure for Rublev to miss his next two points and deliver the game.
With this, the first set was gone, which fell directly into the pocket of a Nadal eager to execute his debut. Not in vain this is a competition that punishes stumbling a lot. Last year they fell with in the first game and could no longer lift the disadvantage, despite winning their next two games.
And Nadal started with one thing between eyebrows, the champion trophy that rested as a witness in one of the corners of the O2 void, in which there were barely a few dozen people, among workers and a companion of the players -by Nadal his coaches were Carlos Moyá and Francis Roig, his physiotherapist, Rafa Maymó and his wife, Mery Perelló-.
To the twenty-time Grand Slam champion he only lacks a crown in his record and that rests this week in London. He went into the second set with the turbo position, broke Rublev's service in the first game and did not give the Russian a chance, too used to winning this year, but not doing it against Nadal.
With the victory, sealed in one hour and 18 minutes, Nadal is the leader of the London 2020 group, ahead of a Dominic Thiem who beat Stefanos Tsitsipas, but who did it in three rounds, which puts him behind the Spanish in the classification.
The manacorense will hit the track again on Tuesday to try to take another step in the search for the semifinals.