Nadal debuts comfortably | Canary Islands7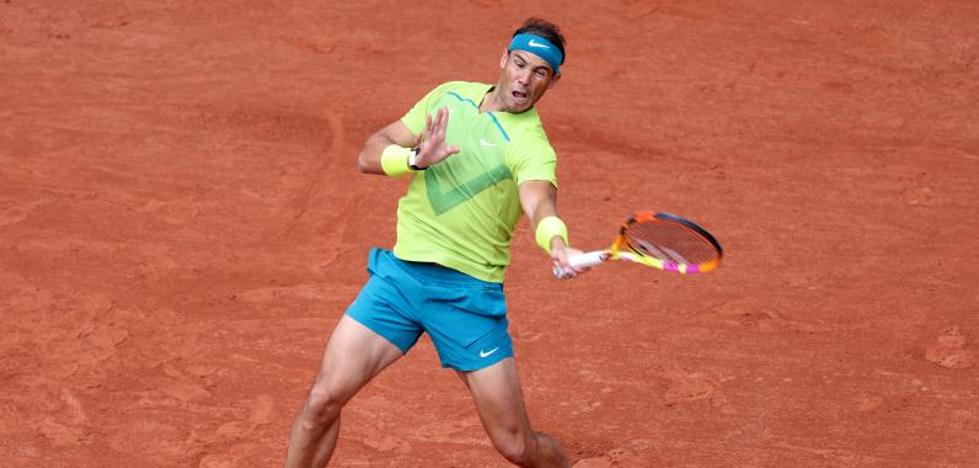 First round
The Balearic left only six games in his debut against the Australian Thompson and did not notice the foot injury
Rafael Nadal had the desired debut at Roland Garros. A placid match, in which he only left six games on the road, two in each set, and which helped him land on the Parisian clay without setbacks and without memories of the foot injury that tormented him in Madrid and Rome.
The thirteen-time tournament winner knocked out clay candy Jordan Thompson for a triple 6-2 and lays the foundation stone for the Roland Garros that looks set to be the toughest of them all. Because of the rivals, a Novak Djokovic and a Carlos Alcaraz who have shown to be at a better level on clay, and because the chronic injury he suffers in his foot threatened his preparation for this tournament.
But, at least, that problem did not make an appearance at the debut in Paris. Nadal got rid of a Thompson who has barely won a match this year on the clay tour and who in his entire career and at the ATP level has only won eleven matches on this surface. A very poor baggage to try to match the king of brick dust. As much as Nadal is not at his best, the touch of Paris is different from other tournaments, that's why he has won more times here than anywhere else.
Just seeing himself in the Philippe Chatrier is enough argument for him to trust his chances, whoever is in front. Despite touching and at 36 years old, Nadal's superiority in the French capital is admirable and this time the one who had to suffer it was a Thompson who held on to the fact that the rain that threatened the day would give him some chance in colder conditions . But not even with those, Nadal scratched at a high level, he moved in percentages with the service above 70%, although he gave it up on one occasion, and he barely left two games per set.
The possibilities of the man from Manacor to add the Grand Slam number 22 happen by not getting tangled up in the first rounds and this Monday was a demonstration that he is very clear about that path. In addition, the debut at Roland Garros is a fort. In the first 18 rounds he has played here, since 2005, he has only dropped three sets. Two against John Isner in 2011 and one against Daniel Brands in 2013. The rest have been resounding victories, like the one against Thompson, whom he dispatched with 27 winners and seven service breaks.
Room for improvement

"I am aware that there is a large margin for improvement," Nadal said at the foot of the track. «I am very happy to have passed in three sets. Now I have to try to look forward, train better and better and continue to have opportunities to compete. For me it is a gift to be here and compete to win Roland Garros. I am going to do everything possible for it, "added the Balearic.
Nadal's next matchup will be Corentin Moutet, number 139 in the world, who defeated Stan Wawrinka in four sets in the first round. It will be the first confrontation between the Spanish and the French.