Nadal confirms his intention to play Wimbledon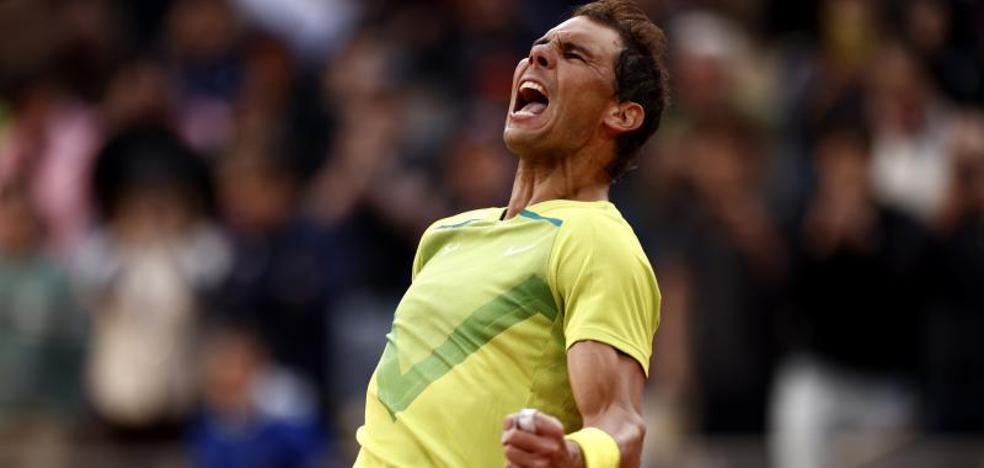 Grand Slam
The Balearic will travel to London on Monday to try to play the third big game of the season
"My intention is to play Wimbledon." That's how clear Rafa Nadal was this Monday regarding his plans to be at Wimbledon, a tournament that he hasn't played for three years and that, in his words, makes him excited. «This week, that there have been training sessions, he tells me that there may be possibilities. I am traveling to London on Monday. If I travel it is because I intend to play. I will do a week of training, I will play an exhibition, in Hurlingham, as I have done in other years, and I will try to prepare in the best way I can, "added the Spaniard at the press conference he held on the tracks of the Mallorca club where he has trained in recent days behind closed doors and this Friday, already before the media, together with Feliciano López, who had just played the previous phase of Queen's.
Nadal has tested himself on this surface, on which he has not played officially since the 2019 Wimbledon semifinals against Roger Federer, after undergoing pulsed radiofrequency injections in Barcelona that aim to reduce the impact of foot pain without having to resort to infiltrations with anesthesia before each encounter.
"It is not an immediate thing, but changes are noticeable. They are strange sensations, if I'm honest. My joint pain has gone down, the one that didn't let me support myself. With the nerve treatment strange things happen to the foot, sometimes one part of the foot goes numb, then another. I have ramps, but it seems to be normal and in theory and after a few weeks the nerve reorganizes itself and sends the appropriate signals. Let's hope that when this happens, things go well. I haven't been lame for a week. I am happy. In my day to day I have suffered pain, but different, which for me is an advance, "explained Nadal.
The tennis player, champion this year in Australia, Melbourne, Acapulco and Roland Garros, leads the race for the Turin Masters Cup with 5,620 points, enough income to secure a place in the season finale tournament. Nadal's participation at Wimbledon has been in doubt because, despite his declaration that he would try after winning his 14th title in Paris, he would not know how his foot would respond to treatment in Barcelona. That is why he did not sign up for any tournament to prepare for the third Wimbledon assault, as he did in 2008, when he won at Queen's, and in 2010, when he reached the quarterfinals at this event as well.
The man from Manacor, who was seen a few days ago on crutches, which increased doubts about his stadium, will attend Wimbledon, therefore, without previous tournaments on grass, something that is not surprising, since he does not play a previous tournament at Wimbledon since 2015 and has reached two semi-finals in London, in 2018 and 2019, since then.
"After three years without playing on grass, there has to be a progression. I have been improving. I have one week of training left in London. On a tennis level, having played well at Roland Garros gives you confidence, but grass is a very different surface, without much logic. Any round is going to be tough. You just have to see that last week in S'Hertogenbosch a tennis player won without ATP victories », he asserted.
Second seeded

With the losses of Daniil Medvedev, sanctioned by Wimbledon along with the rest of the Russians and Belarusians, and of Alexander Zverev, who tore his ankle ligaments at Roland Garros, Nadal will be second seeded at the All England Club, so he will avoid face Novak Djokovic until the final.
Furthermore, Nadal confirmed his next steps once he plays Wimbledon. "I'll be at Wimbledon, I'll rest, then I'll try to play the 1,000 Canadian Masters and then the US Open," the 22-time Grand Slam champion clarified.
On his personal life, Nadal was blunt and reserved. "If all goes well, I'm going to be a father. I'm not used to talking about my personal life, because I'm already in the spotlight enough for my professional life. We live calmer in a lower profile. I don't know how it will change my life because it hasn't happened to me before. I do not expect this to mean any change in my professional life, "said Nadal, who will be a father for the first time with his wife Mery Perelló.