Nadal clings to the treatment to qualify for the Grand Slam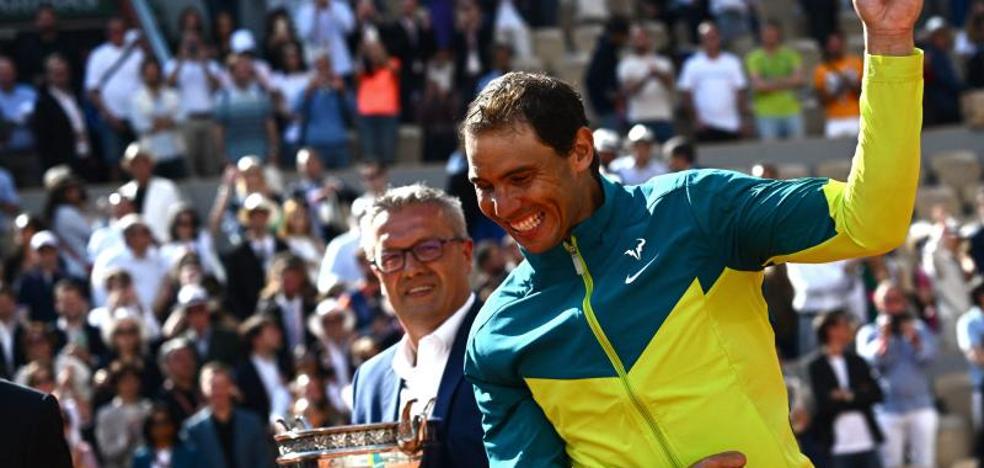 Final
A treatment based on injections with radiofrequencies is the key so that the Mallorcan can continue competing
"I'm going to fight to be here for as many years as possible." With this phrase, Rafael Nadal scared away the rumors about his retirement that had colored the last three weeks of his sports career. And they were not empty words. Nadal has a plan to recover from the chronic injury to his left foot that forced him to limp out of Rome less than a month ago.
A better plan than the anesthetic injections that he has received before each match at Roland Garros and that have allowed him to compete normally, but with the concern that the injury to the scaphoid in his foot would get worse.
This time the Balearic will undergo injections with pulsatile radiofrequencies that will reduce the impact of pain in the foot without having to resort to infiltrations with anesthesia before each match.
«I hope to continue because I am in a beautiful and unexpected moment at this point in my career. It is a gift to continue playing at this age. We are going to do the things that are reasonably possible to continue," Nadal explained at a press conference.
This treatment would avoid a foot operation that would take him out for the rest of the season. A step through the operating room would curtail his options to continue adding successes this season and would have him in the dry dock for six months, a break similar to the one he suffered last season, when he barely competed in a single tournament after losing in the semifinals of Roland Garros against Novak Djokovic.
"If (the treatment) works, I will continue playing. If not, it will be another story, I will consider if I am willing to have surgery. I would have to talk about it with myself, calmly, because it would be a life decision, to know if it pays to be unemployed for half a year, without any certainty. I would have to understand things better to make that decision that I am not prepared to make now, "added the Balearic.
Nadal will undergo treatment this week and from there he will assess his options on the grass tour that begins this Monday. There are three weeks left for Wimbledon and the goal of the man from Manacor is to attend a tournament that he has won twice (2008 and 2010), but in which he has not participated since 2019.
"I will be at Wimbledon if my body is ready for it. It is a tournament that I like and in which I do not want to miss. If you ask me if I am going to be able to play it, I don't know, but if you ask me if I want to win it, the answer is yes, "added the Balearic, who has not played on grass since 2019.
Wimbledon, which this year will not distribute points due to the ban on playing Russians and Belarusians, begins on June 27, which gives Nadal 20 days to recover from the efforts of Roland Garros and prepare for the surface that most punishes his joints. .
Warming up before the third Major of the year has never been a priority and with the little time that the calendar offers between clay and grass it would not be a surprise that Nadal shows up at the All England Club without playing any other official tournament. He has done this in 2019 and 2018, when he reached the semifinals, and also in 2017 and 2013. To acclimatize to the surface there are also the Hurlingham exhibitions, in which Nadal has participated on a few occasions before the assault on Wimbledon.
The third Grand Slam of the year takes on even more importance because Nadal, for the first time in his career, has won Australia and Roland Garros in the same season, giving him a long shot at conquering one of the few challenges he lacks in the tennis: the Grand Slam, or winning the four Grands in the same course. This achievement only resides in the honors of Don Budge, who did it in 1938, and Rod Laver, who achieved it in 1962 and 1969. Djokovic has been the closest to repeat success, winning last year the three first Grand Slams and losing in the US Open final against Daniil Medvedev.