Nadal-Alcaraz, an appointment for history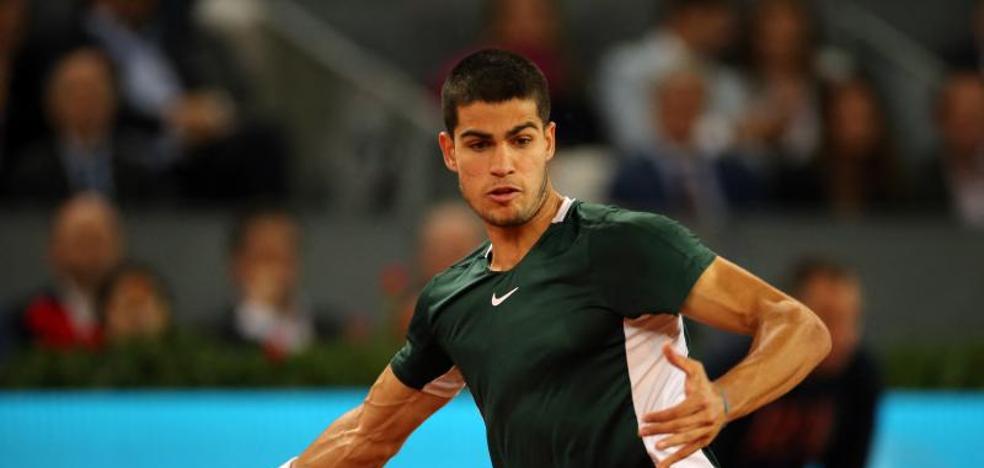 Mutua Madrid Open
The two best Spanish tennis players meet in the quarterfinals of the Masters 1,000 in Madrid
There will be a generational duel in Madrid. The wish of the fans and the tournament was fulfilled because Rafa Nadal and Carlos Alcaraz did their homework. With suffering and a lot of effort, but they did it and they will meet this Friday (around 4:00 p.m., by La 1 and #Vamos) on the Manolo Santana center court in the quarterfinals of the only Masters 1,000 in Spain.
The most anticipated game but also the one that could never be played, because Nadal was on the verge of defeat on four occasions. The one from Manacor had to save four match points against David Goffin -6-3, 5-7 and 7-6 (9)- to ensure his presence in the fifth quarter-finals of the season. Tournament that he has played, tournament in which he has gotten into the top eight.
That is the level of a Nadal who had Goffin subdued, with an advantage of 6-3 and 5-3, but who did not know how to finish off the first two match points. «He should have won in two sets. But I arrive with zero preparation and that makes for bad moments », he pointed out after the match. But it was not like that, Goffin, who has been out of his best level for several years due to injuries, lived a second youth to cling to the game and to melt Nadal with forehands, especially with an open blow that tore the seams of the Spanish.
The game, which lasted more than three hours, was decided in a final 'tie break', which would be too little to define as a roller coaster. Goffin enjoyed three match points, before disabling the first that Nadal had. The Spaniard saved the Belgian's fourth chance with a heart-stopping drop shot for the stands, which was followed by three more points in a row and a victory that dismantles any strategy. A victory worthy of Real Madrid. "I used the Bernabéu as inspiration," added the Spaniard, with a victory in his pocket that places him before a historic duel against his successor at the top of tennis in this country.
pressure exceeded

Carlos Alcaraz left just half an hour after Nadal a la Manolo Santana with the pressure of knowing that a place in the quarterfinals was at stake before Manacor. A responsibility that he already experienced last season, but in a very different environment from the one that will be experienced this Friday. That day, on May 5, 2021, Nadal and Alcaraz played a match in the center that served as a celebration of the Murcian's birthday. There was cake, many smiles and a lopsided victory for Nadal, who only left three games.
"I have lost twice and I want to play with him one more time. It will be different from last year », added Alcaraz after beating Cameron Norrie, his obstacle in the round of 16. Juan Carlos Ferrero's pupil needed three sets to beat the Briton, 6-4, 6-7 (4) and 6-3, maintained his 'top ten' position against a direct rival and celebrated his 19th birthday with the public , who chanted happy birthday to him at the end of the meeting.
For Alcaraz it will be revenge not only for what happened here in Madrid last season, when he was still number 120 in the world and only a promise, but also for the semifinals of the last Masters 1,000 in Indian Wells, when he managed to rip a set from the Balearic before losing.
Now Nadal arrives with doubts about his physical condition after more than three hours on the court and made it clear at a press conference: «My foot hurts. I'm lame. The injury is chronic and incurable. That's why it's bad not to have closed the game earlier. Tomorrow I can wake up with more problems than expected and we have to accept it."
Asked about this, Alcaraz stressed the resistance and recovery capacity of the current number four in the world. "He has 200 lives. When it seems that he is dying, he rises again », he affirms.
On the horizon, the winner of this match can expect a Novak Djokovic who did not have to play against Andy Murray, who withdrew from the tournament due to illness. He will now seek the semifinals against the Polish Hubert Hurkacz, whom he has defeated on the three occasions in which the faces have been seen.