Nadal: "A historic victory, the first of many to come"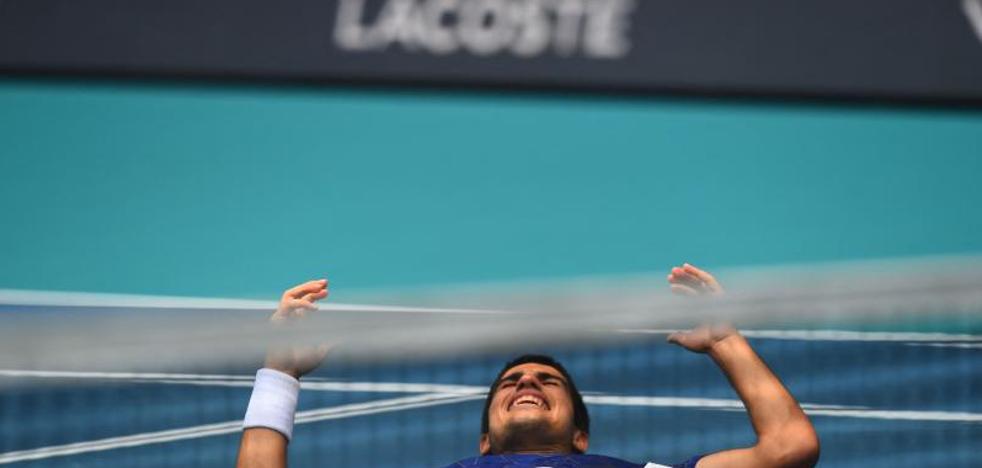 Miami Masters 1,000
The Spaniard enthusiastically congratulated the Murcian tennis player and predicted that the victory in Miami is just the beginning of many successes
If Carlos Alcaraz behaves like a precocious genius on the court, outside he also has details reminiscent of Rafa Nadal, his idol, and reinforce his idyll with the fans.
As soon as he was crowned in Miami and reached his first Masters 1,000the Murcian threw himself to the ground, excited, saluted his opponent sportingly and ran to the stands to merge into a hug with his coach Juan Carlos Ferrero, full of tears, euphoric and with emotions on the surface for the feat of his ward.
In the chamber he signed a dedication to the father of the former Valencian tennis player, recently deceased. "Eduardo, always with us," she wrote with a blood-red marker. And a heart. "It is the second time that I am with my father in an ATP tournament. I knew that Ruud is a great player, with a great punch, but I thought that he should not stop attacking », said the Murcian. At this point, there are no words.
Among the many congratulations that the 'wonder boy' immediately received, the first, the most anticipated, had to be that of Rafa Nadal, who is still recovering from the cracked rib that he suffered precisely against Alcaraz in the Indian Wells semifinals. «Many congratulations Carlitos for your HISTORICAL triumph in Miami. The first of many that are going to come, for sure! », He predicted.
Congratulations Carlitos @alcarazcarlo03 for your HISTORICAL triumph in #Miami. The first of many to come, for sure! 👏🏻👏🏻👏🏻👏🏻👏🏻🇪🇸

Rafael Nadal (@RafaelNadal) April 3, 2022
The man from Manacor knows that Alcaraz can follow in his wake, if Rafa has an end one day. No one should be confused. Matching him is impossible. He would become the greatest athlete of all time.