Nadal, a comeback in record time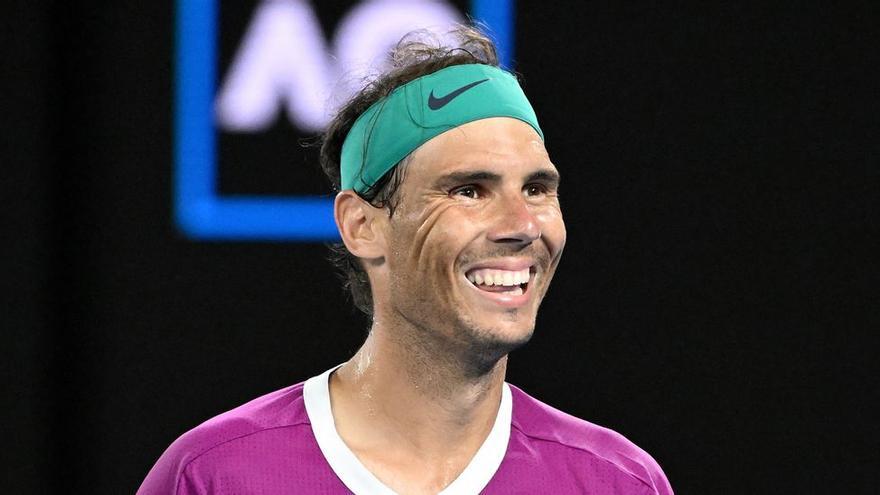 "A month and a half ago I didn't know if I would return to the circuit and here I am. There were days that I could train twenty minutes and others zero. I was surprised to be in the final. I feel alive again in my tennis career." are words of Rafael Nadal after beating Italian Matteo Berrettini in the semi-final of the Australian Open. Again in a Grand Slam final, the twenty-ninth of his career, after overcoming all kinds of calamities that have kept him off the slopes for more than four months.
that the injury -an osteochondritis of the scaphoid caused by a lack of blood supply to a bone in the left foot, a congenital disease known as Müller-Weiss- It was worrying, it became known on June 17 of last year, six days after falling in the Roland Garros semifinals against Djokovic. That day Nadal resigned from Wimbledon and the Jtokyo games "to extend my sports career and keep doing what makes me happy.
It was not until August 2 when he revealed, in Washington, that he had given up the big grass and the Olympic event due to pain in his left foot. Reappears in the North American capital on August 4 beating the American Jack Sock, but shows signs of foot pain. The next day he loses to South African Lloyd Harris. On the 10th he withdraws from the Toronto Masters 1,000 as the pain persists: "My scaphoid is flattened and it hurts", He says. On the 20th, the season ends with the consequent renunciation of the US Open, the Masters Cup and the Davis Cup. "I've been playing for a year with more pain than I should," he says.
On September 11, he reappears in Barcelona with crutches after undergoing aggressive treatment on his left foot.
Nothing would be heard of him until September 11, when he reappears in Barcelona on crutches after undergoing aggressive treatment on his left foot. More than a month of rest, without putting the foot on the ground, rehabilitation and return to training. Reappears on December 17 at the exhibition tournament in Abu Dhabi133 days later, with a loss to Andy Murray. Upon his return from the United Arab Emirates, he tests positive for covid which jeopardizes his participation in the Australian Open. But he moves to the continent and wins the Melbourne tournament, the 89th title of his career.
On January 19, after winning in the second round of the Australian Open German Yannick Hanfmann, Nadal, who turns 36 on June 3, be honest about your injury and how you are copingnow, and what remains of his sports career: "I have a problem down there that has no solution. With the scaphoid split in half it is difficult for the injury to be forgotten, will not be forgotten for the rest of my life. That is what I would sign to face the future with a little positivism. What I am not going to do is play without having options at all or for it to be extreme suffering. Suffering with options is always going to be worth it. If the suffering is without options to achieve the objectives, then it loses its meaning. If there comes a time when pain overcomes everything else, and takes away the illusion of achieving goals, it's time to think about other things. I have to be prepared to accept what may come in this life. This Sunday, at 9.30 in the morning (Eurosport) he will play a new Grand Slam final in the closest thing to a miracle. Nadal is back in a big way.