«My work is subject to experimentation and finding new ways of expression»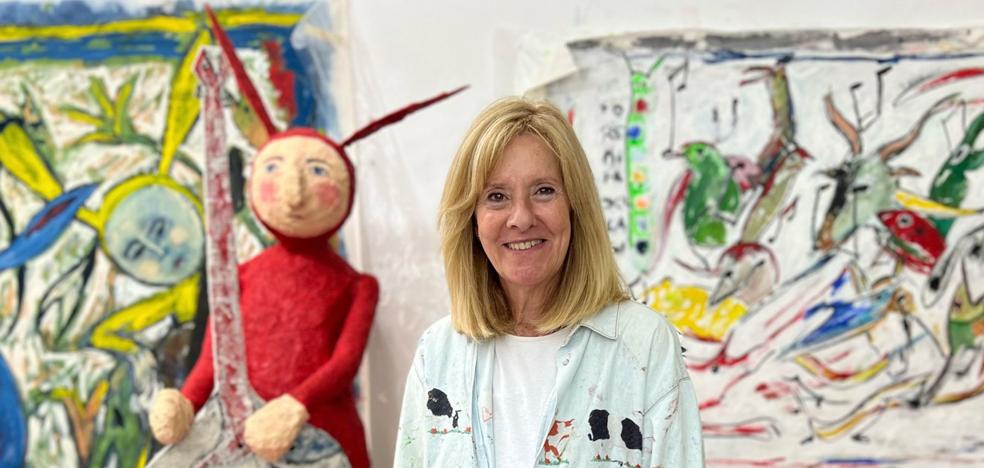 The artist from Gran Canaria Marta Mariño exhibits, at the Casa-Museo León y Castillo in Telde, 'Sinestesia', her new plastic series
Synesthesia is a rhetorical figure that, in addition to the mixture of auditory, visual, gustatory, olfactory and tactile sensations, associates elements from the physical senses with feelings. The creator Marta Mariño exhibits, in the exhibition hall of the
León House-Museum and Telde Castle his latest individual installment entitled 'Sinesthesia'.
In this new series, Mariño points out that he has wanted to represent in each work «
a rhythm, a movement, a sense of interpellation through ambiguous and strange figuresor sometimes real and with an extensive palette, in a world or imagined reality where I place them with different techniques and tonalities, which is like in music that, depending on what is heard, is felt and dreamed of in a sometimes implausible way» .
The creator, who belongs to the generation of painters who reached artistic maturity between the 70s and 80s of the last century, points out that her work is always subject to experimentation and the desire to find new ways of expression, both in techniques and in the use of different materials. She therefore she admits that
«a new exhibition is somehow a new path, a birth».
Marta Mariño, who with her retrospective exhibition
'The painted years' (1977-2007) took a tour of the three decades of his interesting and thoughtful creative career, pursuing in 'Sinestesia', «through the
chromaticism, object figures and movement, abstraction or realism, which are transformed into visual sensations. Seeing the sounds, hearing the movement or feeling the rhythm, for example, would be sensations to take into account in my work », he adds. «In this series the colors are more vivid because I have used the primary colors profusely so that each color represents a musical note and the mixture of them creates a composition, which is where the dynamism of the work lies».
different impressions

He admits that the sensation of each spectator before his works will be different. "It's just like music, which is perceived differently by each person. And here the different states of mind with which a person positions himself before a work come into play. This way of being in the world conditions it to react in a different way: it can produce calm or tranquility; tension or vibration, dynamism... The same thing will happen in painting, each person will receive it
depending on your baggage and your state of mind» says the painter.
«From my point of view, the sensory is inherent to the spiritual. There is a founding text in this regard
Kandinsky 'Of the spiritual in art', which I think responds very well to certain aspects of artistic production. And in an analogous way, a similar process takes place in music, what differs are the senses that enter into the apprehension of the work », he maintains.
island condition

the remembered
poet Natalia Sosa Ayala He said of Marta Mariño that «that repeated symbol of hers of the freedom sought, that bird sometimes light blue, sometimes red, sometimes pale and very distant with which she makes up most of her paintings should not represent our own estrangement from other landscapes or from other lands, but rather it should promote the enrichment of our insular identity».
In this regard, the painter acknowledges that her work is inscribed "within a context that cannot be ignored, such as the insular condition. Even so,
my conscience goes wherever my feelings and my artistic commitment take mein this sense has no limits or place».
The painter
Francisca Casillas was his mother and it is always present in his production, because for Mariño it had a major influence on his decision to become an artist, "since I lived seeing, smelling and feeling his art at all times," he recalls. With the creators and creators of his generation, he considers that they are united by "the historical moment that we had to live, the common experiences and the pictorial trajectories over the years."
your generation

From that generation she remembers «Sira Ascanio who is no longer with us, but her painting is,
Pilar Rodiles, Rufina Santana, Fabiola Ubani, Mercedes Mirazo or my sister, Mercedes Mariño».
The painter, whose large part of her works are exhibited in important museums and institutional centers in the Canary Islands and the rest of Spain, in addition to France, Germany and Venezuela, considers the artistic contribution to the art of the islands to be notable, as figures such as «Jorge Oramas, Plácido Fleitas or Felo Monzón, attached to the Indigenism current; the surrealism of Óscar Domínguez and Juan Ismael; the informalism of
Manolo Millares, Martin Chirino and Lola Massieu or the movement
ZAJ of Juan Hidalgo and Marchetti, although many of his works have been made outside the Canary Islands».