Mutual help in the face of loneliness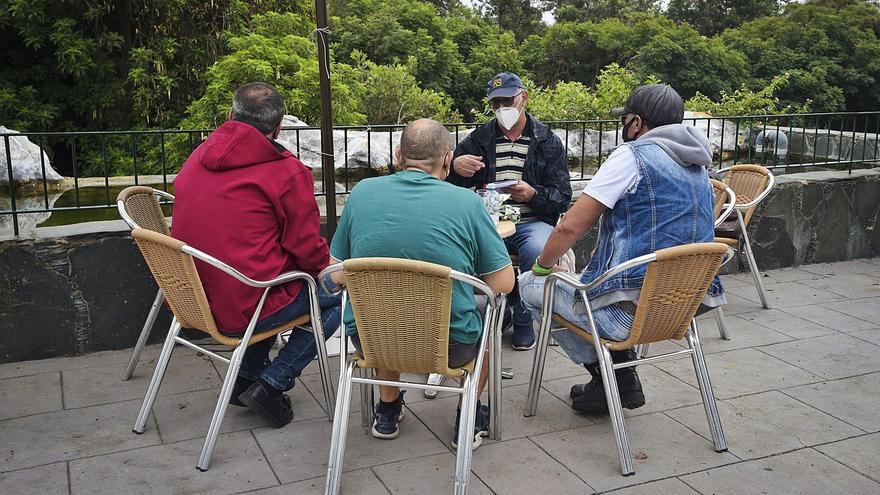 Institutions and groups linked to mental health arise from the need to forge cooperative ties and to generate a community. The Asociación Integral Canaria Salud Mental Espiral emerged in 2009 thanks to a group of users from the Mental Health Unit and the La Casa del Marino Day Center. At that time, the founders saw that it was necessary to meet with other people diagnosed with psychiatric illnesses to discuss the problems they faced on a day-to-day basis and to combat the loneliness and isolation to which the group is subjected. Eleven years later, the situation of these people has not improved substantially. What's more, it has been aggravated by the arrival of the confinement decreed with the state of alarm to stop the expansion of Covid-19. For this reason, a group of Espiral members has launched a mutual help workshop in which attendees can express themselves freely, anonymously, without feeling judged and in which, above all, they fight loneliness.
The meetings, in which they talk about their problems and share their concerns, are held one day a week and, to maintain security measures, the meeting point is Parque Doramas. The workshop coordinator, who also participates in the activity and prefers to remain anonymous, affirms that despair in the face of loneliness led them to take the initiative and form the working group. "We are all people with a diagnosed mental illness and undergoing treatment," explains the organizer, adding that "in the meetings each one expresses their feelings and concerns, always respecting the rules and without talking about issues that may generate conflict such as politics, religion or football ".
This tool for self-help was discovered by the workshop coordinator thanks to his participation in the Patient Classroom of the Hospital Universitario de Gran Canaria Dr. Negrín. The people who participate in these dynamics have knowledge and experiences that have enormous pedagogical potential. Additionally, the commitment to helping other sick people and the ability to share self-care strategies are beneficial to many.
In their first meeting, says the coordinator, they talked about how they felt during confinement. At that time they were forced to change routines and, being highly sensitive people, this circumstance could make their ailments worse. "In quarantine we had a receipt that authorized us to go out on the street if we needed to and when the de-escalation allowed us to, we started meeting in small groups to simply have a coffee or spend time together," recalls the head of the workshop mutual aid. Who regrets the fact that society stigmatizes people with psychiatric illnesses and warns that many consider that theirs are not real pathologies.
The member of Espiral, Juan Arencibia, highlights the importance of the work carried out by the Association, since it helps more than a hundred members to "normalize their lives". "When one feels out of place, because of a lack of mental control or because he has lost his life's course, there he finds affection and understanding," says Arencibia. Who emphasizes that the multiple activities they develop help to empower users, who "are given an opportunity to express themselves and be themselves." The non-profit organization also provides members with tools for their day-to-day life, fosters their integration into society and "they try to be a family and help each other." Almost all Spaniards, nine out of ten, have suffered stress in the last twelve months and the main reason is linked to Covid-19, for fear of being infected with the virus or being infected by a relative (44%) or because of being confined at home (36.2%). But in addition, in the last year, the number of people with sleep problems (51.5%), anxiety (50%), irritability or anger (50.9%) has increased, and also those who go to the fridge more to eat more because of stress (28.1%). 22% say they have felt anxiety during confinement and 21% say they have felt sad or down, and those who have suffered the most negative feelings have been women and generations Z and millennial. These are some of the main conclusions of the III Study on Health and Life presented by the insurer Aegon, within the framework of World Mental Health Day, which is celebrated next Saturday, October 10. | Efe