Musicians and friends pay tribute to Pau Donés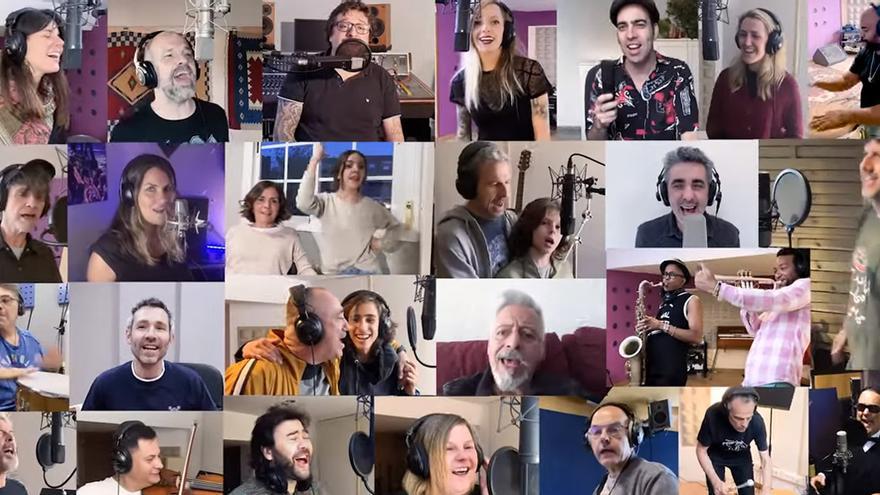 A fifty musicians and friends have participated in the recording of the Jarabe de Palo song 'Valiente', which have been dedicated to the singer Pau Donés, when it is fulfilled one year after his death.
'Brave' is a song composed by Pau Donés to pay tribute to emigrants but, on this occasion, all the musicians who were part of Jarabe de Palo at different times, the technicians, managers, friends and "the entire jarabesca musical family", wanted to dedicate it to Donés because "really, here, he is the brave "according to the music producer of this version, Micky Forteza-Rey.
Pau Donés, leader of Jarabe de Palo, died on June 9, 2020 at the age of 53, after having relapsed from colon cancer that was diagnosed in 2015.
Carlos Tarque, Lorenzo Cherubini 'Jovanotti', 'La Mari', Rulo, Nerea B, 'La Shica' and Isma Romero They give voice to this version, in which Pau's brother, Marc Donés, technicians and friends also participate in the choirs.
Along with them, the twenty musicians who were once part of Jarabe de Palo and who play chronologically, from the first band to the last.
"This version of the song 'Brave' It is a tribute from the most familiar surroundings of Pau made from the heart, without any financial or fundraising claim, "the family clarified.
With the collaboration of many of the musicians and friends who accompanied him throughout his musical career, "the sole purpose of this initiative is to mark such an important date for us. We had to do something that would convey part of the feeling that Pau has given us. left ", he added.
Pau Donés had planned to record the video clip of the original song with his friend Pau Gasol in mid-summer 2020 and he had already closed the filming dates, but illness prevented him from carrying out this project and "he became the protagonist of his song for all of us," according to the family.
A year after his death, musicians and friends have joined "in a very emotional recording process", which collects "all the energy" of the "jarabesque musical family".