'Music-All' supports musical development in Honduras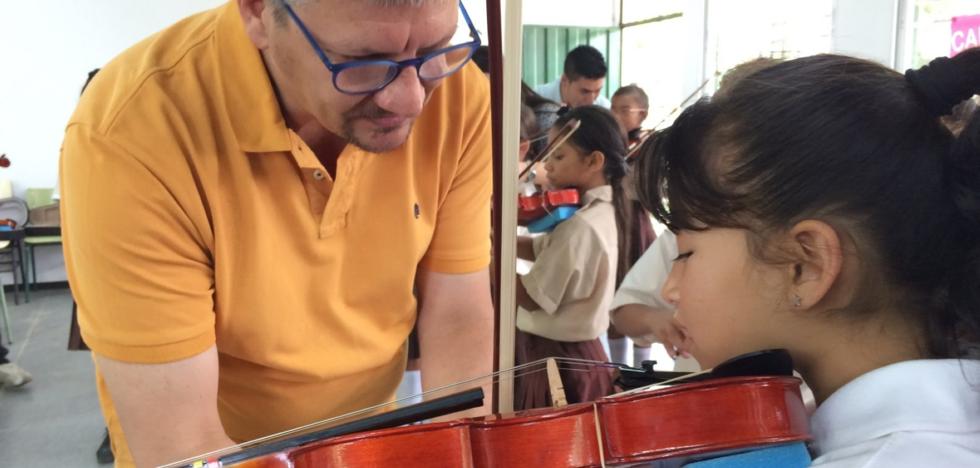 Barrios Orquestados and the Maestro Valle Orchestra star in the solidarity concert on Saturday at the Alfredo Kraus Auditorium in the capital of Gran Canaria
The social-musical project Barrios Orquestados and the Fundación Auditorio y Teatro Las Palmas de Gran Canaria present, together with the Maestro Valle Orchestra, next Saturday,
May 28, at 7:00 p.m., in the Alfredo Kraus Auditoriumhis second charity show 'Music-All' in favor of this educational project in
Honduras.
This concert is part of the
cycle of young performers of the Fundación Auditorio y Teatro Las Palmas de Gran Canaria to give visibility to the talent of young artists from the archipelago.
The show is a journey through the great musicals of history, with the voice of prominent Canarian soloists such as
Alba Serrano, Badel Albelo, Bentejuí de Vera, Dani Molina, Joyce Kazoun, Judith Pezoa, Ninfa Santana and Tania Alonso.
60 instrumentalists

They are accompanied live by the Maestro Valle Orchestra, with a total of 60 members including students from Barrios Orquestados and instrumentalists from the Professional and Superior Conservatory of Music, under the baton of the project director,
Jose Brito.
'Music-All' is part of the capital city council's 'Culture in Action' programme.
Tickets have a
price of 10 euroswhose proceeds will go to the work of the Honduran NGO Asociación Collaboración y Esfuerzo (ACOES) to provide resources and opportunities to more than
240 boys and girls from Barrios Orchestrados on the other side of the Atlantic.
"Each one of the tickets for this event has the power to transform the reality of Honduran students," José Brito, director of the orchestra and the association in the Canary Islands, stressed yesterday.
Tilman KuttenkeulerGeneral Director of the Auditorium and Theater Foundation of Las Palmas de Gran Canaria highlighted the value of music as an agent of change: "It is unquestionable and that is how we promote it from the Foundation with the program of benefit concerts."
outdoor projection

Barrios Orquestados is a social project that aims to create bowed string, woodwind and choir orchestras in peripheral neighborhoods of the Canary Islands, with special social and cultural needs.
After a decade of activity, the association is committed to internationalization and support for its headquarters
beyond the archipelago.
"In Honduras we are committed to youth, they are trained and empowered, and they end up achieving unimaginable goals," he explains.
Oscar MunozIDEA-Canary Islands representative with Honduras.
The project arrives in Honduras
in 2018where it is implemented in two locations in the city of Tegucigalpa thanks to the initiative of ACOES and the organization Canarias con Honduras.
Tickets can be purchased through the usual channels of the Fundación Auditorio and a
solidarity zero row so that whoever wants to make a donation to this charitable cause.