Mummies of 22 pharaohs parade in carriages through Cairo to a new site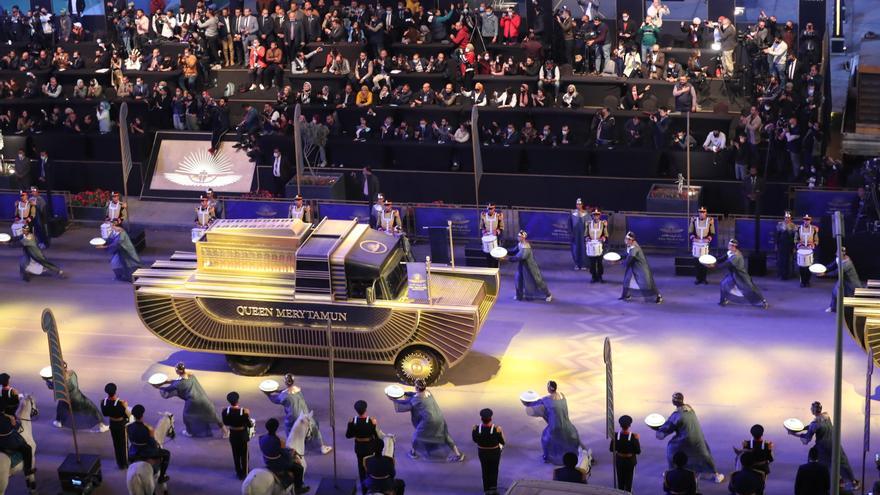 There will be those who claim that altering the eternal sleep of the mummies can bring undesirable repercussions, but times have changed since Howard Carter and Lord Carnavon discovered the remains of Tutankhamun, extracted them from his tomb and rolled the famous curse, it is created in it or not. What was held in Cairo yesterday refutes the belief. A parade of pomp and circumstance but at the same time of carnival joy in which 22 floats decorated very festively with participants dressed in the style of The Ten Commandments moved 22 mummies, from their site of the old Egyptian Museum of Tahrir Square in Cairo to the New National Museum of Egyptian Civilization (NMEC), which will house the bodies of the pharaohs of the 17th, 18th and 19th dynasties, and is located in El-Fustat, in the Old Cairo neighborhood, a route that will be covered in 40 minutes. The transfer can be seen through youtube. This is not the only new museum facility in the Egyptian capital because the Great Egyptian Museum (GEM) located on the esplanade of Giza, next to the pyramids, which was due to open last year, will also open its doors soon.
The center will house the remains of kings and queens of the 17th, 18th and 19th dynasties of the New Kingdom.
According to sources in the Egyptian press, the restorers have carefully examined each of the remains for three years to ensure its general condition. At the NMEC, the ancient rulers of Egypt will stay in ultra-modern polystyrene boxes "filled with inert nitrogen gas to prevent any microbiological infection," explains Manal Ghanam, one of those responsible for the NMEC.
All the remains on display come from the two royal "hiding places" respectively discovered in 1881 at the site of Deir El-Bahari on the west bank of the Nile and in 1898 at the tomb of Pharaoh Amenhotep II in the Valley of the Kings, Luxor. . Hit by the pandemic, Egypt seeks to lift the spirits of its people.