Multimillionaires, powerful and unpunished accomplices of Nazism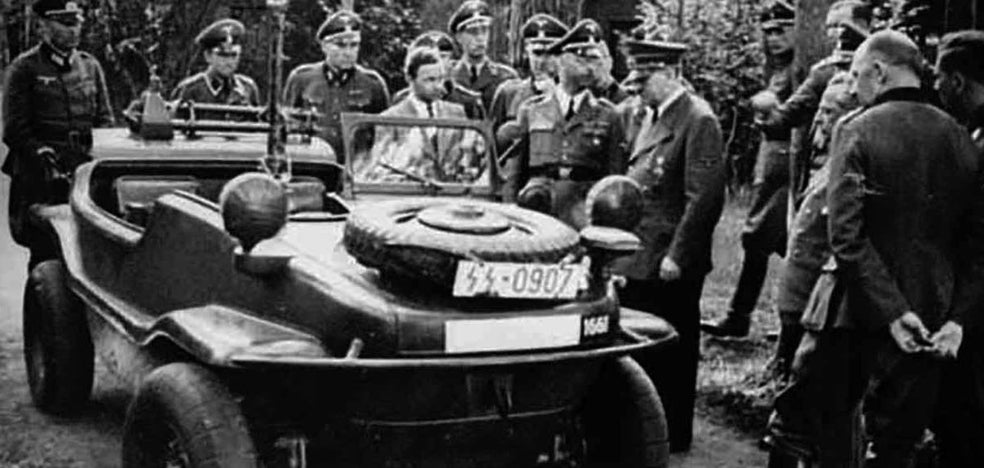 David de Jong reveals the links with the Third Reich of the German tycoons and fortunes that exploited and enslaved millions of European workers
They exploited millions of enslaved workers. They financed and armed the army of the Third Reich. They were accomplices in his atrocities and amplified fortunes that were already enormous. But it was free for large companies and powerful German tycoons to collaborate with the Nazis. So says David de Jong, author of 'Money and Power in the Third Reich' (Principal of the Books), an essay that reads like a novel and that reveals the intrahistory of the richest and most powerful dynasties in Germany: BMW, Oetker , Porsche, Varta, Krupp, Daimler Benz, Siemens, Allianz, Volkswagen or DWM among others. And of tycoons like Günther and Herbert Qandt or Friedrich Flick, in the antipodes of Oscar Schindler.
"It must be said that it was free for all of them, and that they traveled a long way from when Hitler came to power until the end of the war," explains De Jong, an economic journalist who has studied in detail the origin and evolution of these great fortunes. that, far from shrinking, grew with the war and thanks to the genocidal Nazi barbarism.
He estimates that between them they had "between twelve and twenty million enslaved workers from all over Europe in factories or mines." And that they did it "at no cost". "War is not a profitable business for anyone, but it was for them, who had almost free slaves and in the end they won much more than they lost in the war," he points out.
De Jong demonstrates how most businessmen went unpunished. And that an agreement between Germany and the United States created in 1999 a fund of five billion dollars for the victims of the atrocities in which they collaborated. Half was provided by Germany and the other half by eighty companies such as
Siemens, Thyssen or BMW

"The serious thing is that they did not have to assume any guilt or moral responsibility. The highest compensation received by a slave worker did not exceed $8,000," laments De Jong. Thus began an "effective laundering process that continued throughout the 21st century."
Friedrich Flick, during the Nuremberg trial, from which he would be sentenced to seven years in prison. /

RC

Most of the families "were opportunists and were already very wealthy before the war. Some prospered in the Weimar Republic, others with the arrival of Hitler and almost all with the war. But it is surprising that they continued to prosper under any system, when the Cold War came and with democracy.
De Jong points to the Oetkers -those of Dr. Oetker pizzas- as "the most collaborative". Like all the large corporations and families he has investigated, "they were complicit in Nazi atrocities." "They collaborated with the SS and many of them built concentration camps next to their factories, taking advantage of the prisoners of the great extermination camps." The chemical company IG Farben did it with the prisoners of Auschwitz; BMW with those of Dachau; Daimler Benz with those from Sachsenhausen; Siemens with Ravensbrück and Volkswagen, Porsche and Dr.Oetker with Neungame.
satellite fields

"They also had their satellite camps next to their factories and paid the SS for labor power: six marks for a skilled worker and four for an unskilled worker. They were watched in factories, shot at, hanged, lacked medical attention when they suffered amputations working with heavy machinery. The food was lousy. They were not workers, they were mere slaves, "reiterates De Jong.
He assures that of all the pro-Nazi businessmen, the most sinister, perverse and infamous beneficiary of the barbarism of the Third Reich was Freidrich Flick, the richest German for four decades, who controlled an emporium of steel, weapons and coal during Nazism. «He was the only one tried and convicted in Nuremberg. Sentenced to seven years, he only spent three in jail. Ruined, he restructured his companies and was already a majority shareholder of Mercedes Benz in the sixties. He died in 1972, with a fortune comparable to that of the Getty or that of the royal line of Saudi Arabia ».
After the war almost all businessmen declared themselves "apolitical or anti-Nazi". They said they had no choice before Hitler. "But there was. Fritz Thyssen, father of the baron who sold his art collection to Spain, was a member of the Nazi party. He voted against the occupation of Poland in parliament. He had to flee to Paris, where the Gestapo arrested him. Of course there was a choice but with consequences, "concludes De Jong.
Dutch journalist and writer David de Jong. /

Joachim Gern

Money and power in the Third Reich' is the first book by De Jong, a journalist specializing in economics and finance who spent four years researching to write it. Born in the Netherlands and based in Tel Aviv, he has worked for Bloomberg, The Wall Street Journal and the Duch Financial Daily.