MotoGP survives while awaiting arrival in Europe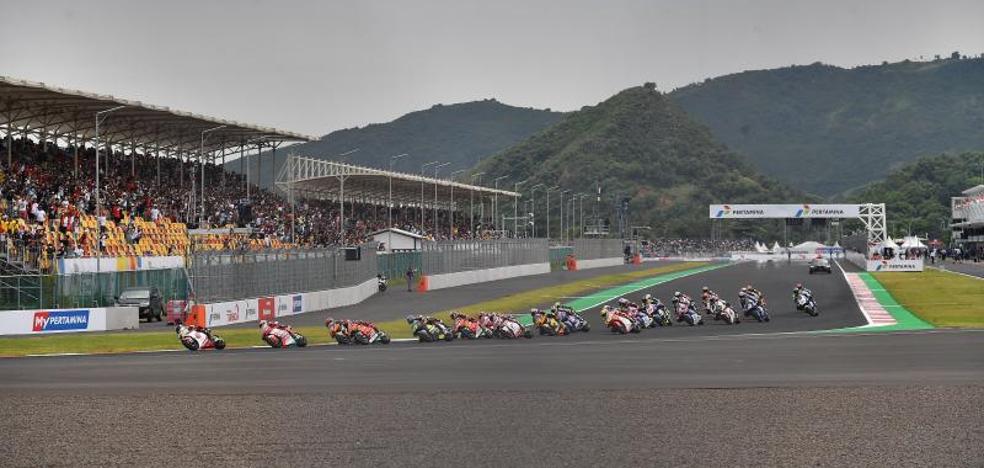 Analysis
The first two races of the year in the queen class have left two completely different podiums on two stages, Losail and Mandalika, in theory of little significance for the fight for the title
Two races are too short a road to draw conclusions, especially when they have taken place on two peculiar circuits. One that always has been, that of Losail; and a new one, that of Mandalika, who left everything. And it is that Indonesia offered a good handful of unknowns. The MotoGP teams had had three days in February to get to know this track, although for some the second visit choked them: the organizer had to resurface more than a kilometer of a 4,310-meter track, a job that would be revealed as defective and forced to shorten the Moto2 and MotoGP races due to pieces of asphalt that were rising.
In addition, Michelin, the sole supplier of MotoGP tires, chose to change the type of tires fearing that those tested in the test would not last a full race. The factory that seemed to have best adapted to Mandalika in February, Honda, became the one that suffered the most, which left the Japanese firm without drivers in the first four lines of the starting grid after Pol Espargaró had finished those days. as the fastest, and without his number one for the race.
"The feeling, frankly speaking, has not been good at all," admitted Alberto Puig, the head of Repsol Honda. «First point: Marc had a lot of falls and couldn't run. Second point: in pre-season we were very fast and then all of a sudden Michelin changed the tire and our bike completely changed as well. We still don't fully understand what happened and we will have to have a deep discussion with Michelin about the tire situation. To go from being very fast a month ago to the situation we have been in this weekend is very difficult for our drivers and it is difficult to have confidence », he added.
In any case, in the end the race was held in the rain, a new condition that complicates a solid analysis of the start of MotoGP, although it is true that the three riders who took the podium, Miguel Oliveira, Fabio Quartararo and Johann Zarco, were in the list of candidates to fight for the positions of honor. Three different names from the three that had risen to Qatar's box -Enea Bastianini, Brad Binder and Pol Espargaró-, which has ended up leaving an unusually even general classification, when there are still 19 tests to be played.
Equality

Bastianini managed to maintain the leadership and Binder second place, in a table that has the top nine separated by ten points: the two mentioned, Quartararo, Oliveira, Zarco, Pol and Aleix Espargaró, Álex Rins and Joan Mir. Something never seen and that underpins that maxim of the paddock that usually says that the true championship does not start until it reaches Europe. Although with the new calendars, longer and looking for more events outside the Old Continent, that theoretical start comes later and later. The World Cup will visit Argentina next week, and without rest the United States, before arriving in Portugal for the weekend of April 24, which will mark the start of a European tour of twelve consecutive Grands Prix.
What was seen in Indonesia is that much of what was detected in the preseason was questioned. Quartararo and Yamaha resurfaced, with the Frenchman on pole and the best pace for a dry race. In addition, he was not daunted in the wet. KTM, which was missing in winter, has already climbed to the podium with two of its riders, which allows it to lead the constructors' general classification. On the other hand, and as is understood from what Puig explained, Honda left Mandalika hit, in every way, with the shocking accident of Márquez, preceded by three other crashes. At Ducati not all doubts have been resolved, although in his case having eight riders allows him to make up his situation because when some fail and others succeed. That yes, after two great prizes, its leader, Pecco Bagnaia, is twentieth of the classification with a single point. Suzuki, which seemed like the brand to beat, has not yet exploded, although at least its two representatives, Mir and Rins, have managed to be consistent and score good points. Finally, Aprilia continues to be what Aleix Espargaró's consistency dictates. A balanced situation that will undergo two complicated consecutive tests that everyone will want to save to face in the best way that most realistic part of the World Cup that will define who will be in the fight for the title.