Moto3 result of the Catalan GP at the Montmeló circuit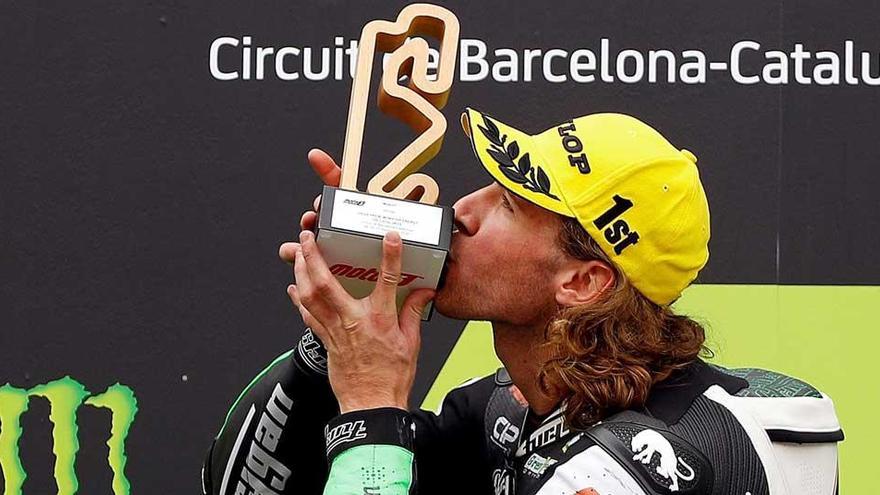 The South African pilot Darryn binder (KTM) has won this Sunday the Moto3 race of the Catalan Grand Prix, while the Spanish Albert Arenas (KTM) has lost the leadership of the World Championship after suffering a fall, a circumstance from which the Japanese Ai Ogura (Honda), eleventh, has benefited to become the new leader.
With the first victory of his life, Binder also becomes the seventh different winner in the nine races held this year. The podium was completed by Saturday's 'poleman', the Italian Tony Arbolino (Honda), and the Italian Dennis Foggia (Honda), second and third respectively.
The fall of Arenas on lap 7, who was run over by the British John McPhee (Honda), unseated him from the leadership, now held by Ogura. The Japanese rider now commands the general with three points of advantage over the Girona and 24 over, precisely, the Scotsman.
Arbolino held his position of privilege in an exit in which Sands he climbed to third place; Raúl Fernández (KTM), who started second, was overtaken on the first lap and was relegated to sixth place. Behind, Ogura, Catalan's main rival in the championship, he made a brilliant start by climbing ten positions in just one lap, starting twenty-fourth.
Briton John McPhee (Honda) was also dedicated to climbing positions, who with a brutal pace soon came to the head and jumped, with 16 laps to go, the general classification. On the Repsol corner, trying to make a double overtake, the Scotsman took Arenas ahead, who although he held the lead by one point, he could already see him slip away.
Ahead, the group opened up more and more, with several drivers taking turns at the head of the race; hup to 20 participants reached the last laps together, and the penalties for stepping on the green began to make a difference. In fact, both Jaume Masià (Honda) and Celestino Vietti (KTM) lost a final place for exceeding the track limits on the last lap.
Binder was the most 'clever' of the last meters, winning the game both Arbolino and Foggia and achieving, six years later, a victory for KTM in Montmeló.
Meanwhile, Sergio García Dols (Estrella Galicia 0,0) signed a meritorious fourth position just ahead of Alonso López (Husqvarna), and Masià finished sixth but fell to seventh place due to his suspension. Raúl Fernández (KTM) was thirteenth and Jeremy Alcoba (Honda) eighteenth. Neither Arenas nor 'Josito' García (Honda) nor Carlos Tatay (KTM) managed to finish.