"Motherhood has been severely punished in the management of covid"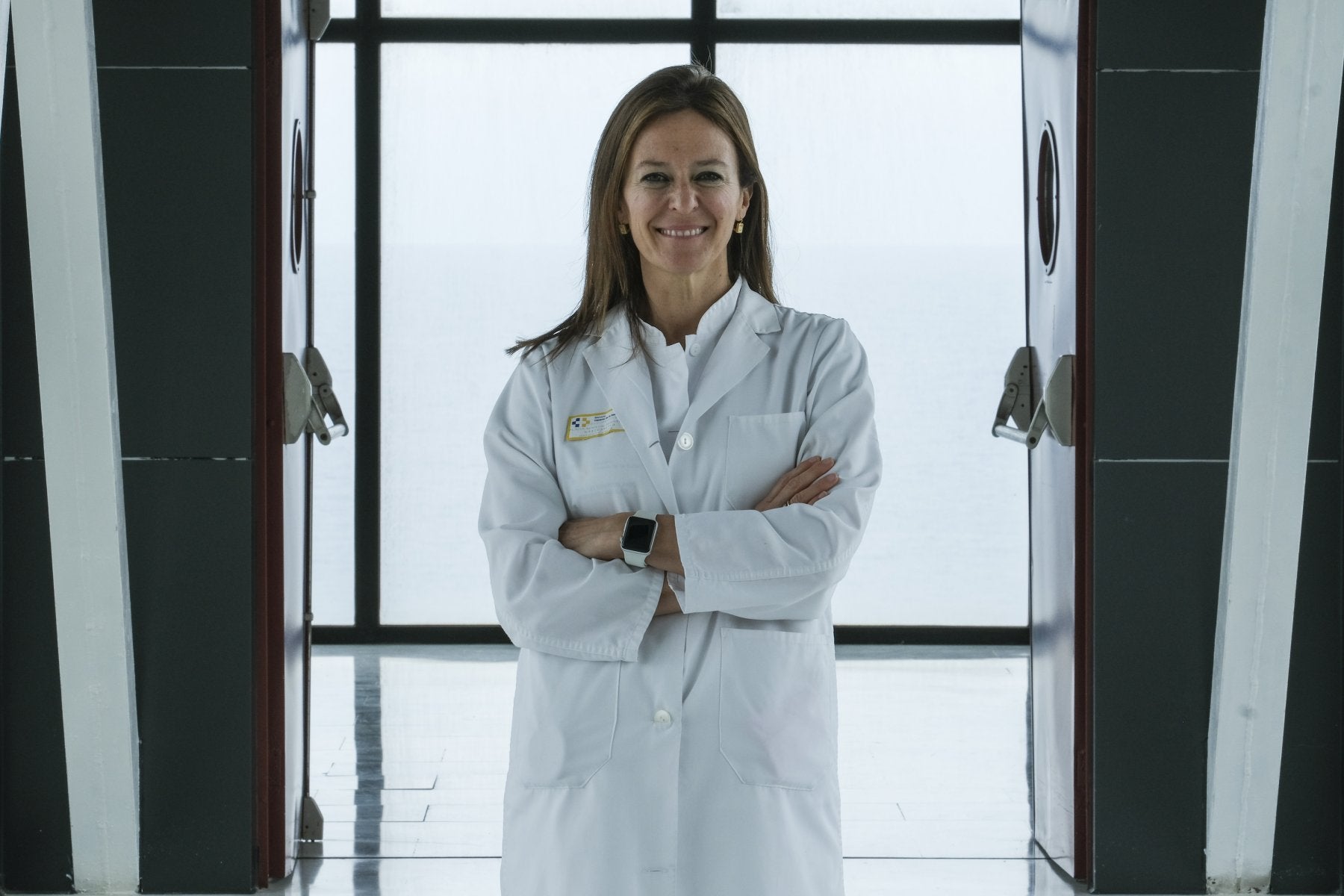 interview / alicia martin
The head of the Gynecology and Obstetrics service of the Maternal and Child Hospital explains how two hospitalization floors are still assigned to the coronavirus and women who give birth have to share rooms and be separated from their children
He is in charge of the largest Gynecology and Obstetrics service in the countrywith about 240 professionals, including 61 specialists in gynecology, 64 midwives, nursing staff, auxiliaries and administrative staff.
Alicia Martín participates this Wednesday in the conferences on Women and Health which is celebrated in the Casa de Colón and talks in this interview about obstetric violence, the care given to women who give birth in the Gran Canaria hospital, the dance of hormones or the operations that women undergo on their genitals.
- Is there awareness of obstetric violence or is it still an invisible practice?
-We are aware of obstetric violence for sure since I was a resident and that was 25 years ago. We have always advocated a low-intervention delivery, an exploration of the patient in conditions of minimal aggression. I have never seen in this service the enema before childbirth or shaving a patient, practices that unfortunately continue to be done in some areas of the country. But much remains to be done. Fortunately, women increasingly have more say in what and how we want things, that passive view of the patient has changed. It is impossible to give paternalistic assistance.
-What remains to be done?
-We have to walk and work intensely on humanization, because when care is professionalized many times you forget that a patient is not the one in bed 181 but rather Juana Pérez. And those changes are hard to implement in a large service. We work on those small gestures that make big changes. Our midwives already have, for example, two theses on the fear of childbirth, something that was not taken into account before.
-However, among your colleagues in the specialty there are voices denying obstetric violence.
-It is that there is resistance to self-criticism that generates so much change in the professional field, that someone who is not from your field tells you from outside. It is not only obstetric violence, there is a lack of humanization in health care. There are great professionals and great assistance, but I think that public health must continue to advance in this regard.
-In your area, taking into account the opinion of women about how they want to be treated, I suppose is essential.
-Your word is what counts. Increasingly, women will have a predominant role in how and what they will be treated. They have to know what can be done for them and at what cost of their lives. This is a new model and as a woman and a professional who has been in this for long enough to see the changes, I have to say that there have been, but we still have a lot to do.
-The Maternal hospitalization area is old and looks abandoned. Doesn't that collide with quality care for women who come to give birth?
-We have some excellent satisfaction surveys that have reported us for the fifth year to be the best gynecology service in the country, because the women who are treated, who also see the chipping of the wall or the crib from thirty years ago, see a nurse or an aide who cares about how you are. Now the hospital is divided into an area of ​​high modernization and resources, such as the delivery room or outpatient area, and another area of ​​obsolete hospitalization that makes women leave with a memory of quality care at the level of care but It shows how the lockers, the showers, the rooms are, and that impoverishes the results in terms of global satisfaction.
-And how has the covid crisis affected that assistance? There are two floors that have been reduced to hospitalization.
-It has worsened all our quality indicators. Although we work in very old facilities, until the appearance of the coronavirus we had three hospitalization floors, one for high-risk pregnancies and surgical pathology and two for maternity, and we offered, despite the fact that the furniture was 30 years old, individual hospitalization to more than 80% of women. Having a child is a unique and unrecoverable moment. Before covid we offered what we call rooming-in, and now the child who requires special care is obligatorily admitted to neonatology and physically separated from the mother. The first days of the newborn are essential for their bond, not only for breastfeeding but for emotional development. And to all those women who from August 5, 2021 until today we have deprived them of being with their children, we cannot repair the damage. That is why we need a short-term solution.
-Is it a coincidence that the one affected in the management of the crisis is a hospitalization area aimed at women?
-I cannot answer that, but motherhood with all that it occupies has been severely punished in our province in the coronavirus crisis. Now, fortunately, we are in a good epidemiological moment and we continue without recovering the hospitalization area, which is essential for us to raise quality indicators. Since August of last year individual hospitalization has disappeared. We attend an average of 12 to 14 deliveries per day, with a hospitalization that is now 32 beds and at times of peaks with the plant full, women with their newborns go to a place that is not intended for maternity and hostility is greater because we put her with another patient with other types of problems, and assistance is diminished, not in the quality of care, I insist, because this can be done because everyone who works here supplies with heart and professionalism the deficiencies that there is.
-Your presentation at today's conference talks about the dance of hormones. What do you want to tell?
-I want to address the doubts I have as a gynecologist and as a woman, talk about where we are going, what we want to achieve. I want them not to segregate us for this, that it doesn't entail an opportunity cost. We are neurotransmitters and of course a hormonal change defines us, so what?
- Is talking about menopause still taboo and a subject full of stereotypes?
There has been a lot of talk about menopause. It is not only a taboo to talk about menopause, but also, for example, about pathologies that have to do with the external or internal genitalia of women. Female urinary incontinence seems normal and men seem to never have it, no man appears in an advertisement like Concha Velasco did saying that you can continue being a woman even if you wear an incontinence pad. The male has a social image that prevents it. The intrinsic sexuality of women is also still a completely taboo subject, such as masturbation or if you more or less like having sex with your partner, still today these are topics that to deal with women you need to have a certain degree of closeness .
-What do you think of vaginal rejuvenation treatments?
-It is a clear example of the use of women as a market niche. Every day I see women who put hyaluronic acid on their labia majora, have liposuction on their mons pubis, trim their labia and have a white ring placed at the entrance of their vagina without wondering how it will affect them. sexuality, masturbation or penetrative relationships. The best thing that can happen to you is that it doesn't work for you. The porn cinema has created many false expectations and for the first time we are seeing sexual dysfunctions in very young people because expectations of sexuality are created that do not correspond to reality. The change is in us to say no to that vision of dolls at the service of the sexuality of others.