'Moria', focused on the lives of refugees, opens the season of SIT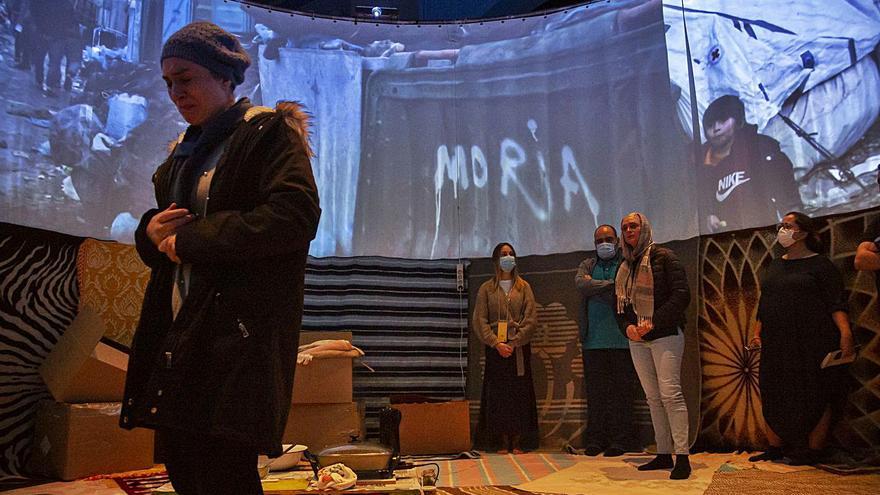 Precisely, those in charge of presenting it were the insular director of Culture, Francisco José Bravo de Laguna, and the artistic director of the Hall, Gonzalo Ubani, who stressed that «with this initiative, which we have already put into practice in an experimental way on the occasion of the recent presentation of the educational project of Cuyás, Teatrae, to teachers, we intend to bring the hall closer to to new audiences, younger and familiar with new technologies ».
The new programming (will arrive until mid-January) will start on October 15 with the replacement of Moria. After its successful premiere a few months ago also at SIT, this montage directed by Mario Vega and starred by two greats of the local scene: Marta Viera and Ruth Sánchez.
Moria, a work on the situation of millions of refugees around the world that has the advice of journalist specialized in migration Nicolás Castellano, premiered last season with very limited capacity due to the pandemic and very few performances, hence the Those responsible for the Hall have chosen to reschedule it, this time with more shows (12 in total): at 6:00 p.m. and 8:00 p.m., on 15, 16, 17, 22, 23 and 24.
Among the most outstanding novelties is 'To the limit' about ten persons deprived of liberty
In November (days 5 and 6) it will be the turn of Alt and Bajas, metatheatrical comedy by Mónica LLeó, as well as Jazz Autumn, festival organized by different institutions to which the SIT will contribute (on the 12th) the concert One Hundred Years of Piazzola, in which two international artists, Mariel Martínez (voice) and Fabián Carbone (bandoneon), interpret, in a kind of musical conversation, works of great composer Astor Piazzolla in the year of its centenary.
A classic of the SIT programming will also return, FEX-Creatividad y Experimentación Musical, which will once again feature talks by design, sound, video and production professionals, and concerts, on this occasion, by the trio. Canario Atlántida, the Galician group Trilitrate, the Tenerife composer Mariana H. and the Majorero artist Fajardo.
Among the most outstanding novelties, To the limit, of the Hestia Association (November 26 and 27); Yes, and also love (December 10 and 11) and the exhibition of a series of shows, yet to be determined, within the framework of Maps (Market of Performative Arts of the South Atlantic), scheduled between December 13 and 17.
Awarded with the First Prize for Theater in Penitentiary Centers by the General Secretariat of Penitentiary Institutions, Al Limit is a choral work in which ten actors deprived of liberty explore and expose their limitations, strengths and desires through a piece full of contrasts.