More than 200 artists ask not to let Pablo Hasél go to jail: "Tomorrow they can go for anyone"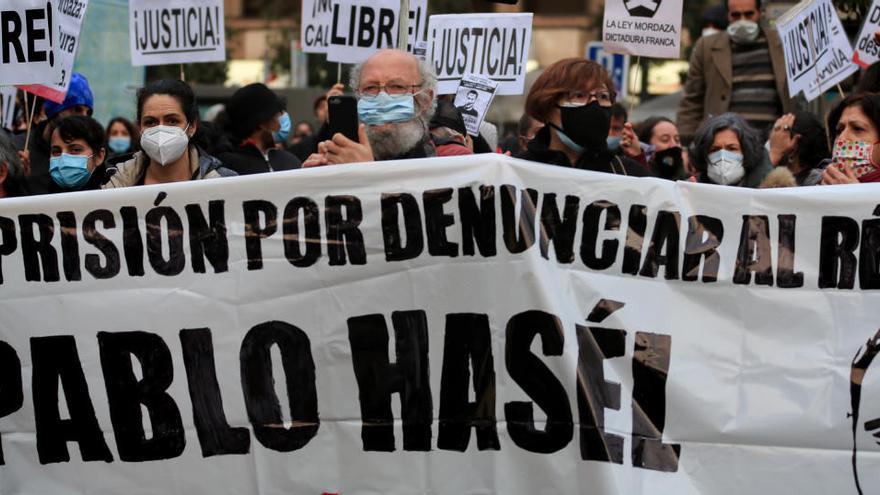 More than 200 artists, including Pedro Almodovar, Joan Manuel Serrat, Javier Bardem, Fernando Trueba or Old Morla, have signed a manifesto in which they demand the release of rapper Pablo Hasél, sentenced to prison for exalting terrorism and insults to the Crown.
"The Spanish State has come to head the list of countries that more artists have retaliated for the content of their songs," denounces the letter sent to EFE, which "equates" the situation of freedoms in this country after the imprisonment of the musician " with countries like Turkey or Morocco".
The actors Alberto San Juan, Antonio de la Torre, Luis Tosar, Paco León, Aitana Sánchez Gijón, Emma Suárez or Javier Gutiérrez are other names who subscribe to this letter that warns about the "sword of Damocles that hangs over everyone's head public figures "who dare" publicly criticize the performance of any of the actions of the State.
"We are aware that, If we let Pablo go to jail, they can go after any of us tomorrow, like this until getting silenced any dissident sigh", underlines the statement also signed by musicians such as Santiago Auserón, Coque Malla, Ismael Serrano, Pedro Guerra or the members of Def Con Dos.
The writing "demands" for all this the freedom of Hasél, "as well as that these types of crimes are expelled from the Penal Code that do nothing but curtail the right, not only to freedom of expression, but also to ideological and artistic freedom. "
Among the large number of rappers who support his partner, in addition to Rayden, Tote King, Frank T or Ayax and Prok, there is also Valtonyc, who is currently awaiting the decision of the Belgian Justice on his possible extradition to Spain, precisely claimed for a crime of insults to the Crown.
The long list of signatories also includes film directors such as Montxo Armendáriz and Isaki Lacuesta, the journalist Javier Gallego or the illustrator and cartoonist Javier Royo.
The penalty for Hasel, upheld by the Supreme Court, adds to previous convictions of the rapper, such as that imposed in 2014 also by the National High Court to two years in prison for glorification of terrorism because of some lyrics of his songs about the Grapo, ETA or Terra Lliure, although that penalty was then suspended by the court.