More than 20 years preserving health and safety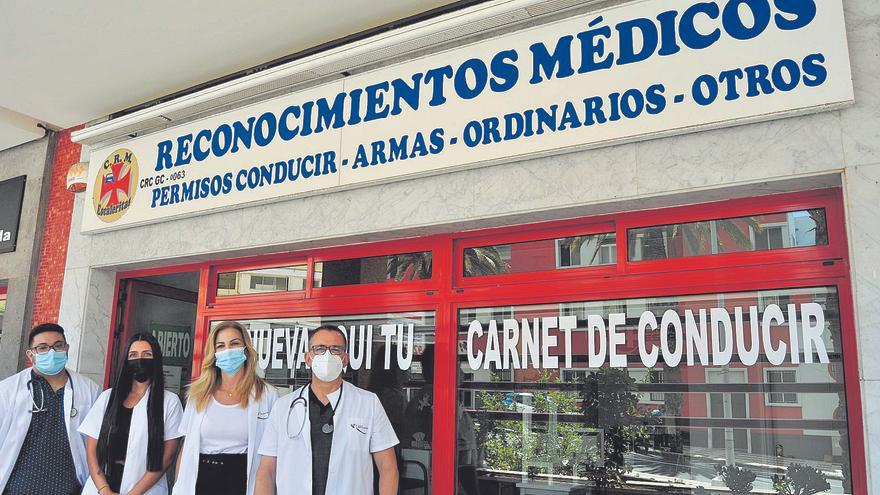 Customer satisfaction is guaranteed by their loyalty over time and the comments and ratings received on the Internet
Medical Recognitions Escaleritas is a benchmark center in its sector due to its trajectory of more than 20 years, first with the Altavista center inaugurated in 2000 and later with the Escaleritas center from 2008 to the present.
We must highlight the professionalism of the team as well as its warm and close treatment with the client, always offering a quality service where the visitor feels comfortable and obtains his medical certificate in an agile and efficient way. Proof of this are the ratings and comments expressed by users on the Internet, as well as the loyalty of their customers despite the fact that many years pass between one visit and another.
What the public most demands is the obtaining and renewal of the driving license, however they also offer other medical examinations such as: Obtaining and renewing the gun and hunting permit, obtaining and renewing the certificate for the possession of potentially dangerous animals; sports medical certificates, for work, competitive examinations (firefighter, National Police, Local Police, etc.), private security guards, crane operators, jury guards, aviation (cabin crew, air traffic controllers, pilots, etc. ), marine (skipper or yacht captain), diving and spearfishing, among others. In addition, they offer other less common ones such as the medical examinations necessary for the aeronautical sector (paragliders, balloons, etc.), for boxing both at an amateur and professional level and medical certificates for motor racing.
To go to the center it is only necessary to carry your DNI, since the photographs are taken directly there. In the case of obtaining or renewing the driving license, they carry out all the procedure with the General Directorate of Traffic, providing the client with a temporary authorization to circulate until the driving license is received by mail.
They offer general medicine consultations, aviation medical certificates and others
They offer their customers a free parking service, which is an extra convenience by not wasting time looking for parking in the area. In addition, being located on Avenida Escaleritas 54 means good accessibility by public transport, since it has numerous bus stops around it, or going by bicycle or skateboard.
In order to offer a better service to clients, for months they have been attending general medicine and nursing consultations for free for all Sanitas insured, both in person and through online appointments, something that more and more patients demand. Interested persons who are not insured with Sanitas can also access this service by subsequently paying the amount of the appointment. In both cases, it is only necessary to request an appointment on the web or by phone.
In Escaleritas Medical Recognition works a great team of collegiate with extensive experience; Fernando Quevedo, Jorge Medina, Amalia Marirrodriga and Verónica Cabrera, who is also the director of the center since Santiago Yánez took over after years at the helm of the López Socas Medical Recognition Center. It is important to put yourself in the hands of good medical professionals, since some companies offer very cheap services, reducing the quality of their services, something that later affects the client. It is vital that your health and the safety of all be preserved.
Throughout the year, depending on the type of medical certificate requested, you can benefit from a discount by requesting an appointment on the center's website https://reconocimientosmedicosescaleritas.com. In addition, they usually launch beneficial promotions aimed at different groups (students, unemployed, retired, etc.), to be aware of all the news, it is enough to follow them on their social networks; Escaleritas Medical Recognition on Facebook and @reconocimientosescaleritas on Instagram.
The center is located on Avenida Escaleritas 54 (in front of Cáritas) and they open their doors from Monday to Friday from 9:00 a.m. to 1:00 p.m. and from 3:00 p.m. to 7:30 p.m. You can request an appointment or make any questions on your phone 928 280 338 or on the web.