Montpellier offers a modern high-rise dance | Culture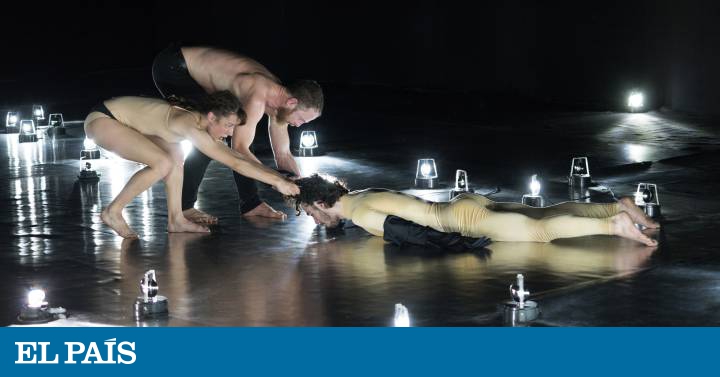 The 39th edition of the international festival of dance of Montpellier culminated this Saturday with one last week of height in which William Forsythe met on the several theaters of the city (A Quiet Evening of Dance), Angelin Preljocaj (Winterrreise), Boris Charmatz (Infini) and Anne Teresa de Keersmaeker (The 6 Concerts of Brandenburg). The very modern Opera Berlioz / Le Corum, the former Opera Comédie, the Thetare de l'Agora or the Théâtre la Vignette have been full every day, a phenomenon of public success that deserves study: four Forsythe functions (in an offer of 1,200 seats), two of Keersmaeker and three of Preljocaj in a capacity of 2,000 seats in Le Corum; they are figures of vertigo for contemporary dance. It is a market of high flights and large productions for the current dance that Spain is barely touching: think that Winterrreise de Preljocaj has from today to April of 2020 more than 30 functions programmed only in France and Belgium.
It is a market of high flights and great productions for the current dance that Spain barely touches:
William Forsythe has been here all week, has given a long press conference or very interesting and illustrative conversation about his A Quiet Evening of Dance, which picked up another major success like that of Venice. The concept of "reflexive gestural combinations" has dominated that magical association between "the two Rameau": the composer and the dance master, both theoretical and almost contemporary. The dance music of Jean-Philippe Rameau (Dijon, 1683 – Paris, 1764) and the choreographic figures collected, described and established by Pierre Rameau (c.1674 – Nanterre, 1748) revive in a complex scenic and contemporary pairing transformed by Forsythe in a prismatic future proposal as its ars poetica: we are the same but we are evolving on the code; hip-hop is here to stay and in the future of the gesture will be mixtures as synthesis vocabulary.
Angelin Preljocaj (Sucy-en-Brie, 1957) created at the Teatro alla Scala in Milan in January of this year Winterrreise (1827), on the cycle of 24 songs by Franz Schubert with poems by Wilhelm Müller, and in Montpellier we attended the premiere by the choreographer's own company, where they form a set of 12 dancers, among others, the Murcian Isabel García López; the Venezuelan based in Madrid Emma Pérez Sequeda and the Cordovan Cecilia Torres Morillo. We can not speak of a round work and it is necessary to refer to several previous versions such as those by John Neumeier (Hamburg, 2001); Trisha Brown (New York, 2002); Martin Chaix (Bonn, 2014) or Christian Spuck (Zurich, 2018). Neumeier and Spuck used the arrangement for tenor and orchestra made in 1993 by Hans Zender. Preljocaj at La Scala in Milan and in Montpellier he chose the bass-baritone Thomas Tatzl accompanied on piano by James Vaughan. Sometimes repetitive, others unjustifiably somber, the choreographer swings between intimacy and a pretension to embrace the large format. The good level of the dancers and the packaging of the production help theirs that in something reminiscent of Neumeier and sometimes Spuck.
Anne Teresa de Keersmaeker premiered this great production in September 2018 at the Volksbühne in Berlin with the integral of the six Braderburg concerts with the sound support of the B'Rock Orchestra and the musical direction of Amandine Beyer (also a baroque violin soloist). As Keersmaeker says, these concerts constitute a regulated universe, ordered by harmony and a certain hierarchical order. The dance responds to this scheme with some important disappointment: that dog that barks and is taken out on the scene and that immediately makes think about those that Pina Bausch used once, something that is a macabre joke and that remains. The choreography has a choral beginning with the maxim "my walk is my dance"; then the corporal matter is decomposed, isolated and molded with different formations, sometimes literal to the music (musical trio by dancing trio, with an emotional single of Thomas Vantuycom), within an imposing stage, baroque in itself, utopian to the way of Boullée, there is some subtle cameo to the dance of the seventeenth and eighteenth, there is obsessive decorative "pendant" and there is an explosive rhythmic wandering. Away from the current trends, Anne Teresa looks inside, makes perspective of its aesthetic center.
Already the team of this festival, one of the most consolidated and prestigious in Europe, led by its director Jean-Paul Montanari, prepare for the 40th edition in 2020 with a program that, is already designed in its entirety, a continuity tour and evolution that has led them to exhibit on Saturday the Agora, International Dance City, a unique complex in southern Europe settled in the former convent of Las Ursulinas.
It is, in short, a prismatic festival that is a must for the whole profession, the critics and the theoretical observers of the specialty; this focus has its origins in a well-studied program that includes not only careful attention to the new French production, but also international news and work in parallel of the National Choreographic Center of Montpellier, directed until 2013 by Mathilde Monnier and currently by Christian Rizzo (Cannes, 1965), renamed the International Choreographic Institute. We can not forget, and it is appropriate to mention, that Montpellier was in its effervescent moment from 1980 a promoter center, a crucible of creativity where Dominique Bagouet (Angoulême, 1951 – Montpellier, 1992) stood out with his strength and inventiveness (there arose as a dancer the now consecrated Angelin Preljocaj), which today makes it a reference fixed on the historical scaffolding of the new French dance.
(tagsToTranslate) montpellier (t) offer (t) dance (t) modern (t) modern (t) height (t) prestigious (t) festival (t) culminate (t) edit (t) mark (t) creation ( t) large (t) format



Source link