Molina Sport, league champion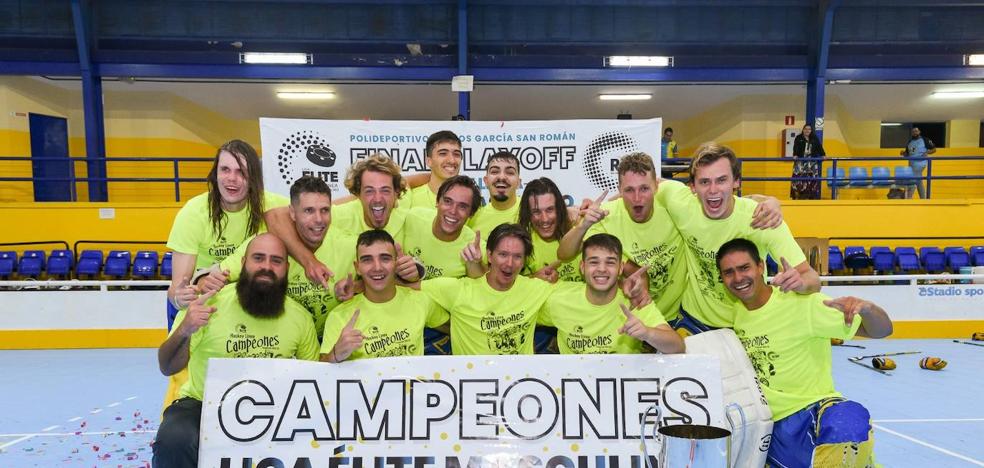 hockey Online
Consummate his title by beating Tres Cantos in Madrid at home and close the season with a historic double
El Molina touches the pinnacle of Spanish Inline Hockey and was proclaimed champion of the League this Saturday.
The yellows managed to lift the Elite League champions trophy after a vibrant match in which they had to come from behind and won in extra time (6-5). After surviving a 1-3 loss, the island team overcame Tres Cantos' control of the game to take the lead. Even so, the people from Madrid equalized and already in extra time
Jacob Tenemyr dressed as a hero to give Molina their second league title in their history.
Club Molina Sport Gran Canaria became champion of the Elite League for the second time in its history and, in addition,
closes the 2021/2022 academic year with a fantastic double. The Gran Canarians beat a very tough Tres Cantos who came to be 2 goals ahead and, when Molina went ahead, they were able to tie the game up to 2 times.
However, the man of the important moments appeared in extra time to give the islanders the title. Jacob Tenemyr did not fail and Molina was crowned champion on a night that will remain in everyone's memory.
The pinnacle of Spanish inline hockey is yellow.
Data sheet:
CH MOLINA SPORT GRAN CANARIA (6): Vili-Valeri Virta (P) and David González (PS); Gio Rodríguez, Chuck Baldwin (2 goals), Jacob Tenemyr (1 goal and 3 assists), Andreu Tomás, Carlos Azofra, Eduard Cabalin (1 goal), Erik Alfaro (1 goal), Iván de las Heras, Pawel Zasadny (1 goal and 1 assist) and Kevin Mooney.
THREE CANTS (5): James Riley Teed (P) and Ignacio Seijas (PS); Joseph DiMartino (1 assist), Natan Vrablik (1 goal and 3 assists), Alberto Bernabéu (1 goal), Guille Jiménez (1 goal), Sergio Calderón, Alejandro Villaverde, Raúl de la Hoz (1 goal), Riccardo Dal Ben ( 1 goal), Jorge de Rivas and Hugo Yubero.
Goals: 0-1, Raul de la Hoz. 0-2, Guille Jimenez. 1-2, Erik Alfaro. 1-3, Alberto Bernabeu. 2-3, Chuck Baldwin. 3-3, Chuck Baldwin. 4-3, Edu Cabalin. 4-4, Nathan Vrablik. 5-4, Pawel Zasadny. 5-5, Riccardo Dal Ben. 6-5, Jacob Tenemyr.