Moleiro refuses to renew and UD could demand his clause and leave him without competing until 2025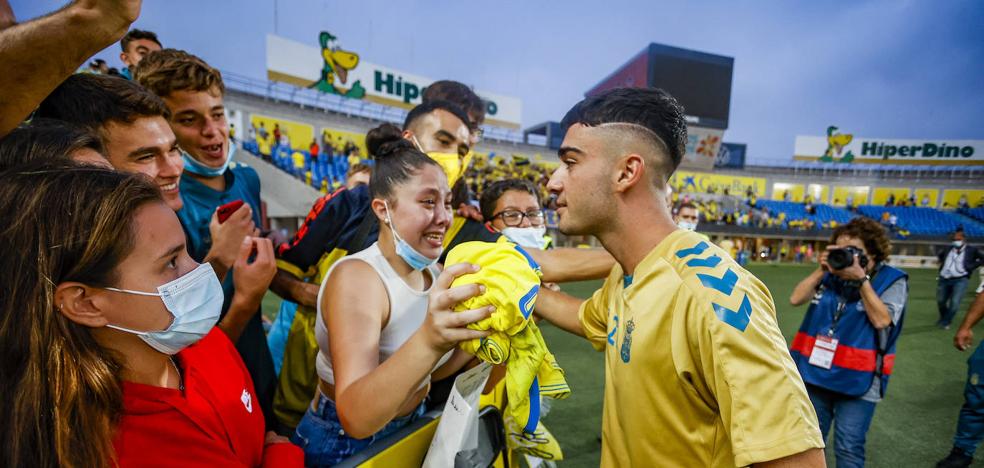 football
The club understands that his refusal to extend his contract does not comply with the law despite the repeated requests that have been made
Alberto Moleiro does not want to continue at UD and has refused to sign the contract extension until 2025, to which the club is entitled by a preferential clause, and which implies a termination clause of 30 million euros.
The club has even sent him several burofaxes urging him to comply with this procedure, which the player has sent to the entity that maintains its position of not accessing to formalize the new relationship.
Considering that the preseason starts next Monday, and after the symbolic medical examination to which he underwent last Wednesday (curiously, he was the first member of the squad to do so in the established order),
It is not ruled out at all that the entity adopts more severe measures such as leaving him without playing next season and requesting unilateral terminationwhich would imply the payment of his clause and the impossibility of competing in any team until 2025.
UD sources insist that the player "is clouding the situation advised by his environment" and advocate "a productive agreement for both parties", which could go through a sale of the attacker from Tenerife but as long as he stayed on loan for a season ,
as happened with Pedri in the 2019-20 campaign and after being transferred to Barcelona. However, Moleiro does not agree to further extend his stay in Las Palmas and
"He puts his desire to leave as soon as possible above all else", a desire that is denied in the entity. In the offices of Pius XII it has caused "deep disappointment" this approach when understanding that it does not exclude the defense of his interests and that, in the short term, and in parallel with what happened with Pedri, it would ensure him prominence and filming in the club that elevated him to professionalism. What's more, they interpret it, in literal words, "as disloyalty" and that it tenses even more the interpretations now in conflict.
precognitive words

"I can guarantee that Moleiro will continue here next season," said Miguel Ángel Ramírez on June 9 in what was his last public appearance. The president expressed himself in these terms precisely because he was aware that the youth squad could handle proposals to leave but that, in any case, they should always understand that he extend his journey here until June 2023. As UD has a unilateral right to shield to Moleiro and that it was going to be executed, as LaLiga and Olaf Bonales, the player's representative, were pertinently informed, Ramírez felt in the position of strength necessary to make this declaration of intent.
The club does not refuse to negotiate an agreed exit and that does not necessarily have to reach the full amount of the stipulated clause of 30 million.
But it is a non-negotiable condition that Moleiro continue for another year. Otherwise, the leadership reserves the measures it deems appropriate within current legislation.
The legal services of the UD "have already prepared for the worst scenario" that can be given in anticipation that this confrontation will not be redirected.